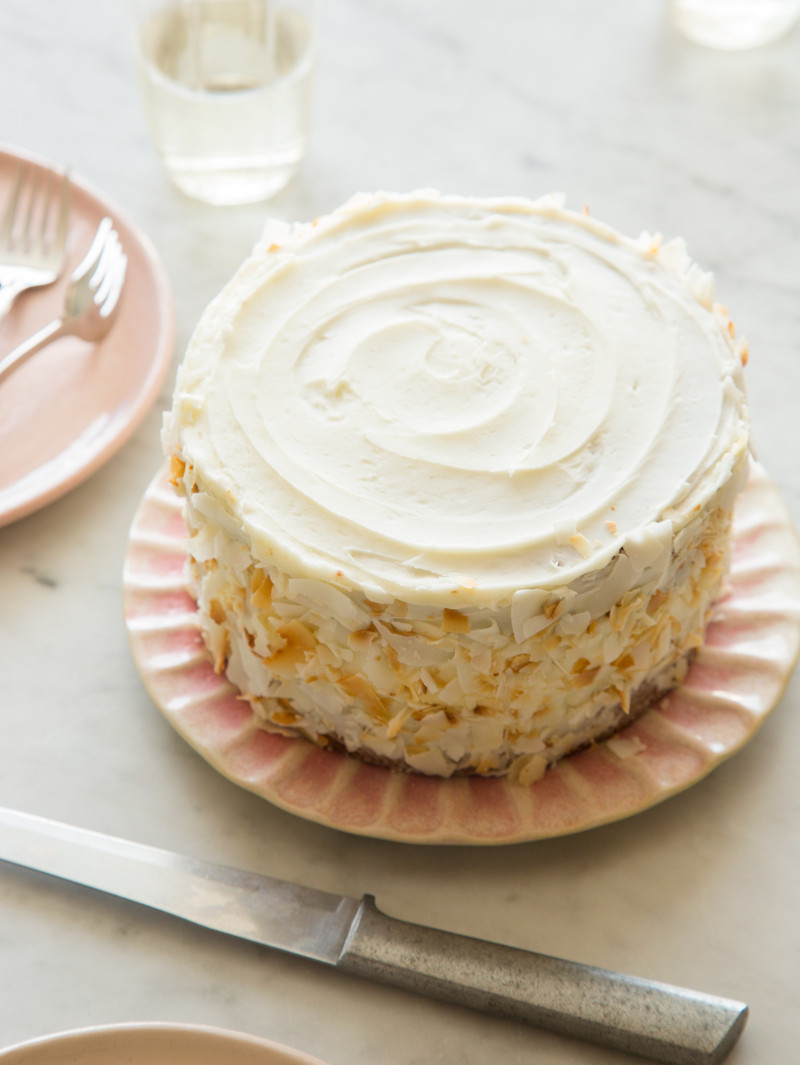 Hey Guys! Tomorrow is Mother's Day and I'm getting ready to celebrate with our coconut cake! I really love this cake because it's super moist and loaded with coconut goodness…thus the repost! This cake would make the perfect addition to any Mother's Day menu, whether served after brunch or dinner. Plus it's even better served al a mode, specifically with really good quality strawberry ice cream. It's totally worth it to whip this guy up, and if not for Mother's Day, then definitely Memorial Day Weekend! Enjoy! xx, Jenny

Mother's Day is only a few short days away and this year we're making coconut cake! It's the perfect dessert for this spring season; it's light, fluffy, moist, and totally delicious. It's also pretty easy to throw together. You can even bake the cake and make the frosting a few days ahead of time and assemble it the day before or day of..easy!
My favorite part of this cake are the giant, toasted coconut flakes. I think they add a nice visual appeal, plus I really like the slightly crisp texture they add to the cake! I got these flakes in the baking section of my local Whole Foods, but I'm sure you can find them in other grocery locations as well…and if you can't, the more typical shredded coconut is perfectly acceptable!
If your mom or mother figure is a simple coconut and vanilla type of person, then is totally the cake for her. Enjoy! xx, Jenny
**UPDATE: Tweaks have been made to this recipe to alleviate the 'dense' issue. Thanks for your patiences, folks!**
Coconut Cake
Makes 1 (6 inch) cake
Ingredients:
cake:
2 1/3 cups all purpose flour
1 teaspoon baking powder
1/2 teaspoon baking soda
1/2 teaspoon salt
1 cup (2 sticks) unsalted butter, softened
1 1/3 cup white sugar
3 large eggs, room temperature
1 teaspoon vanilla extract
1 teaspoon coconut extract
1/2 cup coconut milk
1/2 cup whole milk
frosting:
1/2 cup (1 stick) unsalted butter, softened
4 ounces cream cheese, softened
4 cups sifted powdered sugar
2 teaspoon vanilla extract
1/2 teaspoon salt
garnish:
2 cups toasted unsweetened coconut flakes
Directions:
1. Preheat oven to 350˚F.
2. For cake: Line the bottoms of two 6" cake rounds with parchment and lightly grease the sides. Set aside.
3. Place flour, baking powder, baking soda, and salt in a mixing bowl and whisk together.
4. In another mixing bowl, beat together butter and sugar until light and fluffy.
5. Add eggs, one at a time and continue to mix. Add vanilla and coconut extracts. Scrape down sides of the bowl.
6. Add dry ingredients and mix together until mixture just comes together. Stir in coconut milk and whole milk and continue to stir until mixture is smooth.
7. Divide mixture into prepared cake rounds and bake for 45 to 50 minutes or until a toothpick comes out clean when inserted into the center of the cake and the tops are golden brown.
8. Allow cake to cool completely and refrigerate for at least 1 hour.
9. For frosting: Place butter and cream cheese into a mixing bowl and beat together until light and fluffy. Add powdered sugar, one cup at a time, and continue to beat until light and fluffy. Stir vanilla extract and salt into the mixture and beat until completely incorporated and mixture is smooth.
10. To assemble: Place a thin layer of frosting over the top of one of the cake circles and top with the other cake circle, inverted (so both cake circle tops are touching one another). Gently frost the two tiered cake with a thin layer of frosting (the crumb coat). Place in the refrigerator for at least 30 minutes.
11. Coat the cake in another layer of frosting and with handfuls of toasted coconut flakes, carefully press them onto the sides of the cake until fully coated. Smooth the frosting on the top of the cake, if needed. Slice and serve.