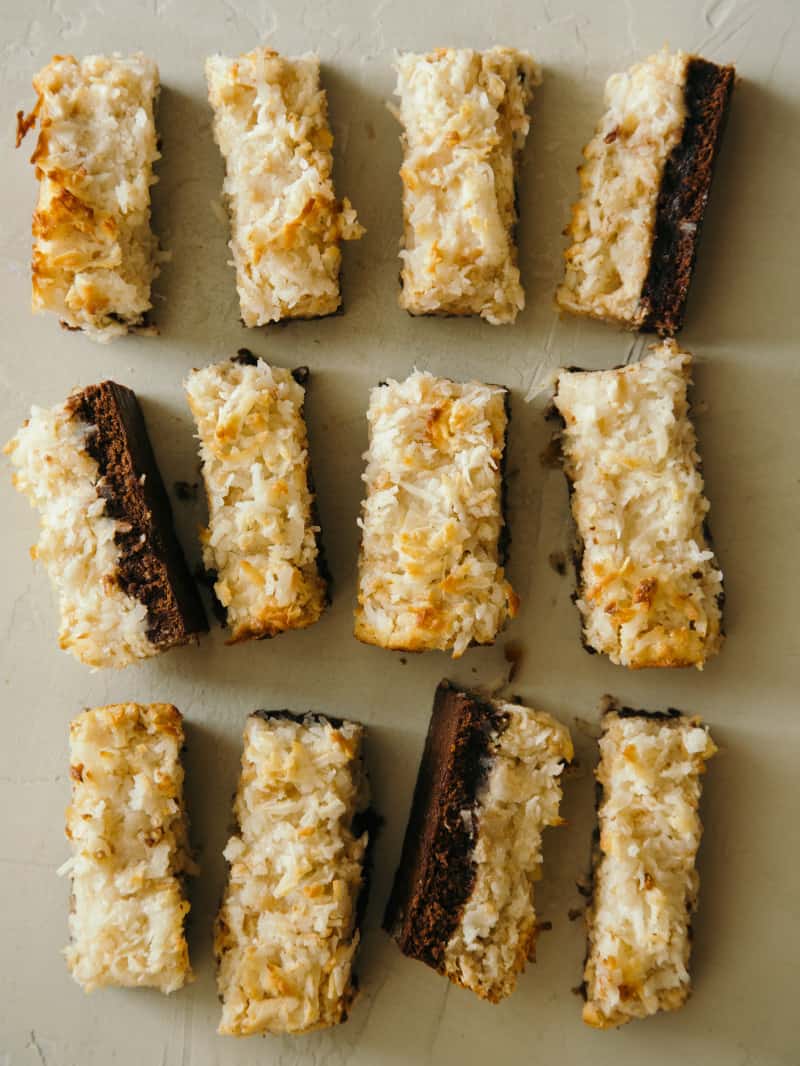 Yay! It's the weekend. I love the weekend. :) And these brownie bars are so freaking good omg. I have a thing for boxed brownies. I seriously love them so very much. I've made brownies from scratch SO MANY TIMES, and it's just never as good as the box kind. They just are not. The box rules. So today, we have basically made boxed brownies even better by adding peanut butter and coconut. These brownies are my new favorite thing, better than the box! Ha! But seriously, these are bring to a friends house for a dinner party dessert worthy. Plus, no frosting involved. That's just yet another reason why brownies are the best. You don't have to fuss with frosting, or making it look pretty because it is already to pretty straight out of the pan! So yay, it's the weekend, make these Coconut and Peanut Butter Brownie Bars, and eat them and love them, cause it's the weekend. :)
♥ Teri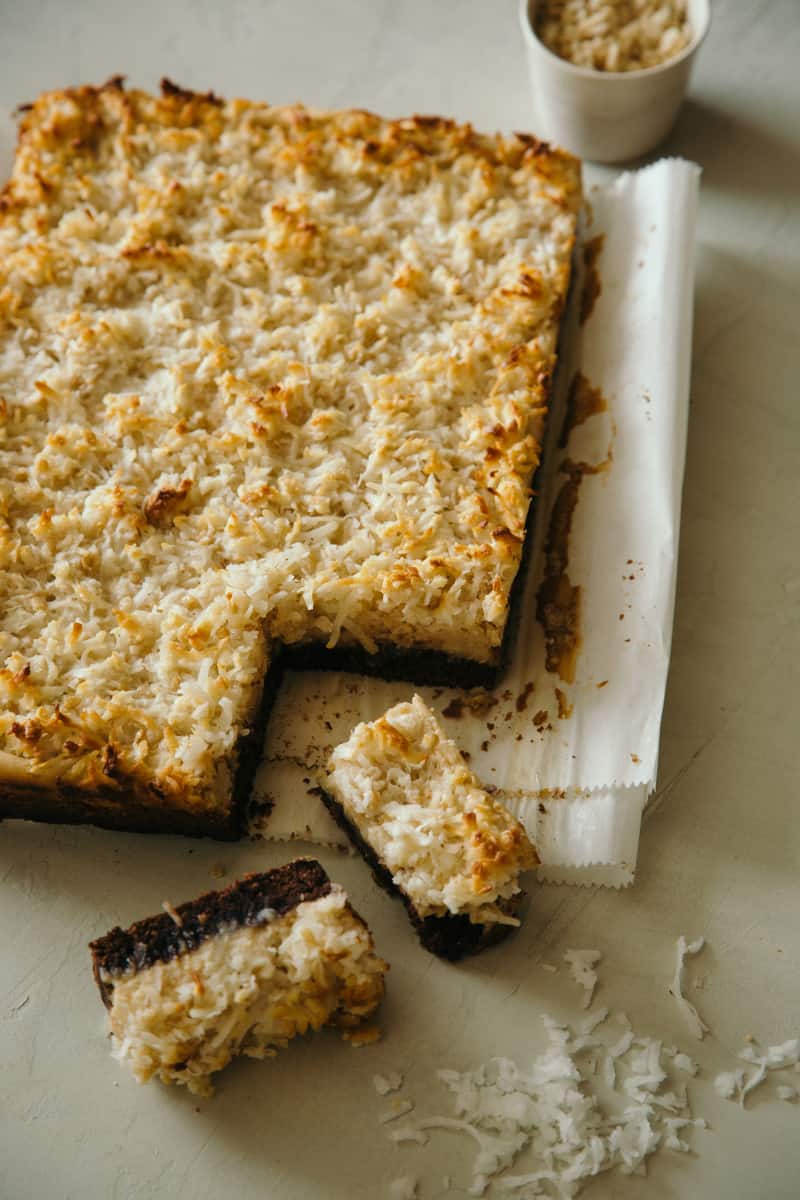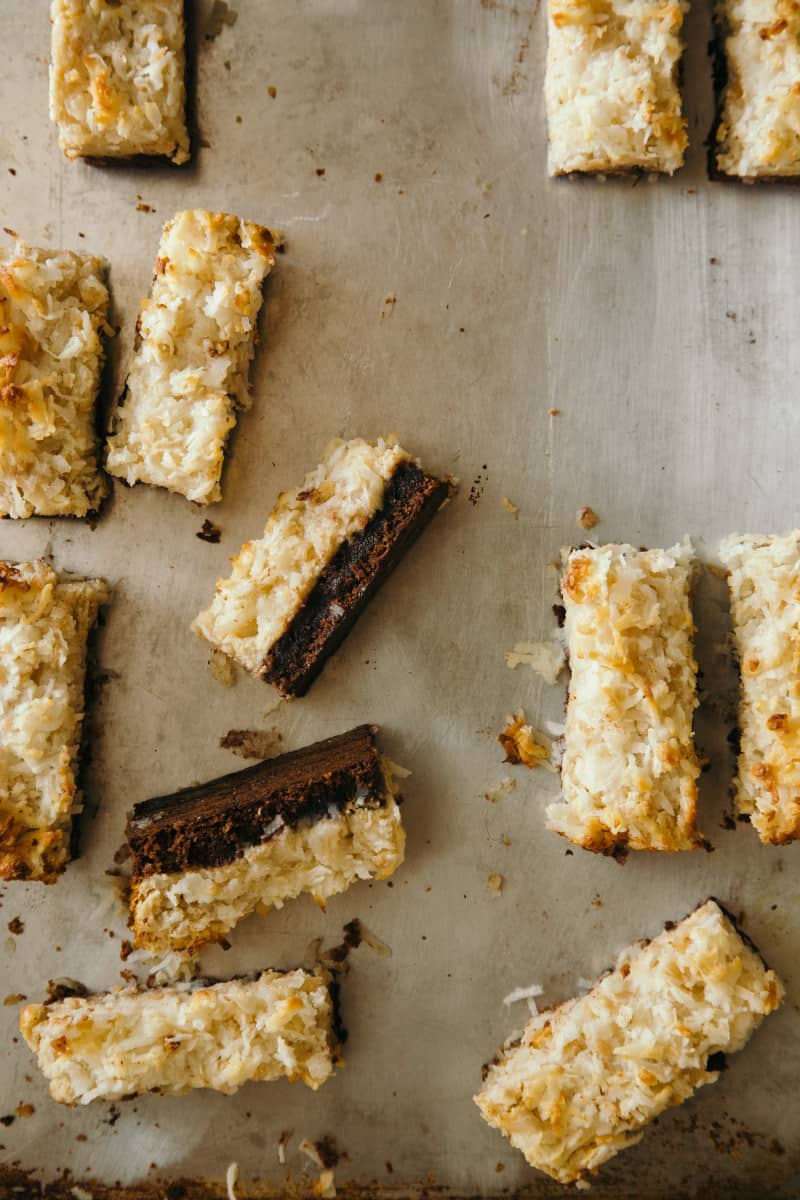 Coconut + Peanut Butter Brownie Bars
Makes 1 (9"x13" pan)
Ingredients:
brownie base:
1 cup all purpose flour
3/4 cup unsweetened cocoa powder
1/4 teaspoon salt
1 cup (2 sticks) unsalted butter, softened
2 cups sugar
3 large eggs, room temperature
1 teaspoon vanilla extract
6 ounces melted bittersweet chocolate (about 3/4 cup)
peanut butter filling:
16 ounces cream cheese, softened
1/2 cup peanut butter
1/2 cup sugar
1 large egg, beaten
1/2 cup milk
3 tablespoons sour cream
coconut macaroon topping:
1 (14 ounce) bag sweetened, shredded coconut
7 1/2 ounces sweetened, condensed milk (about 2/3 cup)
1 teaspoon vanilla extract
1/2 teaspoon salt
2 large egg whites, whipped to a stiff peak
Directions:
1. Preheat oven to 350˚F.
2. brownie base: Place flour, cocoa powder and salt into a mixing bowl and whisk together. In a stand mixer fitted with a paddle attachment, or using a hand mixer, beat together butter and sugar. Scrape down the sides of the bowl and add eggs, one at a time. Add vanilla and continue to mix together. Pour the dry ingredients into the wet ingredients and mix together until completely combined and little to no lumps remain. Fold the melted chocolate into the brownie batter until fully incorporated. Pour the brownie batter into a 9"x13" baking dish lined with parchment and par-bake for 25 minutes. Remove from oven and cool for 10 minutes.
3. Peanut butter filling: In a stand mixer, fitted with a paddle attachment, beat together cream cheese, peanut butter and sugar. Add egg, milk and sour cream and continue to beat together until smooth. (**If mixture is too thick to "pour" add an additional 1/4 cup of milk to the mixture.**) Pour peanut butter filling over the par-baked and slightly cooled brownie, spreading evenly over the surface with an offset spatula.
4. Coconut macaroon topping: Place all ingredients, except for the beaten egg whites, into a mixing bowl and stir together until well combined. Fold the egg whites into the coconut mixture until full incorporated. Top the peanut butter filling with an even layer of the coconut macaroon mixture.
5. Place baking dish in the oven and bake for an additional 25 to 30 minutes or until each layer has set and the coconut macaroon mixture has turned golden brown. (**If the topping begins to brown too quickly, loosely tent the surface with foil and continue to bake**)
6. Remove baking dish from the oven and cool completely, about 1 1/2 hrs. to 2 hrs. Cut dessert into bite sized bars and serve.