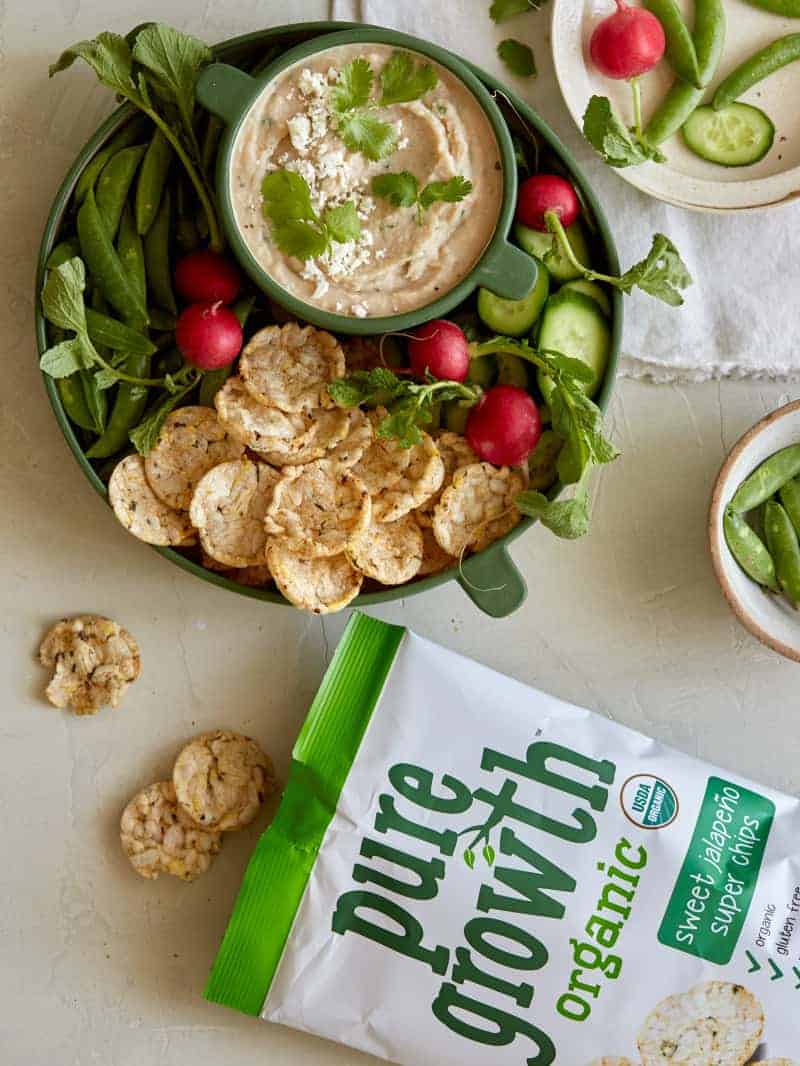 It's been gorgeous and hot in Los Angeles this past week, making me even more anxious for spring to officially arrive! When the weather gets this warm I tend to graze on snacks all day instead of eating large meals that make me feel sluggish and tired. Lately I've really been into this Spicy Cilantro and Lime White Bean Dip that I've been noshing on with a variety of crudité and Pure Growth Organic Super Chips! These super chips are fantastic! They're super light, airy and packed with tons of flavor! People usually associate the word 'organic' with 'expensive', but that's totally not the case here! These chips are actually very affordable, which is a huge plus!
We've paired our white bean dip with Pure Growth's Sweet Jalapeno Super Chips and it's seriously a match made in heaven. They have a touch of jalapeno flavor added to them, giving them a slight kick that's just right. If jalapeno isn't for you, they also have a white cheddar variety and a Spicy Thai variety, so there's really something for everyone. The only problem with these super chips is that they're completely addicting and I often find myself going through an entire bag in one sitting! Good thing these super chips are a healthy snack food that pair so well with other healthy foods, or I'd be in some serious trouble. You can find Pure Growth Organic snacks at major retail locations throughout the nation or conveniently online at amazon.com. Enjoy!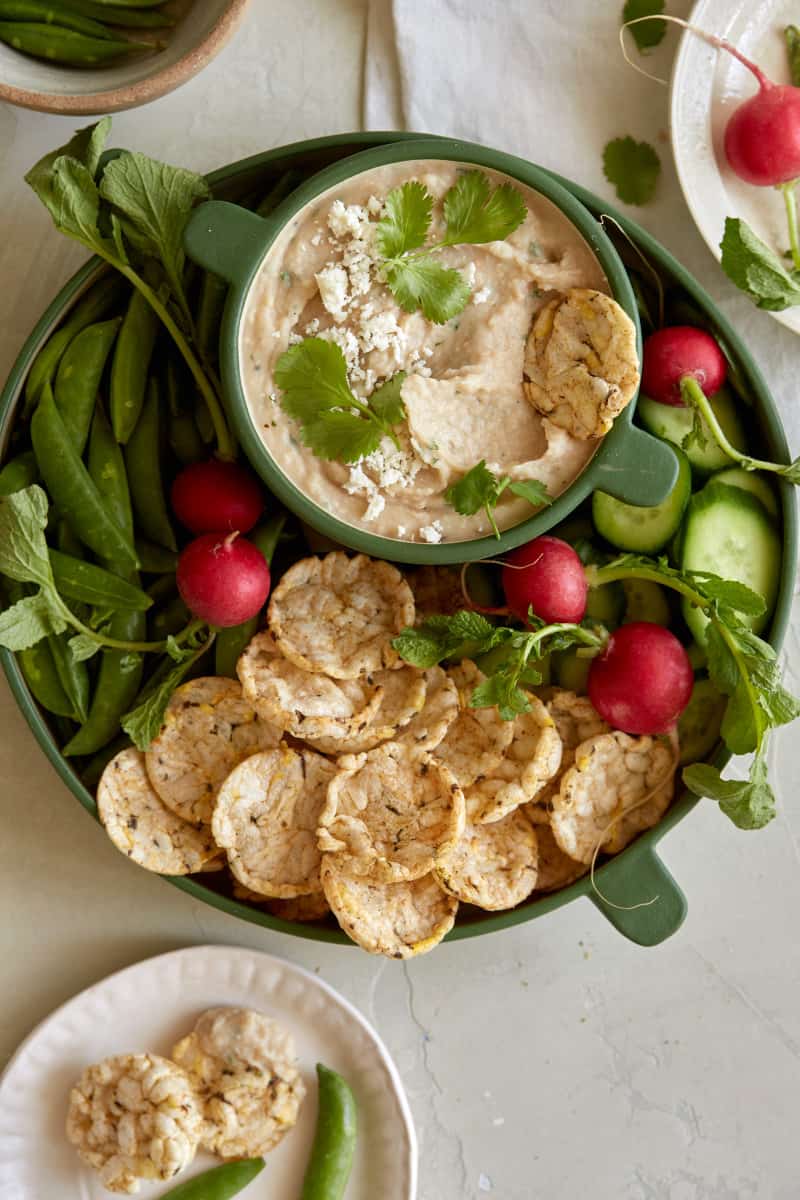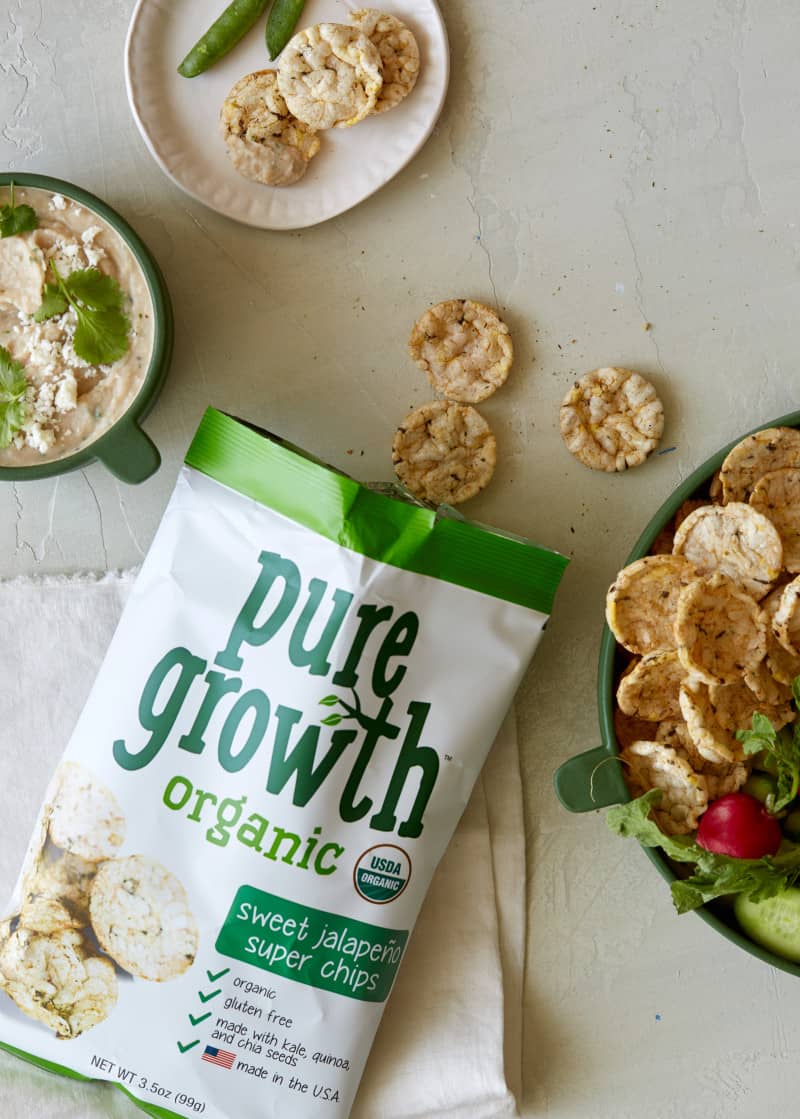 Cilantro-Lime White Bean Dip

Makes 1 1/2 cups

Ingredients:
1 tablespoons extra virgin olive oil
1/4 cup diced shallots
2 garlic cloves, minced
2 teaspoons minced serrano pepper
1 (15 ounce can) cannellini beans, drained
1 lime, zested and juiced
1/2 bunch cilantro, minced
salt and pepper to taste
garnishes:
cilantro leaves
crumbled queso fresco
thinly sliced Serrano peppers
micro greens, optional

Directions:
1. Pour oil into a small skillet and place over medium-high heat. Sauté shallots, garlic and serranos for 4 to 6 minutes or until lightly caramelized. Season with salt and pepper.
2. Pour beans into a food processor and top with sautéed shallot mixture. Add lime zest and juice and puree until smooth. Fold cilantro into the dip and season with salt and pepper.
Scoop dip into a serving bowl and top with cilantro leaves, crumbled cheese, sliced serranos, and micro greens (if using). Serve with Pure Growth Super Sweet Jalapeno Veggie Chips.