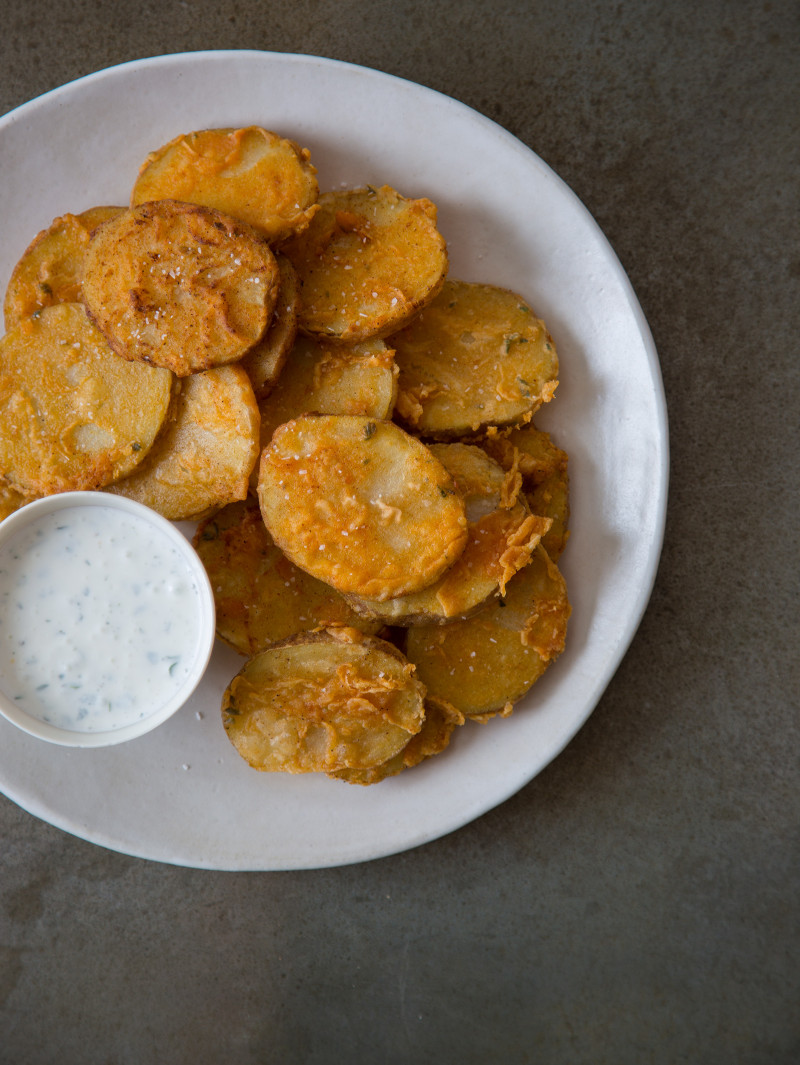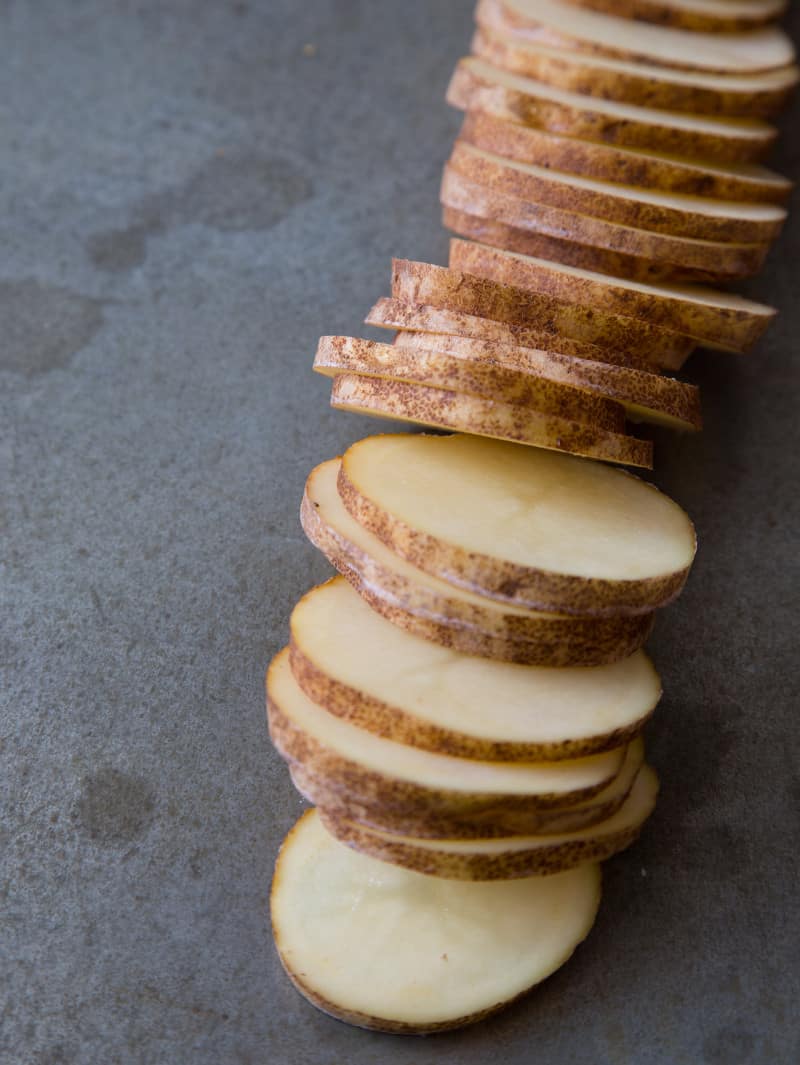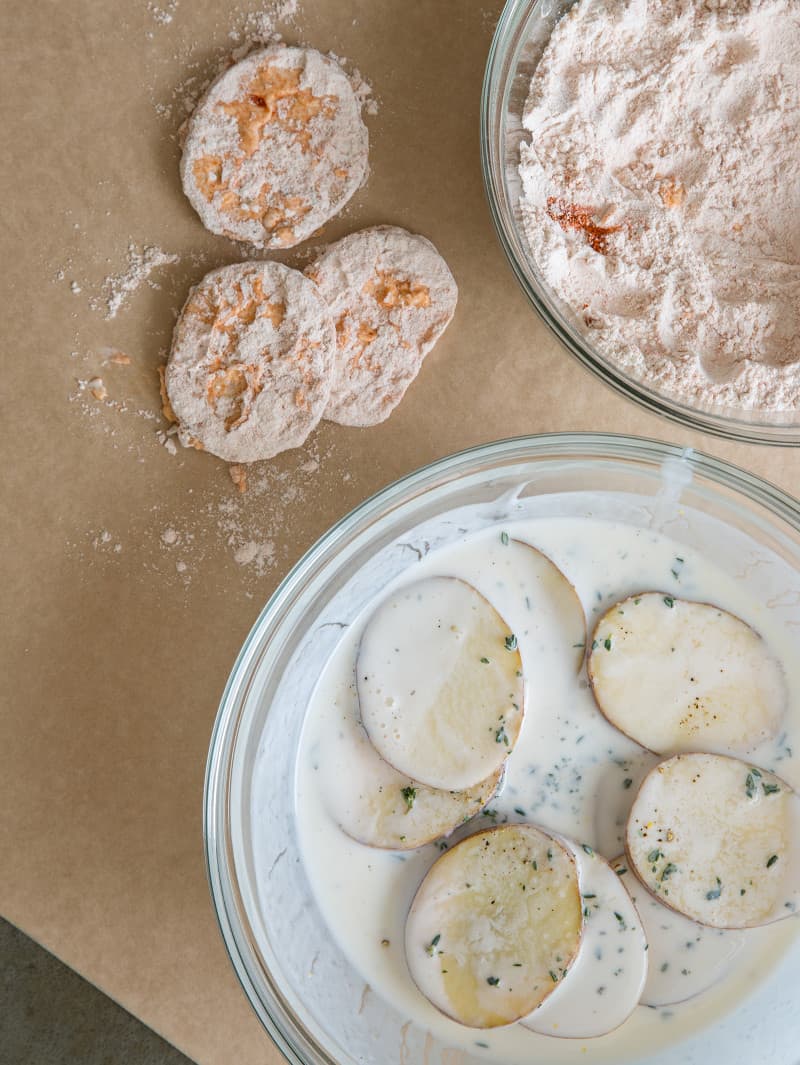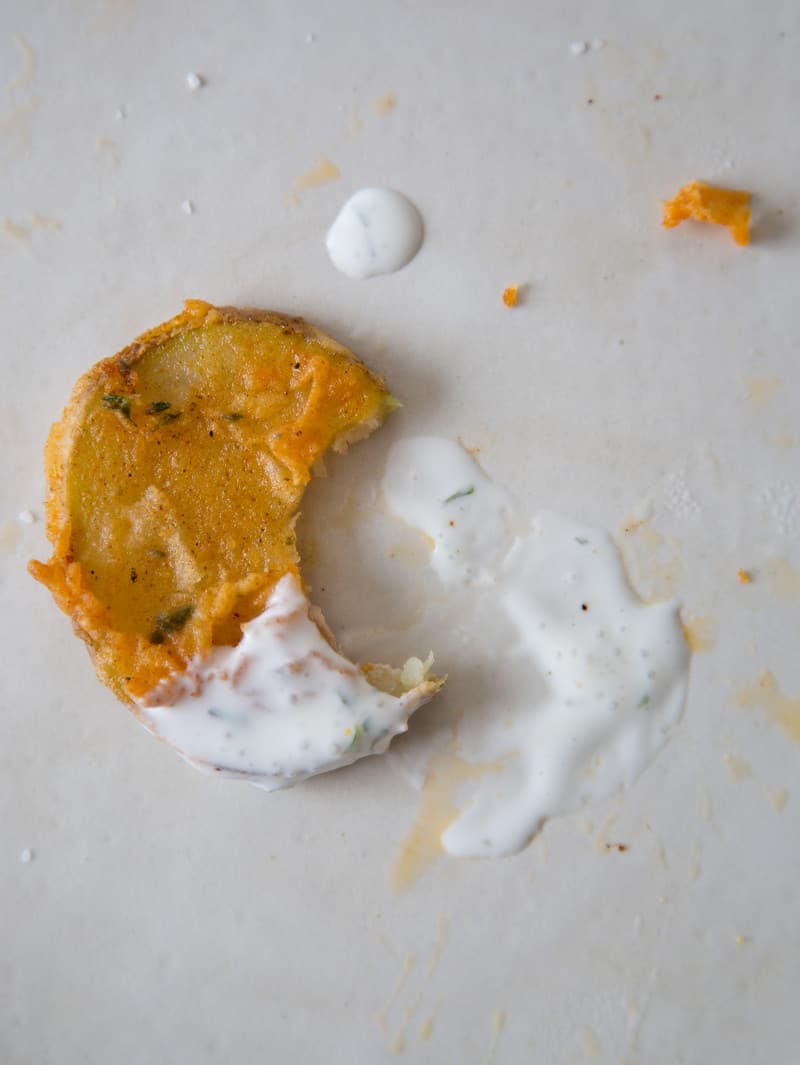 Chicken Fried Potatoes. These are glorious. Crispy on the outside thin potato slices and a French fry in the middle. So that's pretty awesome right? We also made a homemade buttermilk ranch dipping sauce. This is one of my favorite appetizers we have posted recently because it's really simple to make, not a whole lot of ingredients, and its totally delicious. Once you have your assembly line down for the coating of the potato slices everything else is a cinch. It's really easy to make batches and batches of these. You all know these would be perfect for Super Bowl, but I think these would be perfect for lots of situations, like as a side dish to our 50/50 burger, or just as a meal on it's own (cause you're an adult and you can do what you want), or as a delicious snack. Lot's and lots of ways for this recipe to be enjoyed, so get to it!
♥ Teri
Chicken Fried Potatoes
Ingredients
3

medium

russet potatoes, cleaned and sliced (about ¼" thick)

1

cup

buttermilk

1

tablespoon

minced thyme

3

garlic cloves, thinly sliced

1 ½

teaspoons

salt, divided

1 ½

teaspoons

cracked black pepper

1

cup

all purpose flour

1 ½

tablespoons

onion powder

2

teaspoons

dry mustard

2

teaspoons

smoked paprika
homemade buttermilk-ranch dipping sauce
½

cup

buttermilk

¼

cup

sour cream

2

tablespoons

mayonnaise

2

tablespoons

fresh lemon juice

1

tablespoon

chives, thinly sliced

1

teaspoon

minced thyme

1

garlic clove, minced

salt and pepper to taste
Instructions
Fill a large, deep skillet with 1 ½ to 2 inches of oil and preheat to 350˚F.

Place potatoes, buttermilk, thyme, garlic, ½ teaspoon salt, and ½ teaspoon cracked black pepper into a mixing bowl and toss together until well combined. Allow mixture to sit for 15 minutes.

Place flour, onion powder, mustard, paprika, 1 teaspoon salt, and pepper into a shallow dish and stir together.

Remove potatoes from buttermilk and dredge in flour mixture. Shake of excess flour and fry potatoes in batches for 6 to 8 minutes or until golden brown and potatoes have cooked through. Drain onto a paper towel and season with salt and pepper. Serve with buttermilk dipping sauce.

For buttermilk sauce: Place all ingredients into a mixing bowl and whisk together until well combined. Cover and refrigerate for at least 1 hour. Before serving remove from refrigerator and allow to sit at room temp. for about 10 minutes. Adjust seasonings and stir.