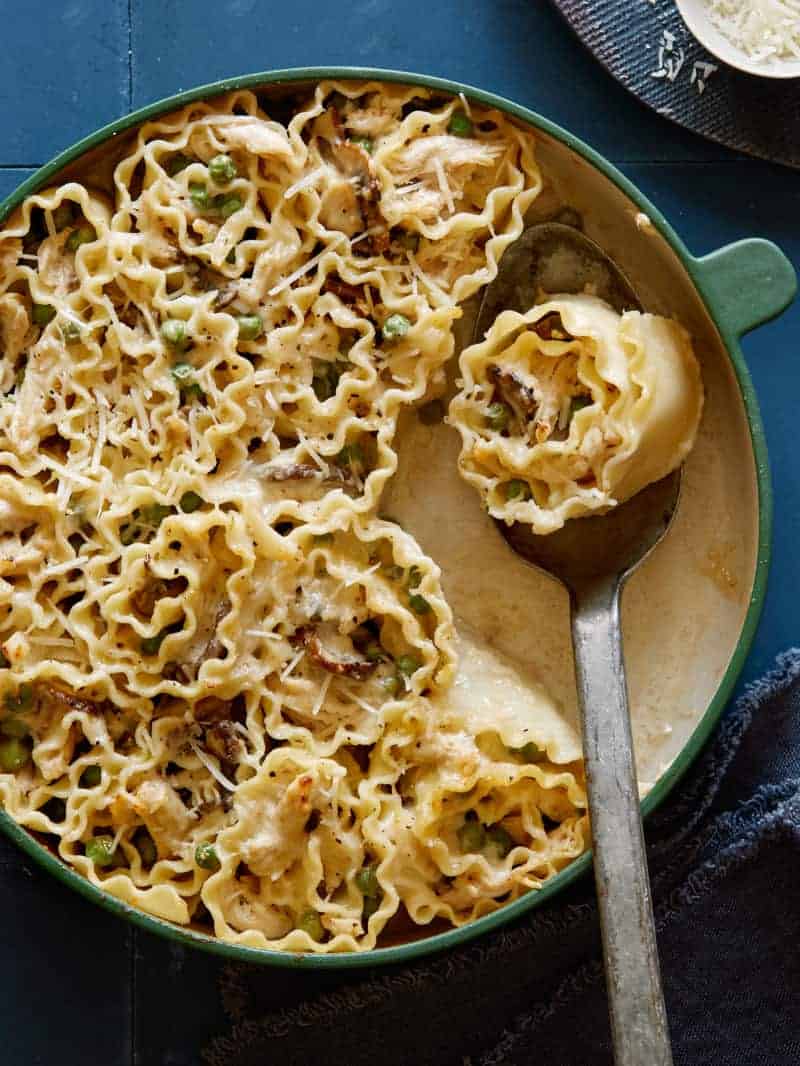 Happy Friday! We are reposting this recipe which is a favorite of mine. Chicken Alfredo Lasagna Roll Ups make the perfect weekend dinner because at least for my husband and I we always have leftovers, which then become dinner for us a couple days throughout the week. These also freeze and reheat well which makes these very much worth it to make! We like using these dried lasagna noodles because they're really sturdy and we like the pretty crimped edges.

This recipe was originally posted on April 17th 2017. 
You may remember this Lasagna Roll Up recipe we posted a while ago, well it's a favorite of ours. We love it so much that we decided it would be a good idea to turn it into another one of favorite pasta dishes: Chicken Alfredo. Yes, and yum.
These Chicken Alfredo Lasagna Roll Ups are a good one guys. It may seem like making these cute spirals full of delicious stuff is annoying, but it's no harder than making regular lasagna, and I would argue maybe even less time consuming. We have some peas in there as well as some mushrooms so there is some veg among the delicious creamy alfredo sauce. :)
♥ Teri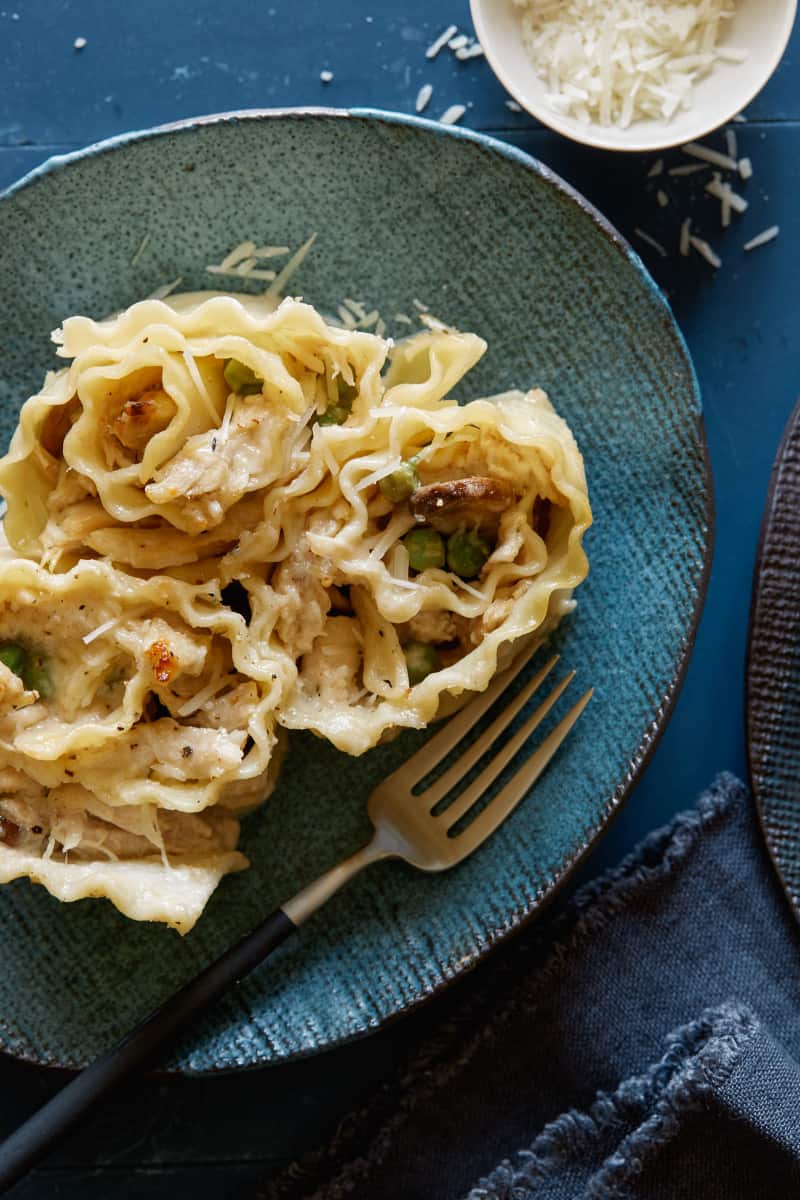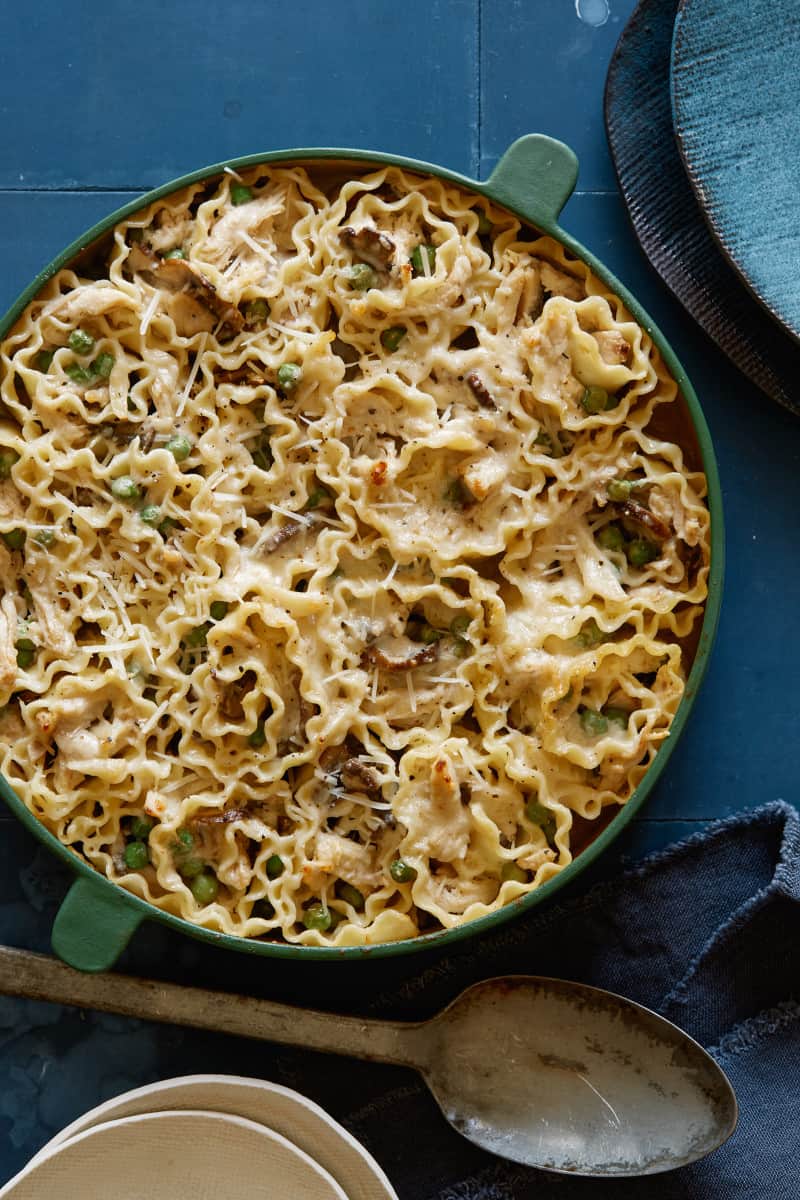 ---
Chicken Alfredo Lasagna Roll Ups
Ingredients
alfredo filling
2

cups

shredded chicken

1

cup

freshly steamed English peas

4

tablespoons

unsalted butter

8

ounces

thinly sliced shitake mushrooms

3

garlic cloves, minced

¼

small yellow onion, diced

2 ½

cups

heavy cream

8

ounces

grated Parmesan, divided
assembly
12

dry lasagna sheets (with fluted edges), boiled
Instructions
Pour chicken and peas into a large mixing bowl and toss together.

Place 1 ½ tablespoons butter in a large skillet and place over medium-high heat. Add mushrooms and saute for 2 to 3 minutes. Season with salt and pepper and add to the chicken and peas.

Add remaining butter to the skillet and add garlic and onions and sauté for 2 to 3 minutes.

Pour cream into the mixture and lower the heat to medium-low and simmer. Season with salt and pepper and continue to simmer until the cream reduces by ½ cup.

Once the cream has reduced, begin whisking in Parmesan, ½ ounce at a time, until all about 6 ounces of Parmesan has been added and the sauce is smooth.

Season with salt and pepper and continue to simmer the sauce until it thickens enough to coat the back of a wooden spoon.

Reserve ⅔ cup of the alfredo sauce and pour the remaining sauce over the chicken and pea mixture and fold together. Adjust seasonings.

To assemble: Pour reserved ⅔ cup alfredo sauce into the bottom of an 8"x8" baking dish and set aside. Pace a cooked lasagna sheet onto a clean surface and top with a layer of the creamy chicken mixture.

Tightly roll the lasagna sheet up completely. Carefully place it into the prepared baking dish, spiral side-up. Repeat until all of the sheets and filling have been used and snuggly fit into the baking dish.

Sprinkle the top of the dish with the half of the remaining Parmesan and place baking dish in the oven for about 25 minutes. Remove from oven, top with remaining Parmesan and allow the dish to cool slightly. Serve.
Notes
Makes 12 roll ups
*To Freeze Ahead: Once half of Parmesan is sprinkled over roll-ups (in step 11) tightly wrap in foil and place in the freezer. To serve, remove lasagna from freezer and bake, covered in foil, for 40 minutes. Remove foil, then continue to bake for an additional 10 to 12 minutes. Remove from oven and sprinkle with remaining Parmesan.