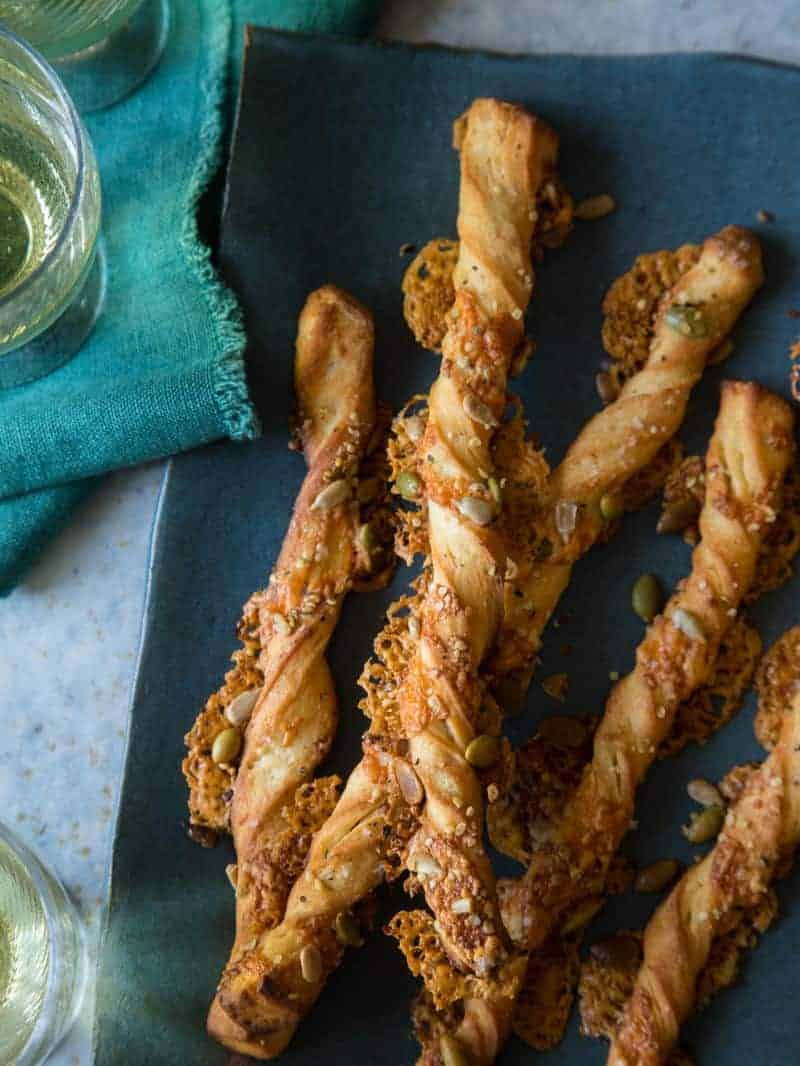 It's getting to be holiday season and that means lots of entertaining – which means lots and lots of cheeseboards. We all love the convenience that cheeseboards give us – because we don't really have to make anything. Well, sometimes it's nice to make one really beautiful thing to add to your appetizer boards and these Cheesy Seeded Breadsticks could be it. They are really beautiful, and super tasty. A really great addition to any meat and cheeseboard you might make! :)
♥ Teri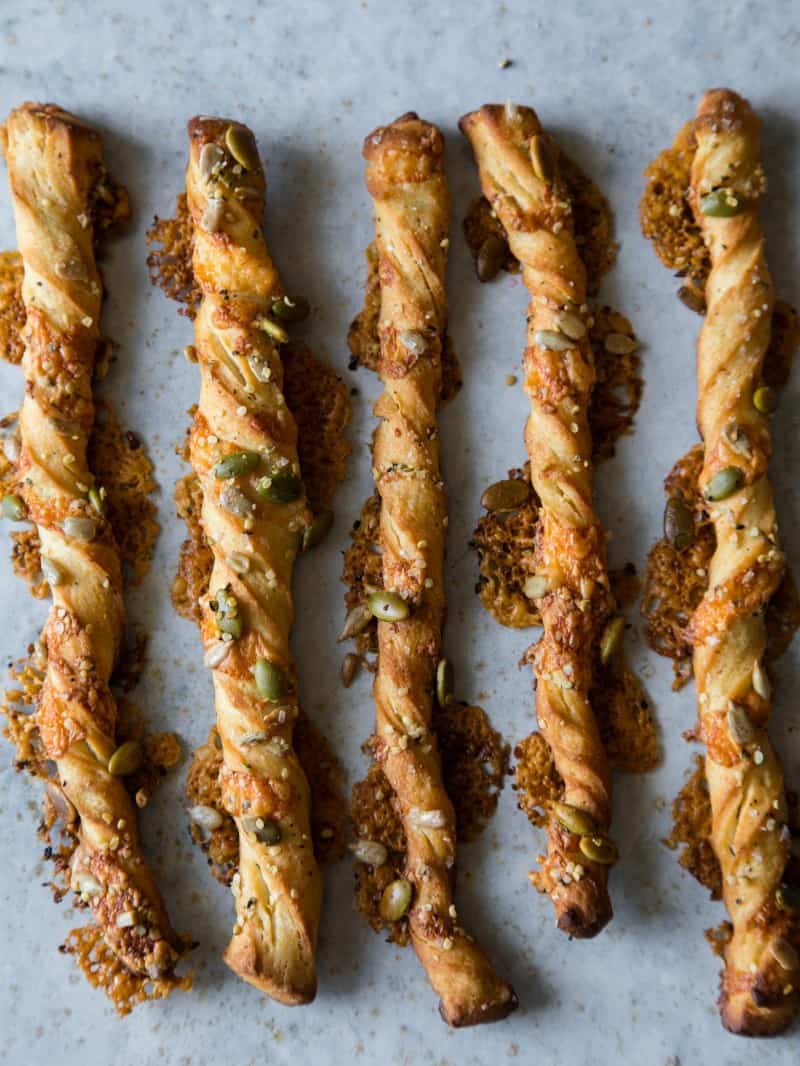 Cheesy Seeded Breadsticks

Makes 16

Ingredients:
pizza dough:
3 cups bread flour (all purpose is fine)
2 1/4 teaspoon instant yeast
1 1/2 teaspoons salt
2 tablespoons extra virgin olive oil
8 ounces warm water

1 large egg + 1 tablespoons water, beaten
4 ounces shredded gruyere cheese (swiss is fine)
1/4 cup toasted pumpkin seeds
1/4 cup toasted sunflower seeds
2 tablespoons hemp hearts (optional)
2 ounces grated Parmesan
2 tablespoons unsalted butter, melted and slightly cooled

Directions:
1. Pizza Dough: Pour flour, yeast, salt, and oil into a mixing bowl and whisk together. Add water, 1/4 cup water at a time and mix together until soft and sticky dough forms.
2. Turn dough out onto a clean and lightly floured surface and knead for 2 to 3 minutes, until smooth dough forms.
3. Lightly grease a mixing bowl, add dough and loosely cover. Allow dough to rest and double in size, about 1 hour (in a warm, dry place).
4. Preheat oven to 400˚F.
5. Uncover and punch dough in center. Turn dough out onto a clean and lightly floured surface and roll until 1/4 inch thick. Trim edges so you have a 16"x 8" rectangle.
6. Cut dough into long strips, so there are 16 (16" x 1/2") strips.
7. Generously brush each strip of dough with egg wash and top with a sprinkle of half the shredded gruyere. Press down on each breadstick to make sure cheese adheres and carefully twist each breadstick a few times and transfer to a baking sheet lined with parchment paper (spacing each breadstick about 1" apart.
8. Lightly brush each stick with melted butter and sprinkle with remaining gruyere cheese, pumpkin seeds, sunflower seeds, and hemp hearts (if using). Gently press toppings into each breadstick and finish with a dusting of grated Parmesan.
9. Bake breadsticks for 15 to 18 minutes or until golden-brown.
10. Remove from oven and cool. Serve.