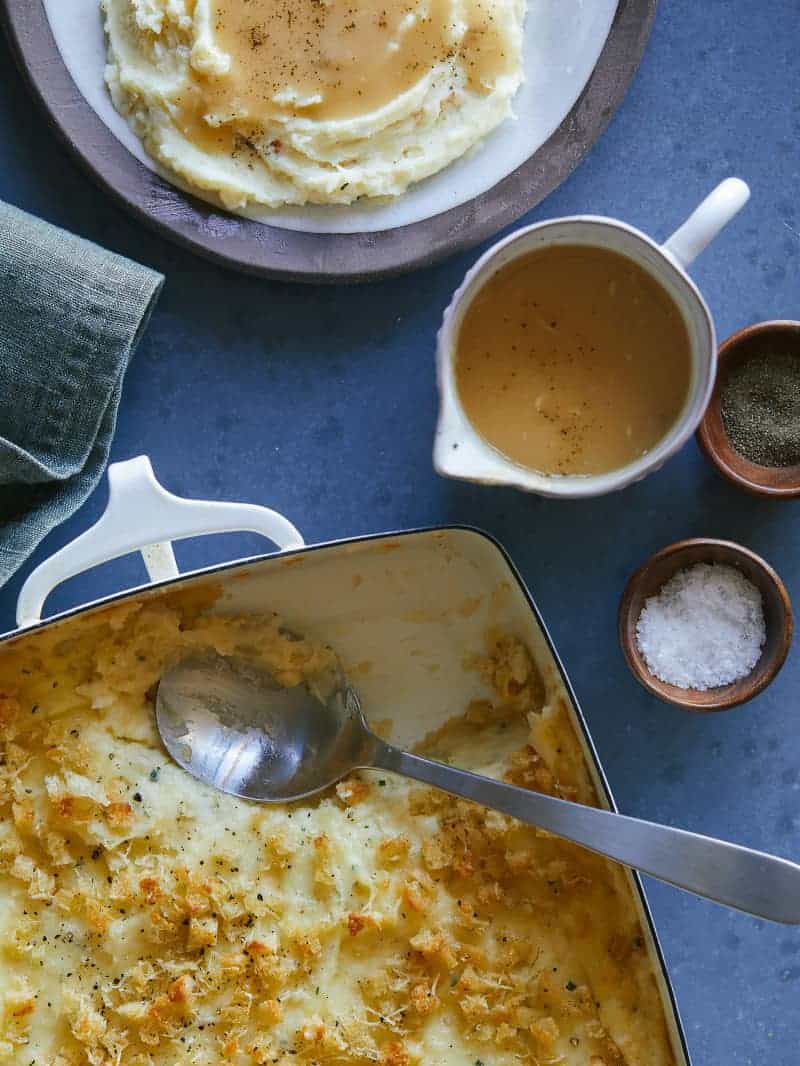 Now that it's officially the first full week of November I feel like everyone is scouring the internet for Thanksgiving recipes. We totally are! Today we have our first Thanksgiving recipe for you guys and it's one of our favorite kinds of dishes….one loaded with lots of cheese and carbs! It's our Cheesy Herb Baked Mashed Potato Gratin with Roasted Garlic Gravy! Just when you thought mashed potatoes couldn't get any better, we loaded ours up with lots of cheese and herbs, stuck it in the oven to get a golden brown crust, and finally we topped our potatoes with teeny, tiny, buttery croutons because, why not? The crisp texture of the croutons really adds a nice balance to the creamy potatoes; plus it's Thanksgiving and we all deserve to indulge a little more than usual, right? We were able to create this entire recipe with ingredients from ALDI. They have a wide range of high quality, everyday products at such great prices. After grabbing a bunch of fresh produce and gourmet cheeses for our dish, we stopped over and grabbed a few bottles of their award winning wine…'cause the holidays, you know? ☺
We're bringing our Cheesy Herb Baked Mashed Potato Gratin over to a little Friendsgiving gathering in just a couple days at Adrianna's house, (from A Cozy Kitchen blog!) and we can't wait. We love celebrating Friendsgiving, especially for the more relaxing vibe of a potluck-type gathering and we also love being able to bring different loved ones together and start brand new traditions! We're going to be enjoying our little get together with a handful of other fine internet folks ☺ and you'll totally be able to see what we're up to on our Instagram stories (Wednesday, November 8th)! We can't wait to see what everyone else is making! If you're also heading to a Friendsgiving gathering this year, but have no time to cook or bake anything, no worries, because ALDI has a bunch of easy-to-prepare meal options AND a bunch of different hostess gifts so you're fully covered.
Thanksgiving isn't just about sharing, spending time with loved ones and giving thanks or being thankful, but it's also a time to give back. To help bring more food to more people this holiday, ALDI is teaming up with Venmo and Feeding America® to encourage people to add a new tradition of giving to their Friendsgiving celebrations thanks to the very first Friendsgiving Turkey Hand emoji. Every time the Turkey Hand is shared on Venmo this November, ALDI will donate 10 meals to Feeding America to help people in need, up to one million meals. It's so easy and totally awesome, right?! There's seriously nothing better than enjoying a meal with loved ones AND helping others during the holidays! Learn more about the ALDI meal donations to Feeding America here and enjoy!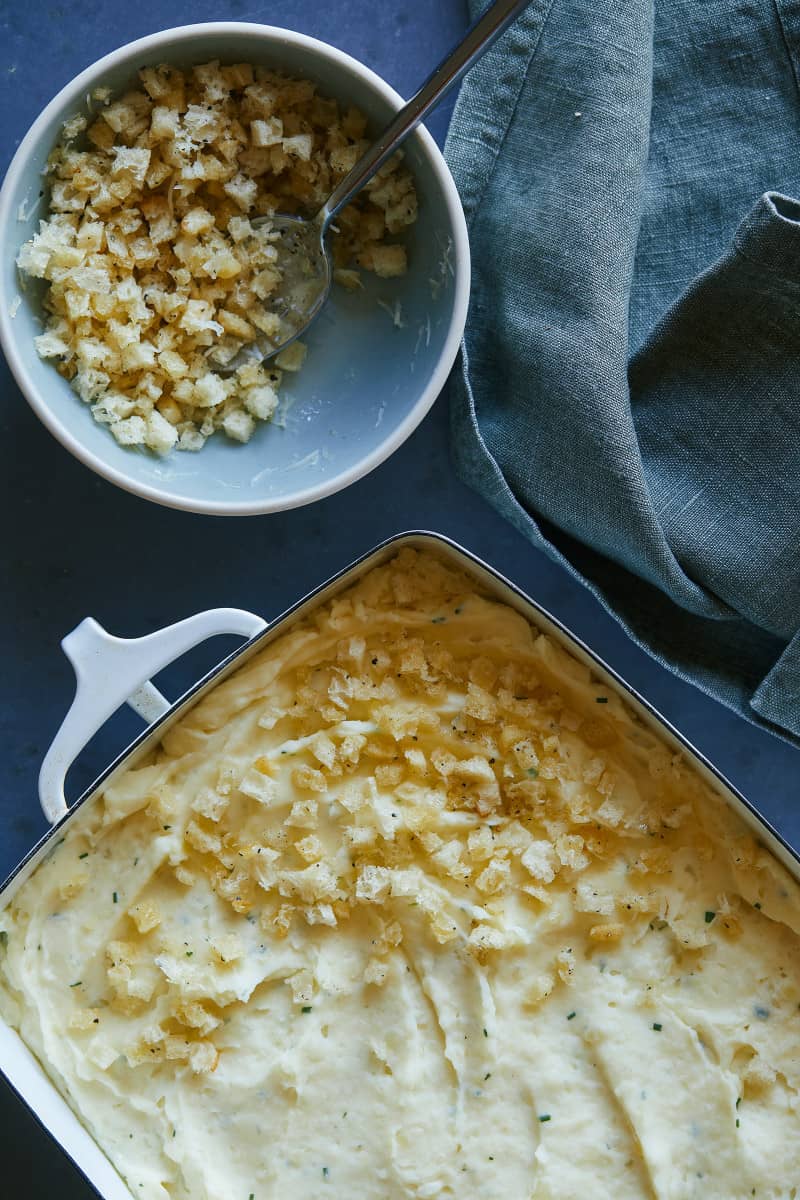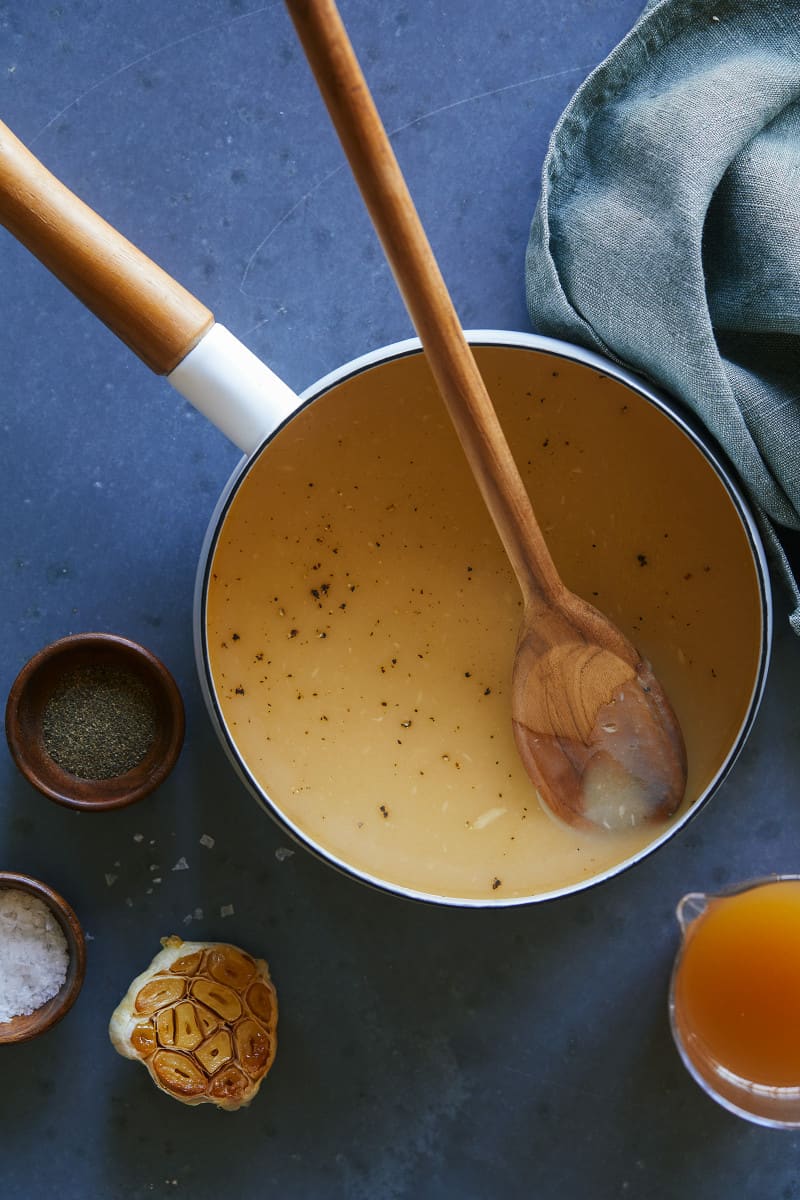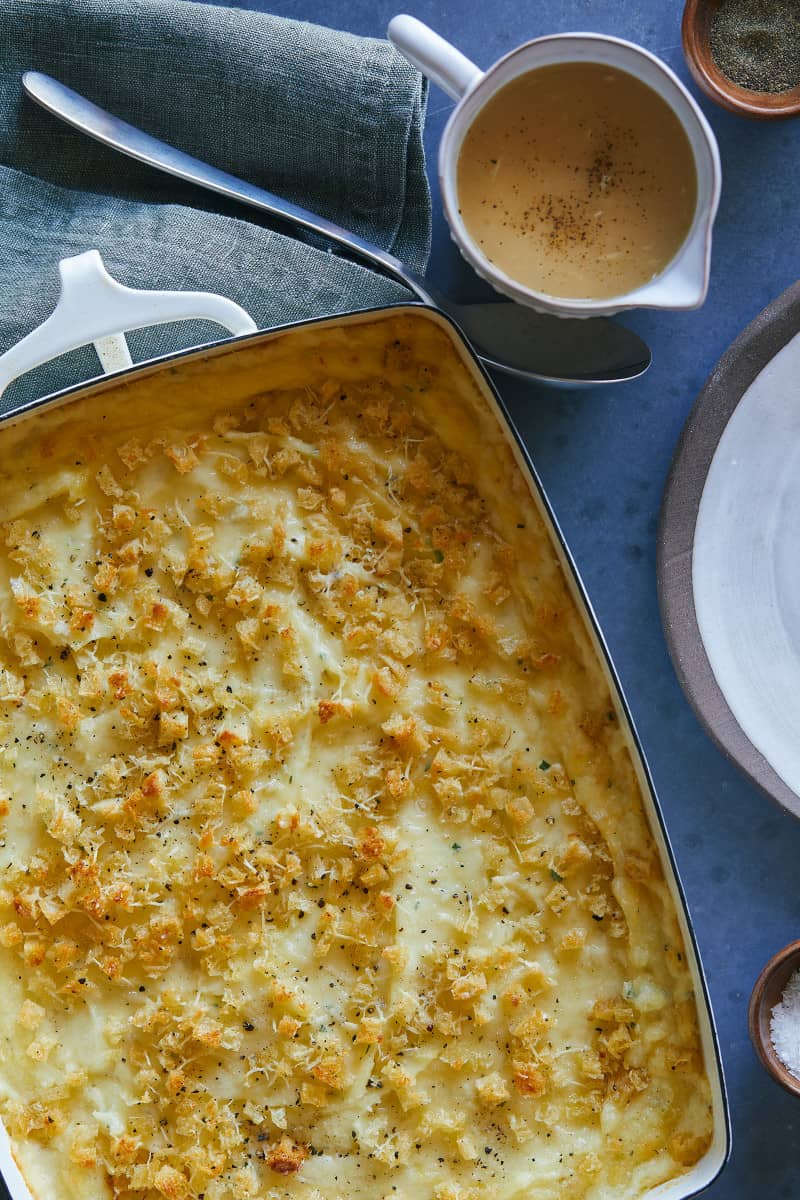 Cheesy Herb Baked Mashed Potato Gratin with Roasted Garlic Gravy

Makes 1 (9"x12")

Prep Time: 15 minutes
Cook Time: 35 to 45

Ingredients:
mini croutons:
2 tablespoons Countryside Creamery unsalted butter, melted and cooled
1/4 Specially Selected French baguette, finely diced into 1/4" cubes
2 ounces grated Priano Parmesan, plus more for garnish

3 pounds russet potatoes (about 5 large), peeled and chopped
1 cup Countryside Creamery heavy cream (plus up to 1/2 cup more if needed)
1/2 cup (1 stick) Countryside Creamery unsalted butter
2 garlic cloves, minced
4 ounces shredded Specially Selected Manchego cheese
4 ounces shredded Specially Selected Gruyere cheese
2 tablespoons minced thyme
2 tablespoons thinly sliced chives
Stonemill salt and pepper to taste
Roasted garlic gravy:
1 head roasted garlic, cloves removed and mashed to a paste
1 teaspoon Simply Nature organic extra virgin olive oil
2 tablespoons minced shallots
3 tablespoons Countryside Creamery unsalted butter
3 tablespoons Baker's Corner all-purpose flour
16 ounces Chef's Cupboard turkey stock
Stonemill salt and pepper to taste

1. Place all crouton ingredients into a small mixing bowl and mix together until all bread cubes are coated. Lightly season with salt and pepper. Set aside.
2. Place potato pieces in a large pot and fill with water until potatoes are submerged.
3. Place pot over high heat and bring potatoes to a boil. Continue to boil until potatoes are fork tender, 15 to 18 minutes. Drain and set aside.
4. Meanwhile, pour 1 cup heavy cream, butter and garlic into a saucepan and scald.
5. Pour cream mixture over potatoes and mash with a potato masher until mixture is smooth and creamy, using remaining 1/2 cup cream, if needed. Generously season with salt and pepper.
6. While potatoes are still hot, fold in cheese, a small handful at a time, until fully incorporated and cheese has melted. Fold in herbs and adjust seasonings.
7. Preheat oven to 375˚F. Lightly grease a baking dish with butter.
8. Pour mashed potatoes into the prepared baking dish, smoothing the surface. Top potatoes with prepared croutons and bake for 15 to 20 minutes or until the top and croutons are golden brown.
9. While the potatoes are in the oven, make the gravy. Place a saucepan over medium heat and melt butter. Add shallots and saute for 3 to 4 minutes.
10. Add flour and half of roasted garlic paste and whisk together for 1 to 2 minutes.
11. Slowly whisk stock into the mixture and continue to whisk until smooth and the gravy has thickened enough to coat the back of a wooden spoon. Season with salt and pepper. Stir in the remaining roasted garlic paste.
12. Top mashed potato gratin with a sprinkle of Parmesan cheese and serve with roasted garlic gravy.

**For roasted garlic: Preheat oven to 350˚F. Cut 1/2" top off of head of garlic. Place cut garlic head onto the center of a small square of foil. Top garlic with oil and completely wrap in foil. Place foil of garlic directly onto the baking rack and roast for 35 to 45 minutes or until the garlic cloves are fork tender and lightly browned on top.