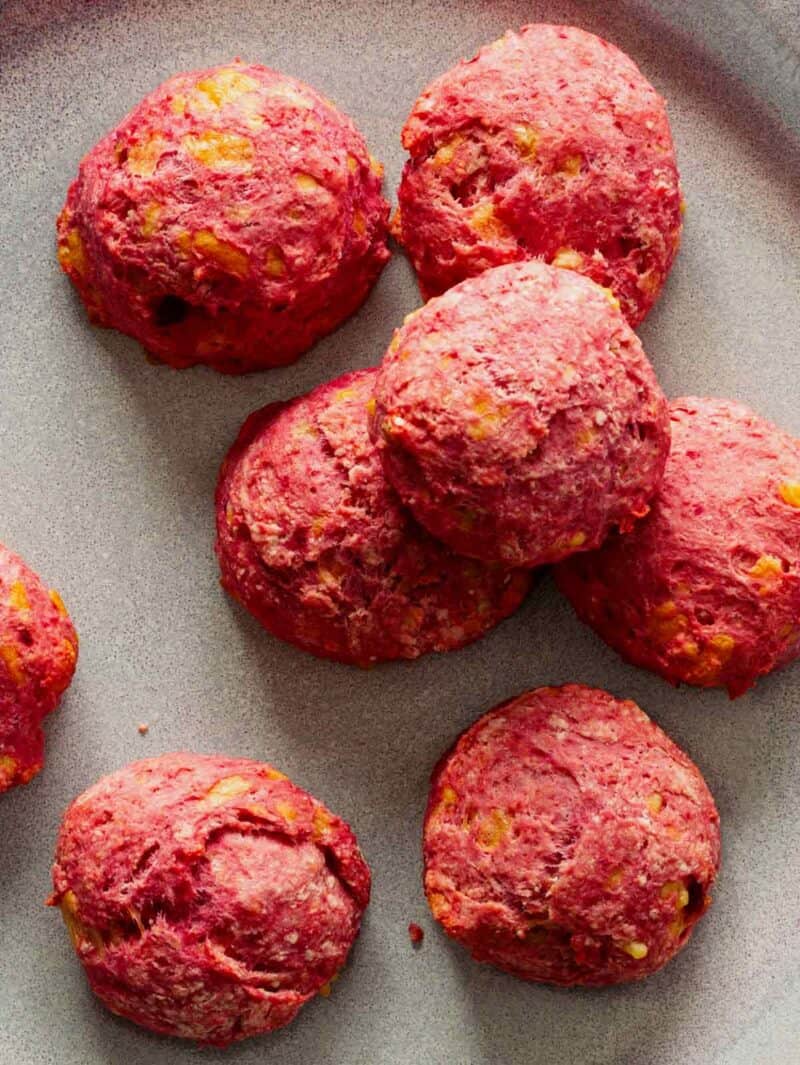 Hi Guys! Fall is finally here!!! We're starting this season off right with cozy biscuits…cheesy beet biscuits to be exact. I love coloring foods with beets, it's so easy, natural and the results are always so stunning. You can taste a slight earthiness to these biscuits, but the buttery, flaky, cheesy goodness of the comté cheese is the predominant flavor.
What are Beet Biscuits?
Our Beet and Cheese Biscuits are made with a roasted beet puree. The flavor of the beets in these biscuits is pretty mild. You will taste the beets earthy flavor, but it won't be overwhelming. We primarily use the beet in this recipe to get the beautiful red and pink color that you see in the beet biscuits.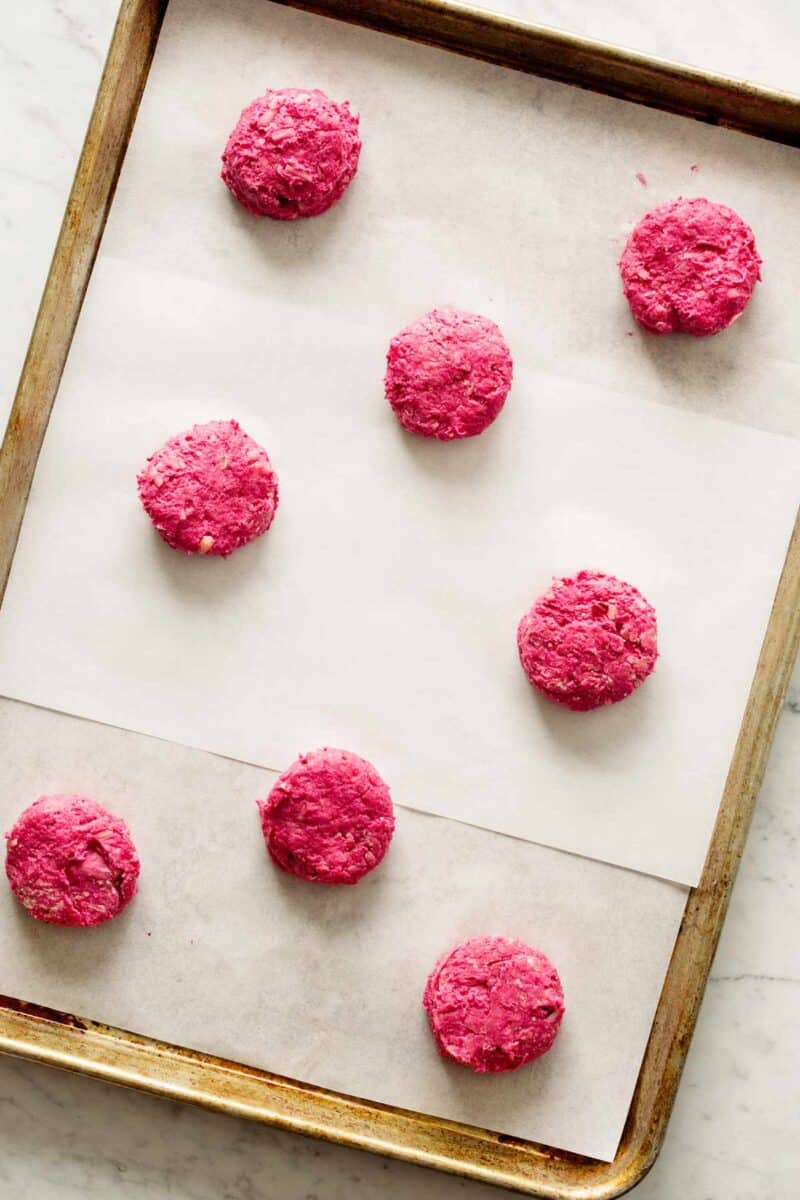 How do you make a Roasted Beet Puree?
For our puree we use only the red beets because that is the color we want for our cheese biscuits. Drizzle the beets with olive oil and then wrap tightly in aluminum foil. Place them in the 400 degree oven, and cook until they are fork tender. About 45 minutes. Cool the beets, peel, then puree in a food processor.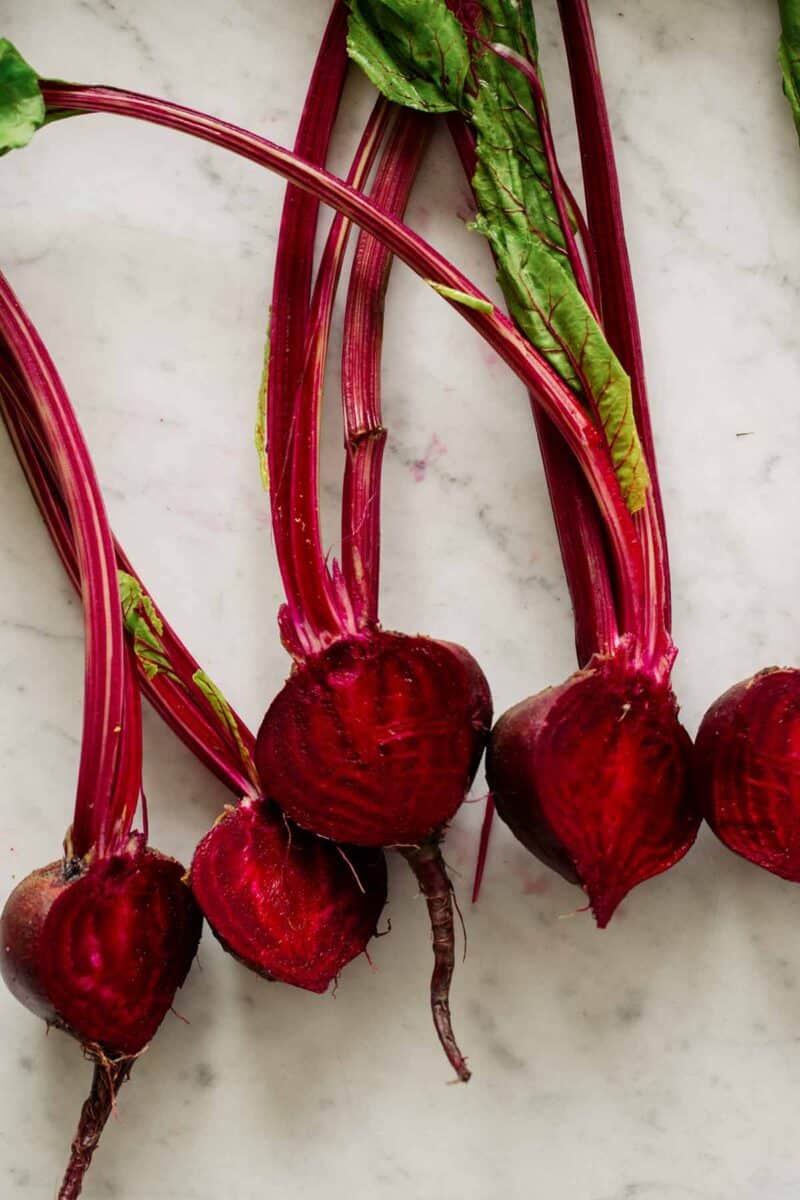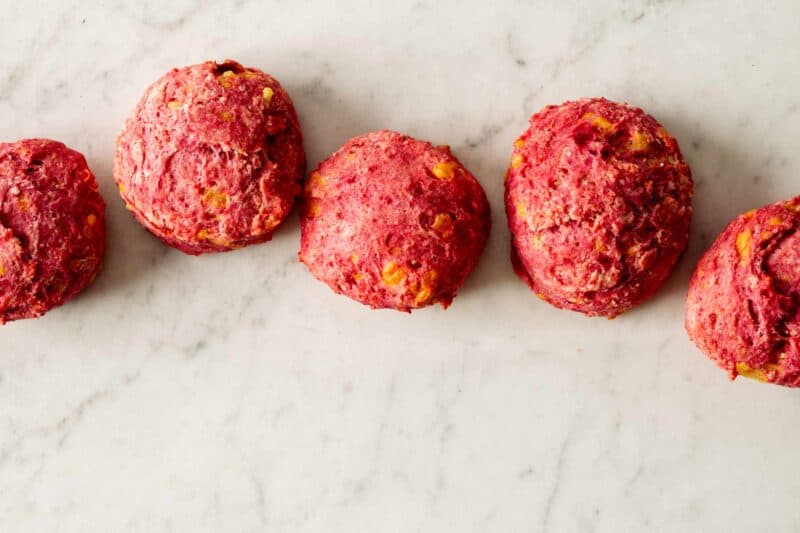 If you like these beet biscuits, you might also like our Ham and Cheese Buttermilk Biscuits, or our Hatch Chile and Cheddar Biscuits.
In this recipe we use comtè cheese, which is a french cheese. You can find it at most specialty markets. We love using comtè cheese with our biscuits because it's a hard cheese so when it's mixed in the dough you get little pockets of cheesy goodness. It's one of our top choices for biscuits!
Tips and Tricks for making Biscuits
For these biscuits, it's important to really cut the cold butter in. Rub in the chunks of cold butter with your fingers so that no large chunks of butter remain in the flour.
When you add the wet ingredients to the mixture you want to make sure everything is fully incorporated, and no dry spots are found in the mixture. It is also important to make sure you do not over mix, or your biscuits may come out too dense. You're really aiming for a good balance here, so you have soft, buttery and fluffy biscuits.
Beet fan? More beet recipes here: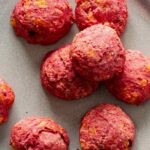 ---
Beet and Cheese Biscuits
We took Cheese Biscuits and added beets to give them an earthy taste and a beautiful pink color. The beet flavor is very mild in case you are worried. These Beet and Cheese Biscuits go well with anything! This recipe makes 10 biscuits.
INGREDIENTS
2

cups

all purpose flour

2½

tsp

baking powder

¼

tsp

baking soda

1

tsp

salt

¼

tsp

black pepper

½

cup

unsalted butter

cold and cubed

1

cup

shredded comtè cheese

⅓

cup

buttermilk

⅓

cup

roasted red beet puree
INSTRUCTIONS
Combine flour, baking powder, baking soda, and salt in a mixing bowl and whisk together.

Add butter and cut into mixture until a coarse, mealy texture forms.

Fold in cheese, beet puree and buttermilk until just combined, the puree color has evenly distributed throughout the dough and no dry spots remain.

Turn dough onto a lightly floured surface and fold 3 to 4 times, then gently press dough until 3/4" thick.

Using a 2 1/2 inch circle cutter, cut rounds out of dough and place onto a parchment lined baking sheet, about 1 inch apart.

Gently push scraps together and form more biscuits. Add to baking sheet and bake for 15 to 17 minutes.

Remove from oven and allow to cool, about 5 minutes, before serving.
NOTES
For Roasted Red Beet Puree: Preheat oven to 400˚F. Place 2 clean beets atop a sheet of foil and drizzle with extra virgin olive oil and sprinkle of salt and pepper. Wrap beets tightly and place directly onto the center oven rack and roast for 40 to 45 minutes or until fork tender. Allow beets to cool before peeling and pureeing in a food processor until smooth.
Calories:
293
kcal
Carbohydrates:
25
g
Protein:
9
g
Fat:
17
g
Saturated Fat:
11
g
Cholesterol:
50
mg
Sodium:
530
mg
Potassium:
79
mg
Fiber:
1
g
Sugar:
1
g
Vitamin A:
527
IU
Vitamin C:
1
mg
Calcium:
260
mg
Iron:
2
mg
KEYWORD:
beets, biscuits, cheese