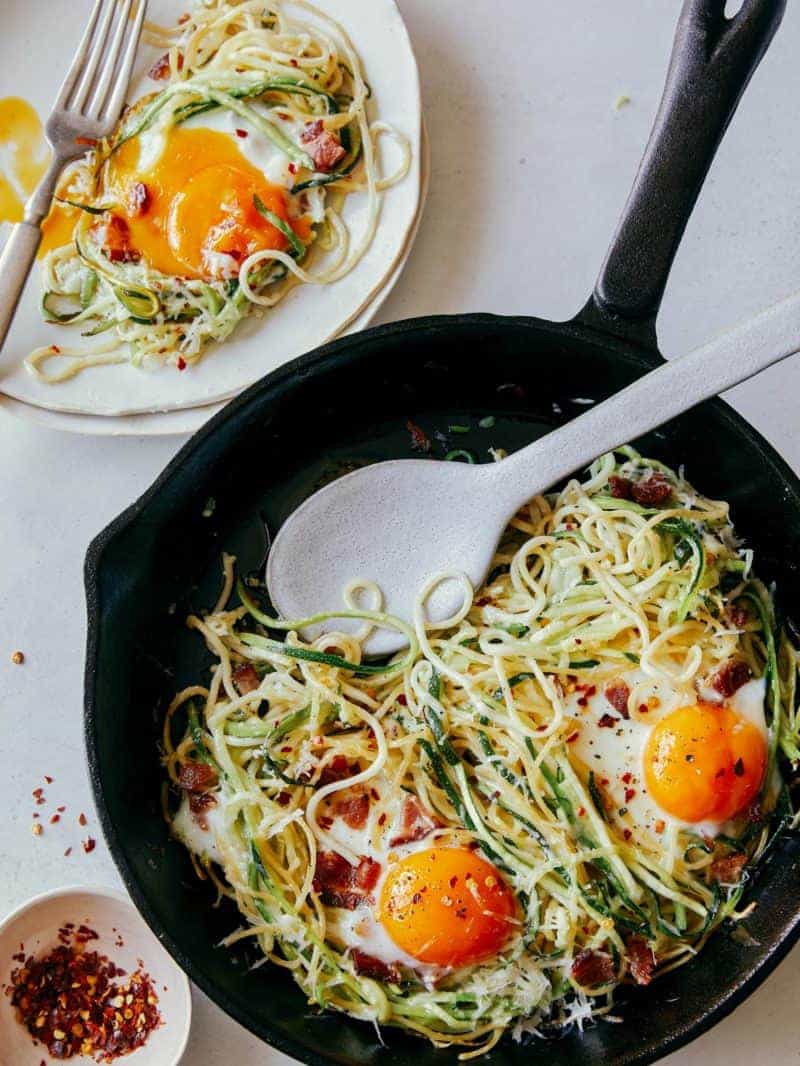 We are big fans of pasta, and would both eat it like every night, but we all know you can't really do that. So we are also big fans of 50/50 spaghetti and zucchini. It's really great for a lighter option but you still to get to eat pasta. Yay! We made this Seared Salmon dish a while back with 50/50 noodles that is really good. Today, we made Cheesy 50/50 Spaghetti and Zucchini Bake with Eggs. Love these baked eggs in this to give it a little extra something so you get full. Enjoy :)
♥ Teri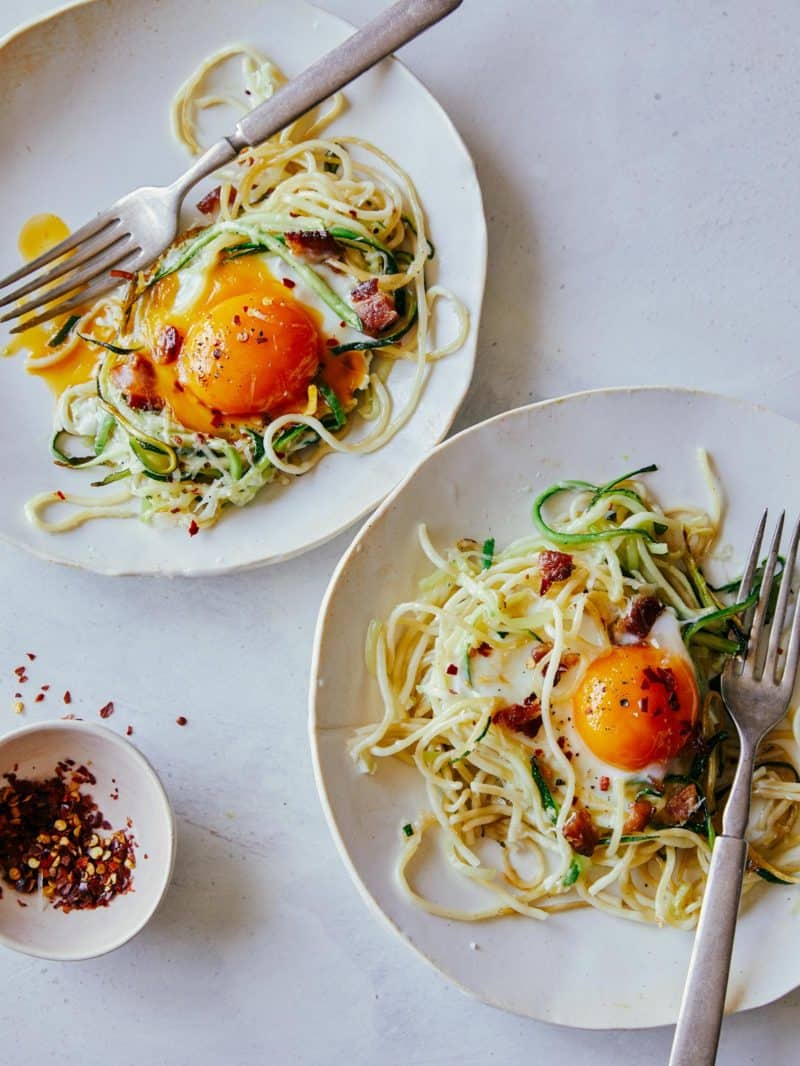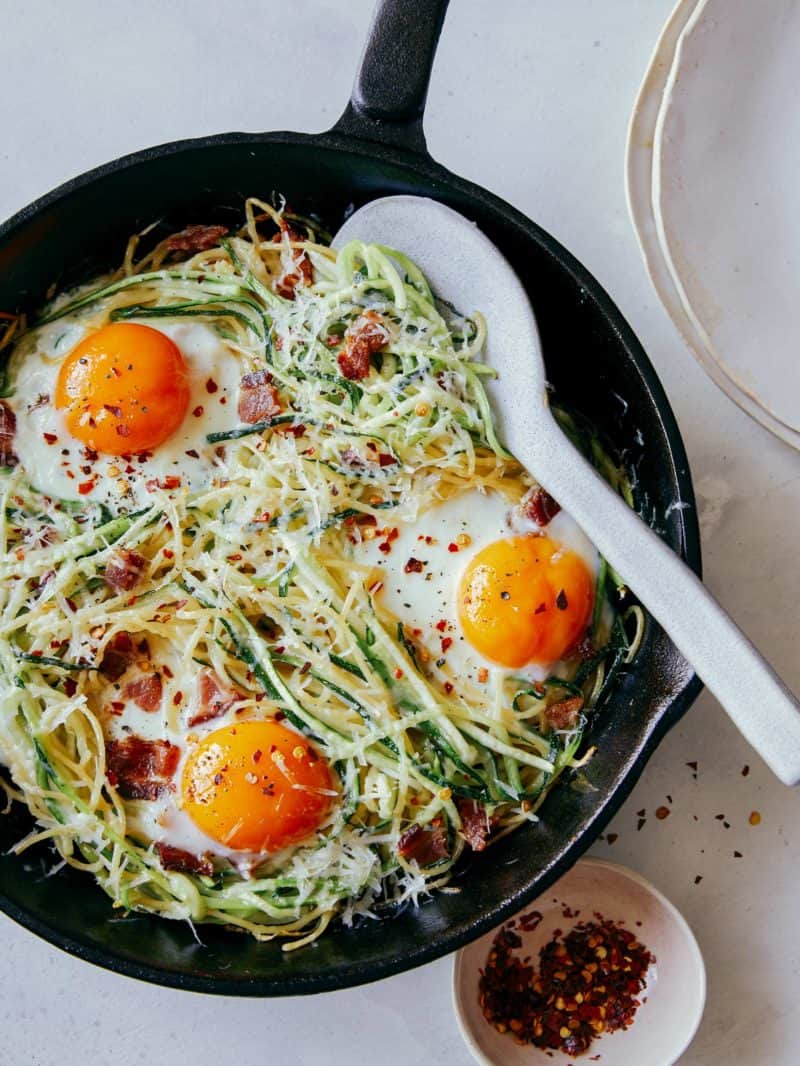 Cheesy 50/50 Spaghetti + Zucchini Bake with Eggs

Serves 4

Ingredients:
10 ounces dry spaghetti
2 medium zucchini, ends trimmed and peeled with a julienne peeler
6 strips crispy cooked and chopped bacon
1 cup mozzarella
1/2 cup Parmesan, divided
4 tablespoons unsalted butter, divided
4 large eggs
1 teaspoon crushed red pepper flakes

Directions:
1. Fill a large pot with water and place over medium-high heat.
2. Once water comes to a boil, add a small handful of salt and the dry spaghetti.
3. Once the pasta is al dente, 6 to 7 minutes, add the zucchini and cook for an additional 30 seconds. Drain pasta and zucchini into a colander and rinse under cool water. Transfer into a mixing bowl.
4. Toss spaghetti and zucchini with bacon, mozzarella and 1/4 cup Parmesan. Season with salt and pepper.
5. Preheat oven to 375˚F.
6. Place 2 tablespoons butter in a large skillet over medium heat. Add pasta mixture to skillet, creating 4 divots. Melt 1/2 tablespoon of remaining butter into each divot and crack an egg over each pool of butter.
7. Sprinkle remaining 1/4 cup Parmesan over pasta mixture and place skillet in oven.
8. Bake for about 10 minutes or until cheese melts, egg whites set, but yolks are still runny.
9. Remove from oven and season with salt and pepper. Finish with a sprinkle of crushed red pepper flakes. Serve.