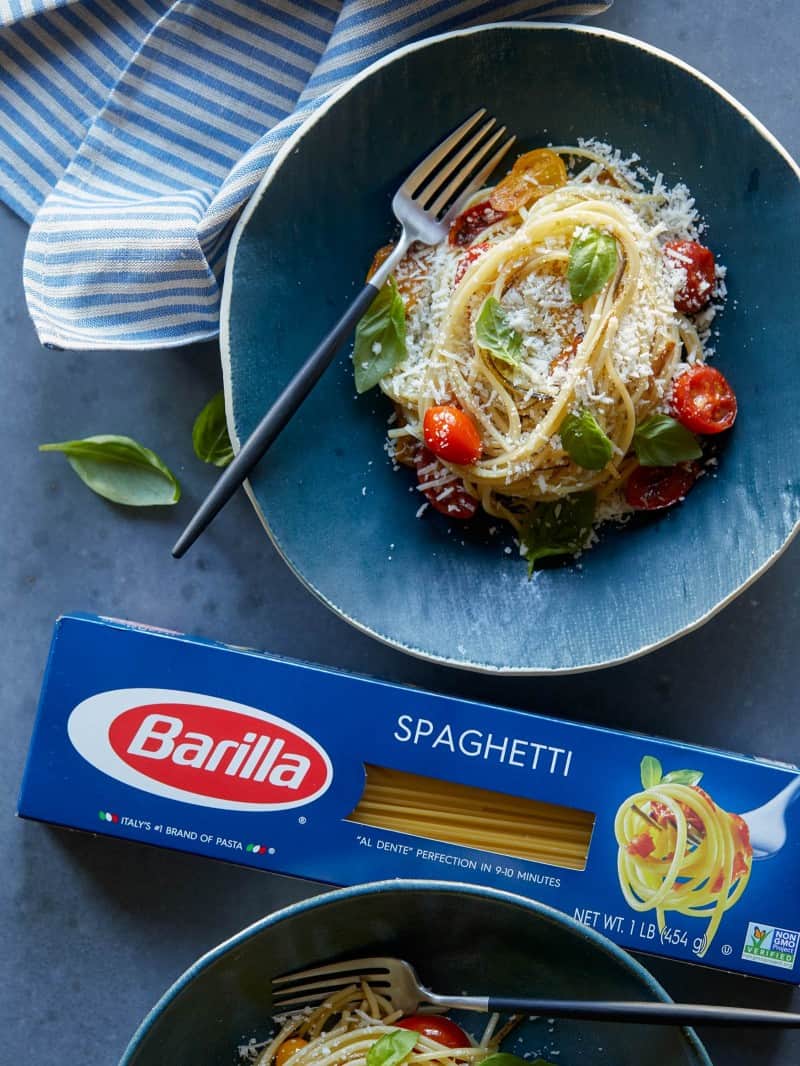 Hi Guys! A couple weeks ago, I was lucky enough to attend the Pasta World Championship in Italy thanks to Barilla®! We got to watch chefs from around the world compete in three rounds of competition, where they cooked their signature dish, as well as created their version of Pasta Pomodoro! It was so much fun watching the chefs pour their creativity into some of the dishes, especially within the time limit they were given!
Today, we have our own version of Pasta Pomodoro, a Charred Pasta Pomodoro, inspired by the 2nd round of the competition. We kept things in our dish clean and simple, to allow the bright flavors of the tomato, garlic and basil to really shine through.
While we were in Italy, we got to see a few videos that gave us a little background info about each of the Michelin Starred Judges and I noticed that one of the judges laid his cooked pasta over an open flame to give it a slight 'char'. I've never seen that before and thought it was so unique and interesting! Of course, the first thing I did when I got home was test out that technique. I was left with pasta that was almost perfumed in a light smoky flavor. It was so subtle and absolutely delicious!
The charred pasta pairs so nicely with the sweet and acidic tomatoes and the fragrant basil. I add a little pasta water to the overall dish to bring all the flavors together, but for the most part, this pasta doesn't have a sauce. I love sauce-less pastas that are loaded with flavor or when the sauce just sticks to the pasta, because I think it's the best way to allow the nice al dente texture of the pasta to come through.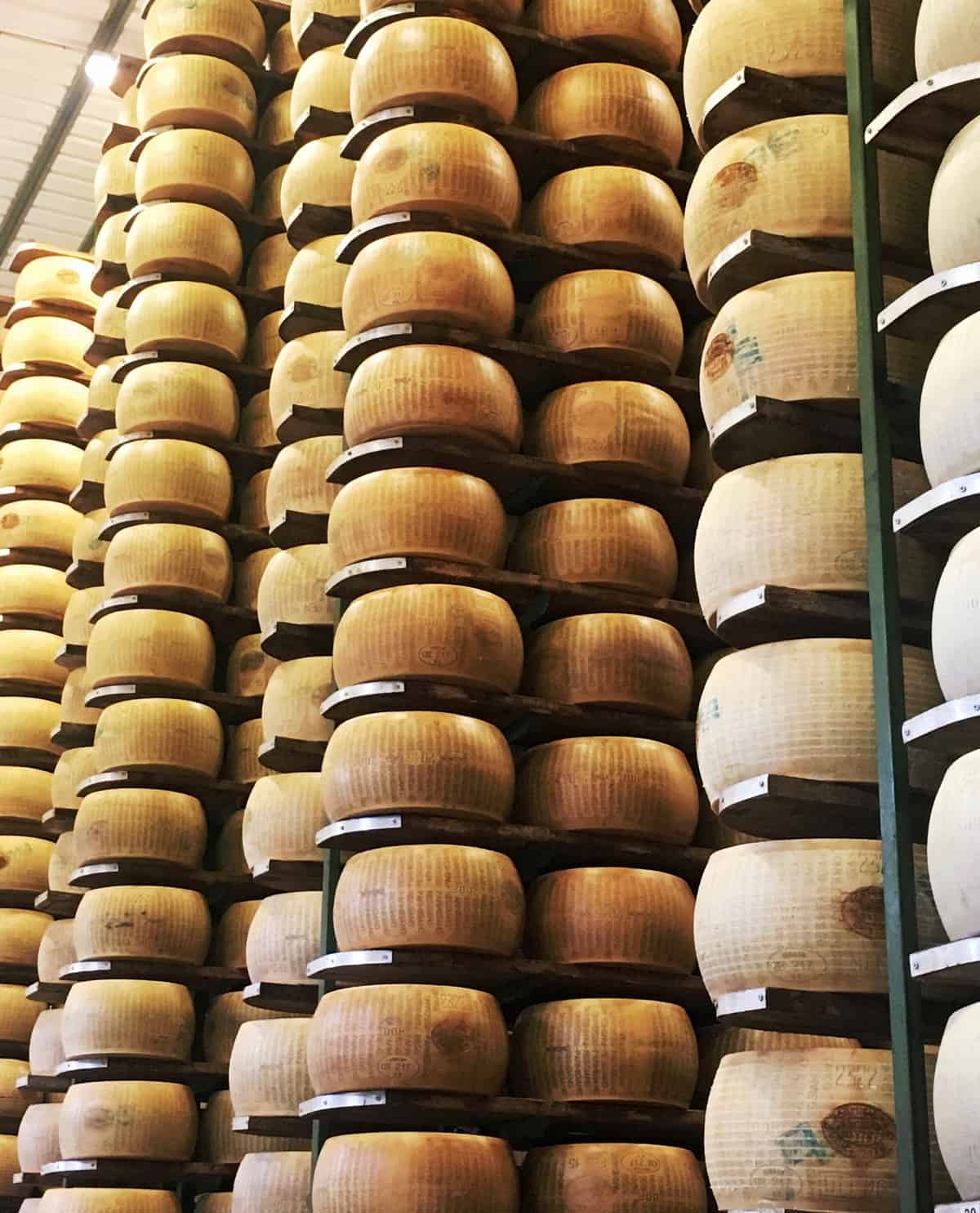 During our time in Italy we were also lucky enough to visit the Parmigiano Reggiano cheese factory in Parma! It was so neat to see how traditional wheels of Parmesan are made today…and there was definitely no shortage of absolutely gorgeous (aged) Parmesan cheese. We ended up bringing a few wedges home and used some on our dish today!
If you're looking for a super simple dish that only requires a few ingredients, but will leave you totally satisfied, this Charred Pasta Pomodoro is the perfect one for you! Enjoy!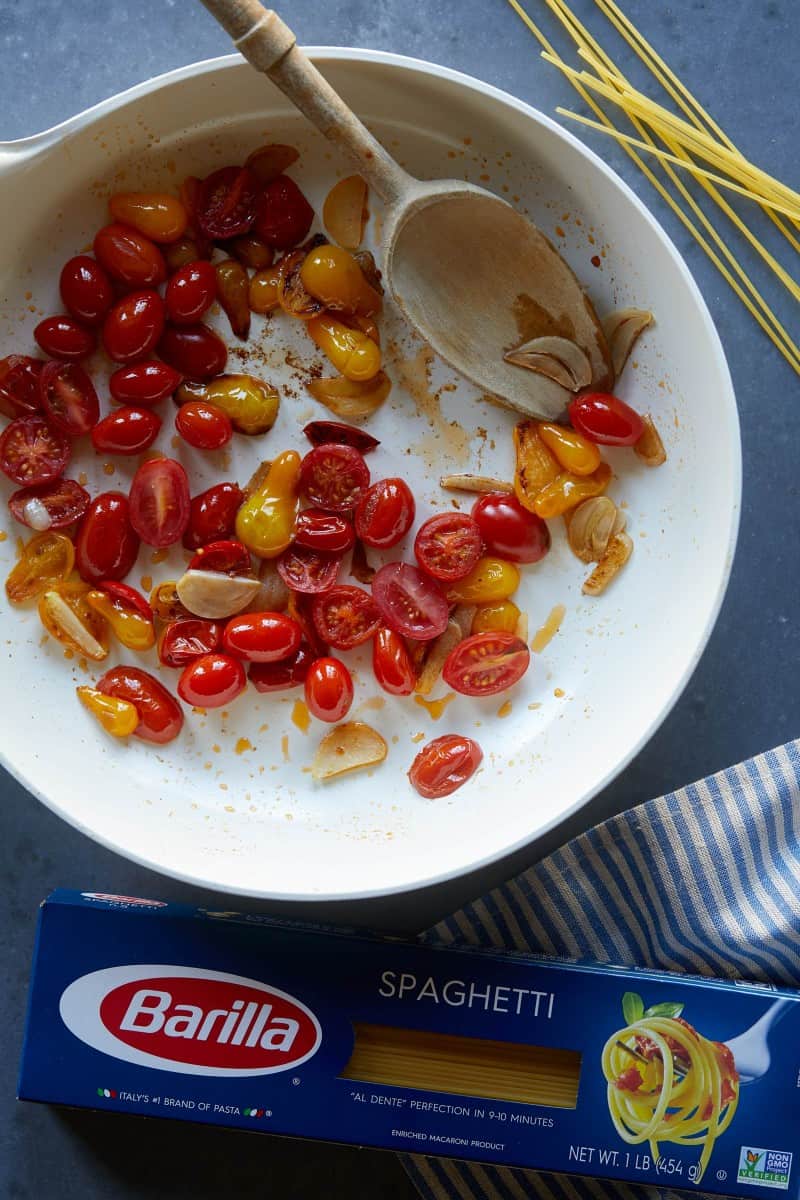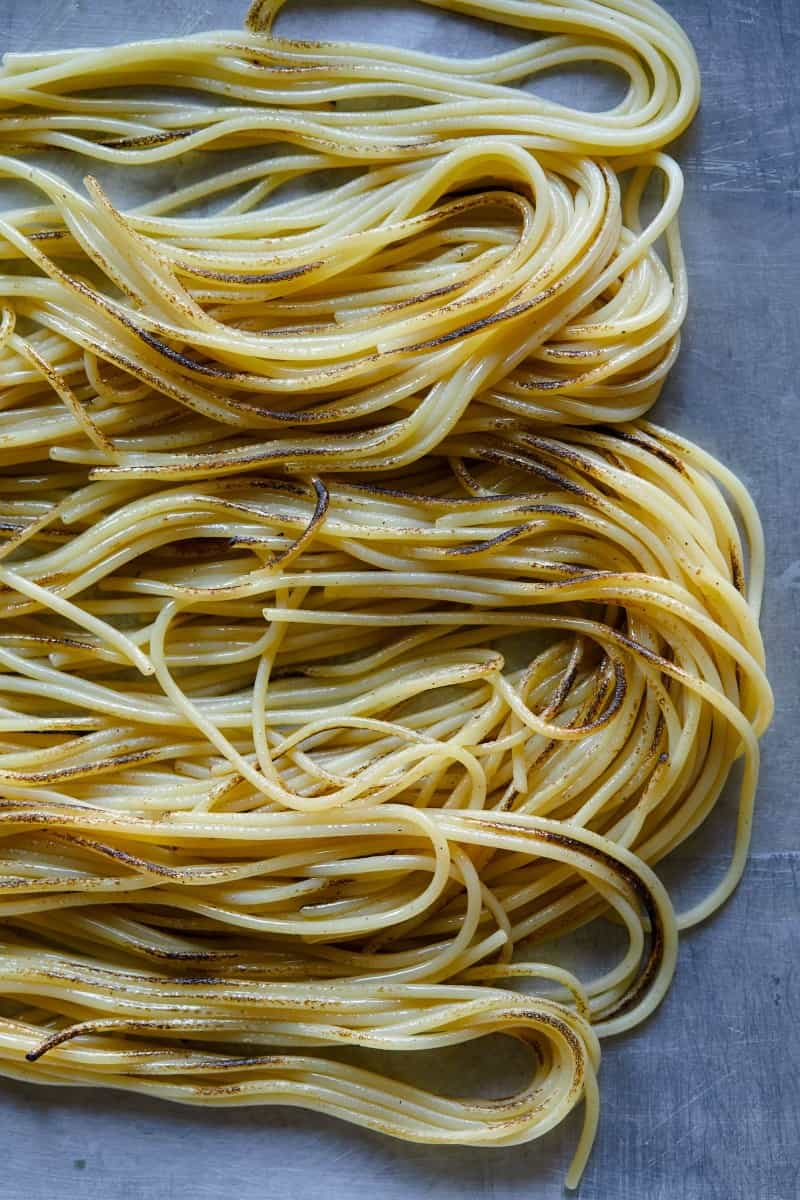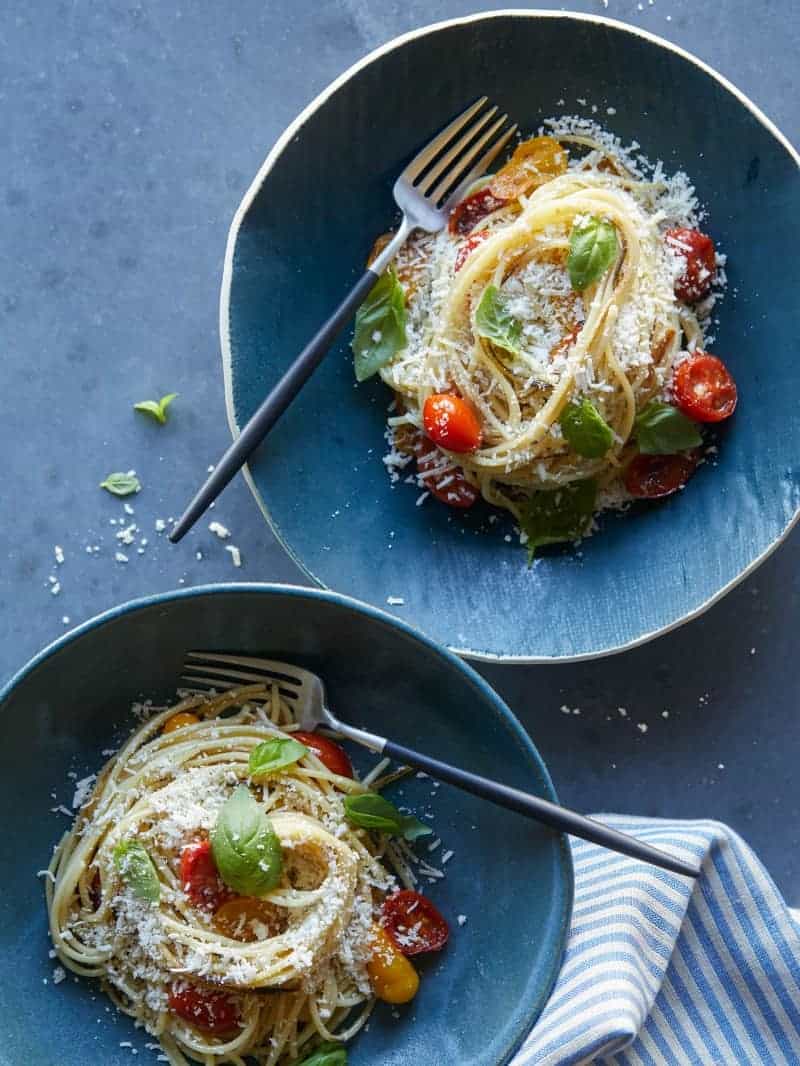 Charred Pasta Pomodoro
Serves 5 to 6
Ingredients:
1 box (1 lb.) Barilla Spaghetti
3 1/2 tablespoons extra virgin olive oil, divided
1 pound cherry tomatoes, halved
3 garlic cloves, thinly sliced
2 ounces (~ 1/4 cup) freshly grated Parmigiano Reggiano, plus more for garnish
salt to taste
fresh basil leaves
1. Place a large pot over high heat and bring to a boil.
2. Add a small handful of salt, followed by the spaghetti and stir.
3. Bring water back up to a boil and cook pasta until al dente, stirring frequently, 6 to 8 minutes.
4. Drain pasta, reserving 1 cup pasta water.
5. Place a large grill pan over high heat and brush 1/2 tablespoon oil. Once grill pan is hot, ad 1/3 of pasta and slightly char all over, 2 to 3 minutes. Remove pasta from heat and repeat until all the pasta has been charred. Set aside.
6. Place a large skillet over medium-high heat and add remaining oil.
7. Add tomatoes and sauté for 3 to 4 minutes.
8. Season with salt, lower heat to medium and add garlic. Continue to sauté for an additional 2 to 3 minutes.
9. Stir in pasta water and allow mixture to simmer, until half the liquid has evaporated.
10. Add pasta, lightly season with salt and toss together. Sprinkle Parmesan and a few basil leaves over the pasta mixture and continue to toss together until well combined.
11. Finish pasta with more Parmesan and fresh basil leaves. Serve.