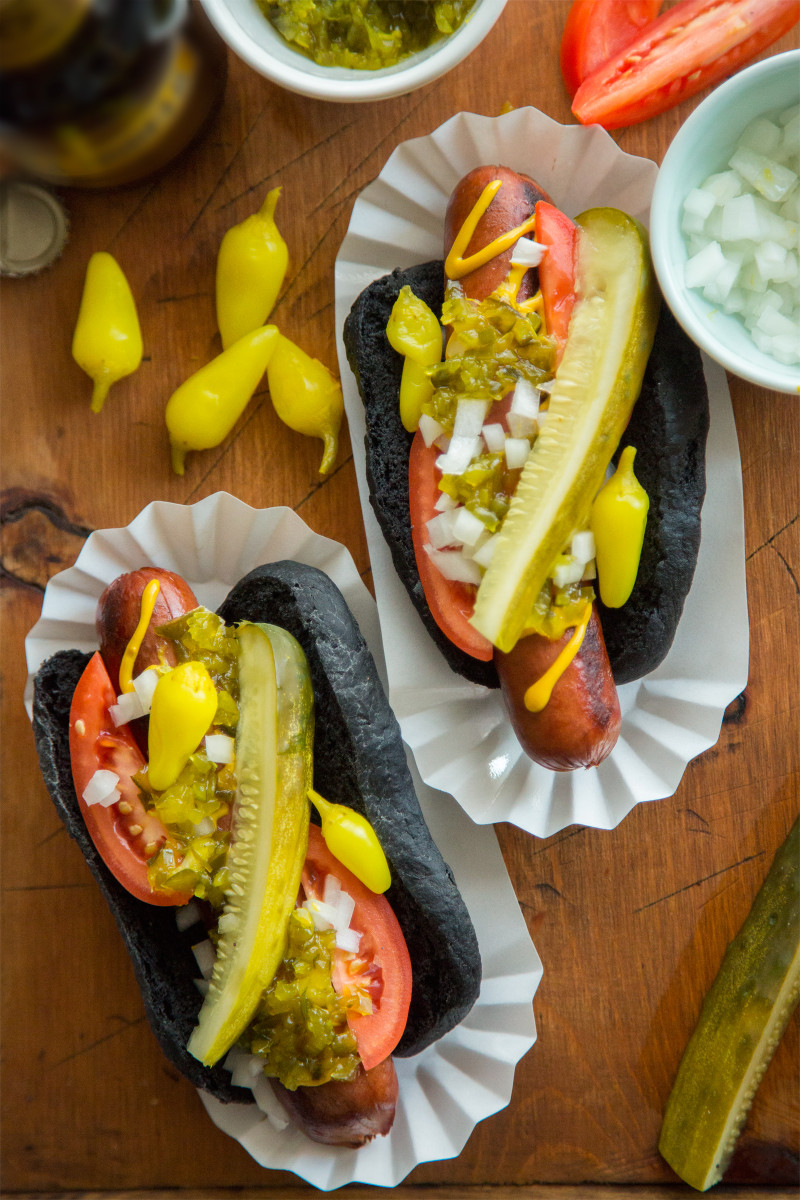 Halloween is almost here and we're getting ready to celebrate with these charcoal infused hot dog buns, that we're stuffing with Chicago dog fixins! The black buns make such a statement and are perfect for Halloween! I love using (food grade) charcoal powder because it works as a natural dye and colors the buns beautifully! You can find it online, it isn't expensive nor does it effect the flavor of the buns. If you don't want to go to the trouble of finding and buying your own charcoal powder you can definitely substitute it with a few drops of black food coloring.
If you're looking for last minute recipes that scream Halloween, in a somewhat unique way, we highly recommend making these buns and stuffing them with something savory and delightful (even if it's not a Chicago dog)! Happy Halloween!!!! :)
Charcoal Hot dog Buns
Makes 8
Ingredients:
1 cup warm milk (120˚F)
1/2 cup warm water(120˚F)
2 tablespoons superfine sugar, divided
2 1/2 teaspoons active dry yeast
1 1/2 teaspoons salt
6 tablespoons unsalted butter
1 egg, lightly beaten
3 1/2 tablespoons charcoal powder
4 to 4 1/2 cups all purpose flour
egg wash:
1 egg lightly beaten + 2 tablespoons water
1/2 cup black sesame seeds
Directions:
1. In a large mixing bowl combine milk, water, 1 tablespoon sugar, yeast, and salt. Allow mixture to sit for 5 to 6 minutes or until yeast bubbles and foams.
2. Add butter and egg and mix together. Whisk charcoal powder into the flour until fully combined then stir flour mixture into the wet mixture, 1 cup at a time until 4 cups have been added and is well mixed.
3. Sprinkled the remaining flour mixture onto a clean surface and knead dough for 6 to 8 minutes or until smooth, elastic and evenly colored black.
4. Cut dough into 12 even pieces and roll each into smooth loaf shapes and place onto a parchment lined baking sheet, 2 inches apart.
5. Loosely cover and place in a warm and dry area for 1 hour or until buns have doubled in size.
6. Preheat oven to 400˚F.
7. Lightly brush each bun with the egg wash and sprinkle with black sesame seeds.
8. Bake buns for about 12 to 13 minutes or until buns have risen and baked through.
9. Remove from oven and allow buns to cool completely before slicing, stuffing and serving.