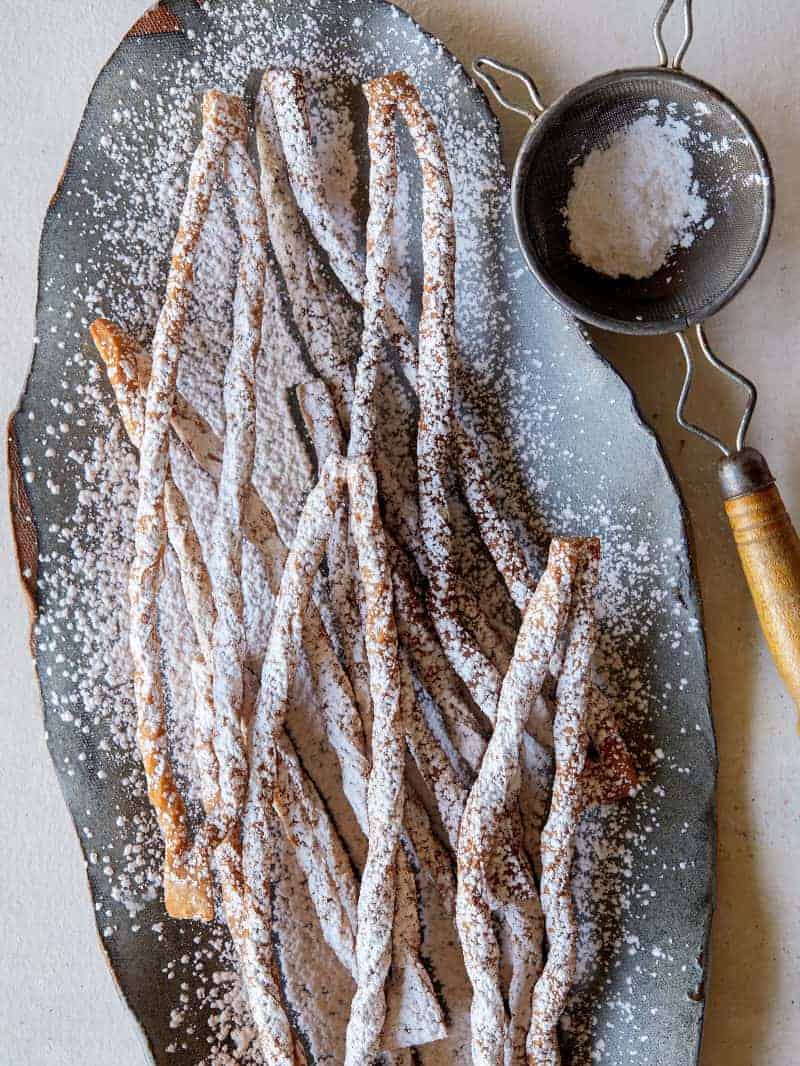 Today we have pour take on these cute Chai Spiced Russian Twig Cookies. They look pretty amazing on a platter covered with powdered sugar – like snowy little twigs. Although the holidays are over and many of you are maybe cookie-d out right now including myself, I am still finding the baking power within to keep on rolling and keep up my baking habit. These little cookies are really awesome after dinner with coffee – think of these more like snacking cookies. The chai spice keeps things on brand for winter – and also makes me love them more because I love chai spiced anything.
See below for an image that kinda shows you how to form the cookies – by baking a slit in the middle of your rectangle of dough and then twisting the end through the slit to make a spiral out of the dough. Pretty cute!
Enjoy!
♥ Teri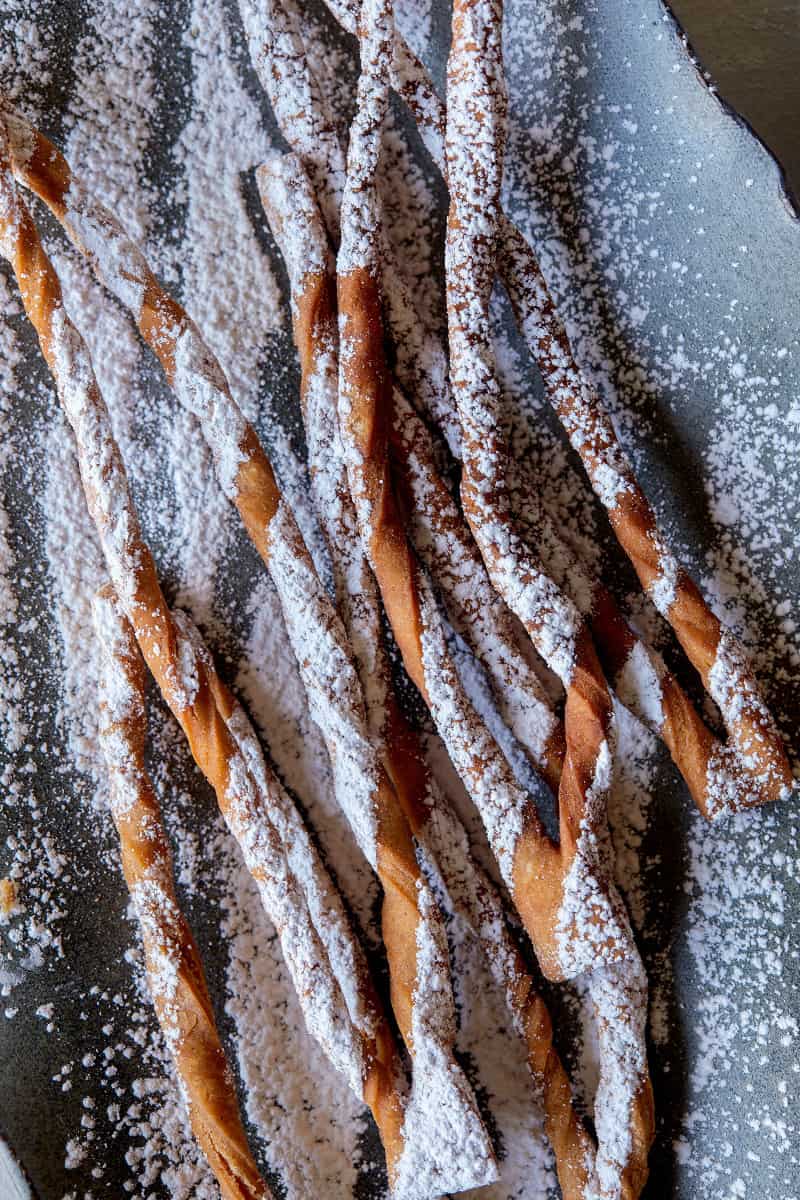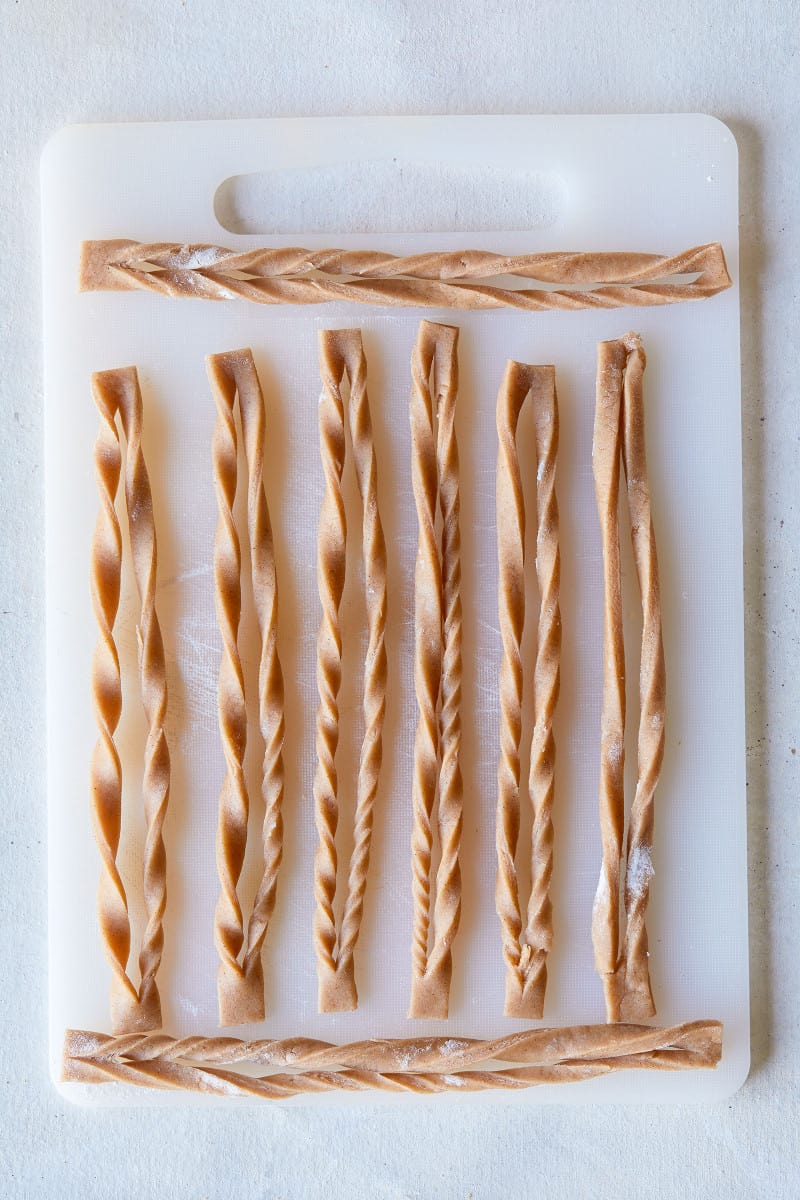 Chai Spiced Russian Twig Cookies

Makes 20

Ingredients:
2 cups all purpose flour
1 teaspoon chai spice
1/2 teaspoon baking powder
1/4 teaspoon salt
4 tablespoons (1/2stick) unsalted butter, softened
3 tablespoons sugar
2 large eggs, room temperature
1 teaspoon vanilla extract
2 tablespoons cognac or rum, optional

1 cup powdered sugar
1 1/2 teaspoons chai spice

vegetable oil, for frying

Directions:
1. Place flour, chai spice, baking powder, and salt in a mixing bowl and whisk together.
2. In another mixing bowl, using an electric hand mixer, beat together butter and until light and fluffy. Add eggs, one at a time, scraping down sides of the bowl after each addition and beat together.
3. Add vanilla and cognac/rum (if using) and beat together.
4. Add flour mixture to the wet mixture, in 3 additions, beating after each addition until dough comes together.
5. Knead dough a couple times into a ball, wrap tightly in plastic wrap and flatten into a disc. Refrigerate for 1 hour.
6. Fill a large pot with 2 inches oil and preheat to 350˚F.
7. Lightly flour a clean surface and roll dough into a 8"x 10" rectangle, 1/4" thick.
8. Cut dough into strips of 8"x 1/2″ and cut a vertical slit through each stirp, leaving a 1" border on each end.
9. Taking one end of each strip, funnel it into the slit a few times to create a spiraling pattern.
10. Carefully fry each cookie in the hot oil, a few at a time, for about 2 to 3 minutes on each side and drain onto a paper towel. Repeat until all of the cookies have been fried.
11. Pile the cookies onto a platter. Whisk powdered sugar and chai spice together and dust cookies until completely coated. Serve.