We posted this cake earlier this year and I think it's only appropriate that we repost it for Easter this week! I really love this recipe. It's a solid carrot cake recipe made only better with the ultra creamy cream cheese frosting! I use currents instead of raisins because I like their smaller size and slightly tart flavor. While I'm still not sold on nuts IN the cake, I do like to coat the sides in finely chopped walnuts or pecans every now and then. This cake is simple and delicious and probably one of my favorite cake recipes on the site!. Enjoy! xx, Jenny
It's my birthday today! That officially makes me 32…I know it's not the most exciting age but I don't care! I'm going to Universal Studios today with the husband and I'm SO excited. I'm going to buy a Harry Potter wand that I'm way too old for, drink a disgusting amount of butter beer, then eventually head over to Shake Shack to order one of everything of the menu, before coming home and eating a GIGANTIC slice of this Carrot Cake with Cream Cheese Frosting….because you know what? This is 32. :)
Carrot cake is one of my favorite types of cake EVER and I realized a few weeks back that we don't have a recipe for one on the blog! So what better time to remedy that then now? This is a SOLID carrot cake recipe, I promise you! It's rich, moist, dense but still airy…it's perfect. I finely grate the carrot so that it incorporates into the actual cake a little better and I use currants instead of raisins because I like the added flavor of the currants, but I'm not a huge fan of big chunks of things in my cakes. I also omitted the walnuts from the batter for the same "no big chunks of things in my cake" reason. I did still add walnuts to the top (and feel free to add way more or even to the sides of the cake) because it's not carrot cake without walnuts, ya know?
ALSO, this cream cheese frosting is unreal. I like my cream cheese frosting more rich than sweet, so I added equal parts cream cheese and butter and added less sugar. The combination of the two is ridiculously amazing…again I promise! Whip this up for the carrot cake lover in your life! Maybe even for Valentine's Day. :) Enjoy! xx, Jenny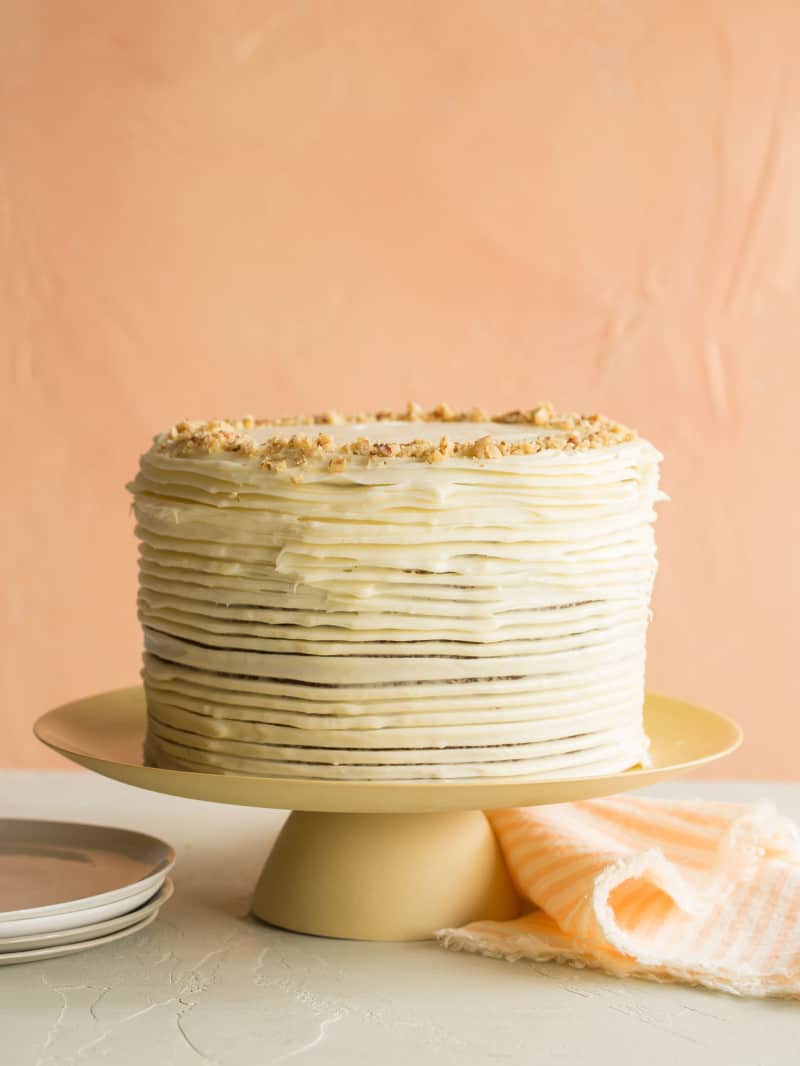 Carrot Cake with Cream Cheese Frosting

Makes 1 (4 Layer, 10 inch) cake

Ingredients:
carrot cake:
4 1/2 cups cake flour
4 teaspoons baking powder
4 teaspoons baking soda
2 1/2 teaspoons ground cinnamon
2 teaspoons salt
1/2 teaspoon ground nutmeg
1 1/2 cups (3 sticks) unsalted butter, melted and cooled
2 cups light brown sugar
1 1/2 cups granulated sugar
1 cup unsweetened applesauce
6 large eggs, room temperature
2 teaspoons vanilla extract
4 1/2 cups grated carrot
1 cup dried currants
cream cheese frosting:
2 (8 ounce) packages cream cheese, softened
1 cup (2 sticks) unsalted butter, softened
3 cups sifted powdered sugar
1 1/2 teaspoons vanilla extract
garnish:
crushed walnuts

Directions:
1. Preheat oven to 350˚F.
2. Place flour, baking powder, baking soda, cinnamon, salt, and nutmeg into a large mixing bowl and whisk together. In another mixing bowl combine butter, sugars, applesauce, eggs, and vanilla and whisk together.
3. Pour the wet mixture into the dry mixture ,in thirds, stirring together after each addition.
4. Continue to stir the batter until completely combined and no dry spots remain.
5. Fold in the carrot and currants.
6. Line the bottoms of 4 (10 inch) cake pans with parchment paper and evenly fill with cake batter.
7. Bake each cake round for 30 to 35 minutes or until a toothpick comes out clean when inserted into the center of each round.
8. Cool for 10 minutes before transferring each cake onto a cooling rack and cooling completely. Refrigerate cake layers for at least 2 hours.
9. For Frosting: With a stand mixer, fitted with a paddle attachment, beat together the cream cheese and butter until light and fluffy. Add powdered sugar, 1/2 cup at a time and continue to beat together. Add vanilla, scrape down sides of the bowl and continue to beat together for 1 minute.
10. To assemble: Slice the rounded tops of each cake to level them. Spread a thin layer of frosting between each layer of cake and neatly stack them atop one another. Frost the sides and top with a thin layer of frosting and refrigerate cake for an hour. Remove chilled cake from the refrigerator and add another layer of frosting. Add crushed walnuts to the top (and sides, if desired), slice and serve.