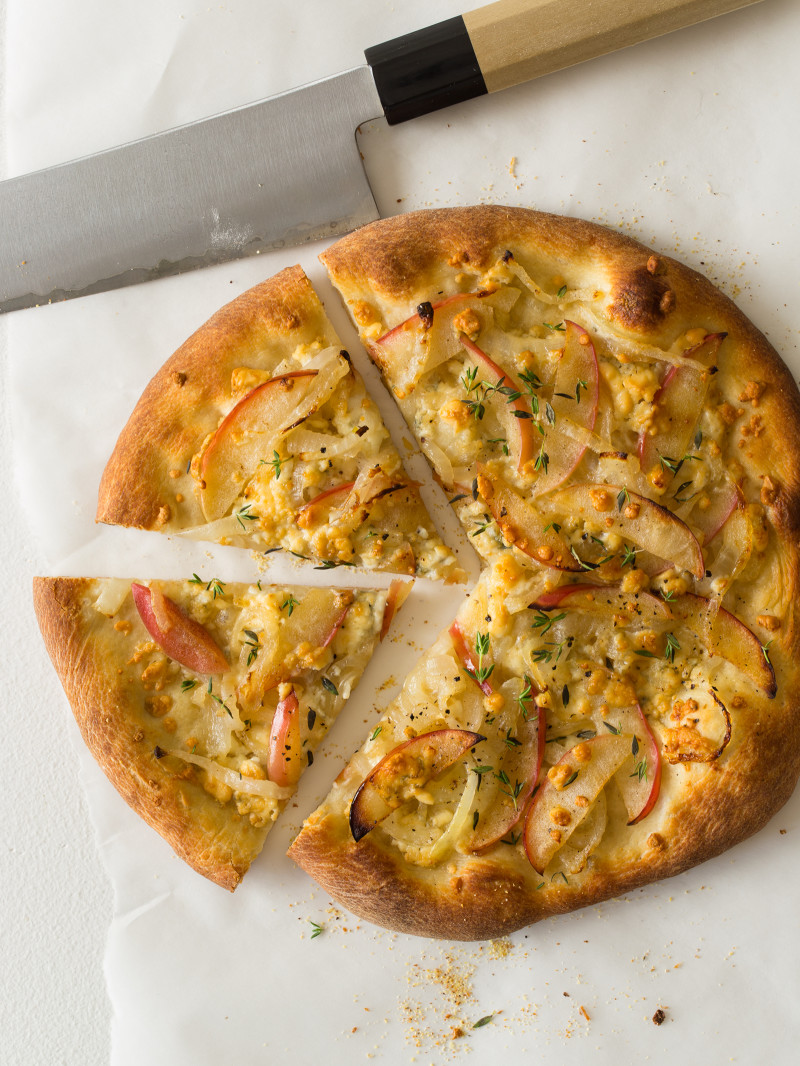 It's been a rough 100+˚F here in LA this past week, but we're determined to start this fall season the right way, at least in the kitchen. We have our Caramelized Onion, Apple and Bleu Cheese Pizza back up because it's one of our favorite, simple fall inspired recipes. We love the buttery apples and lightly sweetened onions paired with pungent bleu cheese, especially against the light and crispy crust; the perfect combination of ingredients. Hopefully the weather will cool down soon (for the sake of our sanity), not that that'll stop us from jumping into bold, fall flavors in the kitchen! Enjoy! xx, Jenny

Dear LA,
I love you, but you've really been working my last nerve. I cringe waking up to triple digit temperatures, soaked in my own sweat! Not cool LA, not cool at all. And don't think you're going to get me down and out about cooking in this weather. I'll just simply take my cooking outside….like this caramelized onion, apple and bleu cheese pizza. Yea, that's right. I made a autumnal inspired pizza in this hot ass weather, but I made it on my grill and ate it outside and it was glorious. The crust was light and crisp and the toppings were both sweet and savory without making me feel heavy and sluggish afterwards. So I win this round LA. I WIN.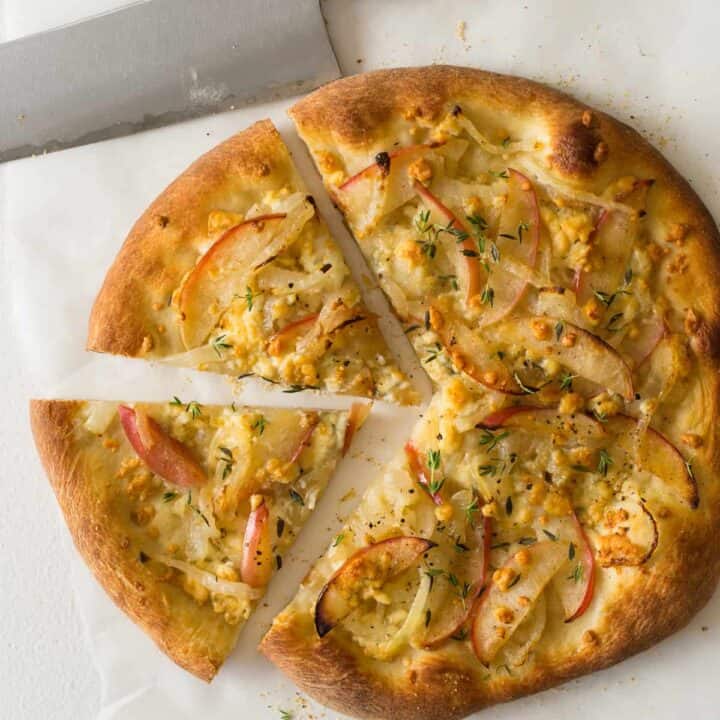 ---
Caramelized Onion Apple and Bleu Cheese Pizza
INGREDIENTS
basic pizza dough
1

cup

warm water (110°F)

1

envelope

(1/4 ounce) active-dry yeast

1

tablespoon

granulated sugar

1

teaspoon

honey

1 ½

tablespoons

extra virgin olive oil

3

cups

bread flour plus more for dusting

1 ½

teaspoons

salt
toppings
4

tablespoons

unsalted butter

1

sweet yellow onion, thinly sliced

1

apple (such as gala, pink lady, golden delicious), cored and thinly sliced

8

ounces

crumbled bleu cheese, divided
INSTRUCTIONS
Preheat oven to 450°F. (be sure to preheat pizza stone as well, if using)

For dough: Place water, yeast, sugar, honey, and olive oil in a mixing bowl and gently stir together. Allow mixture to sit for 5 minutes (water should begin foaming slightly).

While yeast mixture sits, sift together flour and salt. Add flour mixture to yeast mixture, ½ cup at a time, until fully incorporated and dough begins to form. Turn dough onto a lightly floured surface and knead until smooth, about 8 to 10 minutes. (dough should spring back when poked).

Form into a ball and place in a lightly greased bowl and cover with plastic wrap or a damp towel and place in a warm area and allow to proof until doubled in size, about 1 ½ -2 hours. Punch dough down and turn onto a clean, lightly floured surface.

Divide dough into two equal pieces and roll each piece into a 14 inch disc, about 1/4 inch thick. Sprinkle baking sheets with a layer of cornmeal. (if using a pizza peel, sprinkle peel with thin layer of cornmeal)

Place crusts into the prepared baking sheets, pierce the surface all over with a fork, and brush with small amount olive oil. Refrigerate until ready to use.

For toppings and assembly: Melt butter in a large skillet, over medium-low heat and add onions. Lightly caramelize onions for 10 to 12 minutes, stirring occasionally. Add sliced apple and continue to caramelize for an additional 6 to 8 minutes. Lightly season with salt and pepper and set aside and allow mixture to cool.

Remove prepared crusts from the refrigerator and top each pizza with 2 ounces of crumbled bleu cheese, half the onion and apple mixture and finish with the remaining bleu cheese.

Bake for 12-14 minutes or until golden brown and crisp. Remove from oven and allow pizza to cool before topping with fresh thyme and cracked black pepper. Slice and serve.
Serving:
1
g
Calories:
371
kcal
Carbohydrates:
42
g
Protein:
12
g
Fat:
17
g
Saturated Fat:
9
g
Cholesterol:
36
mg
Sodium:
835
mg
Potassium:
172
mg
Fiber:
2
g
Sugar:
5
g
Vitamin A:
404
IU
Vitamin C:
2
mg
Calcium:
163
mg
Iron:
1
mg