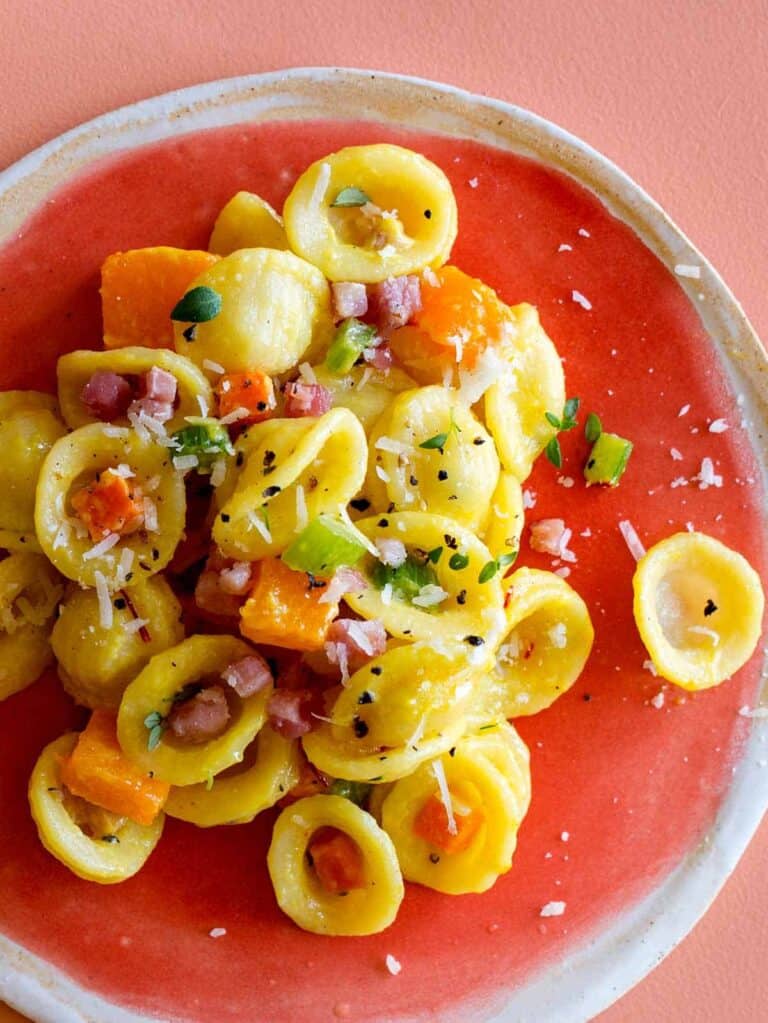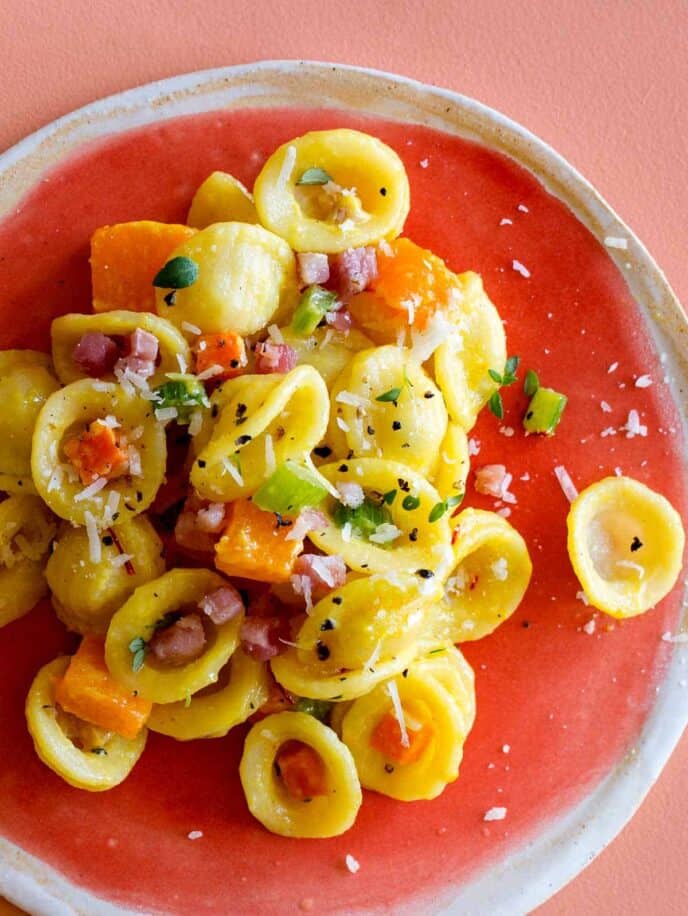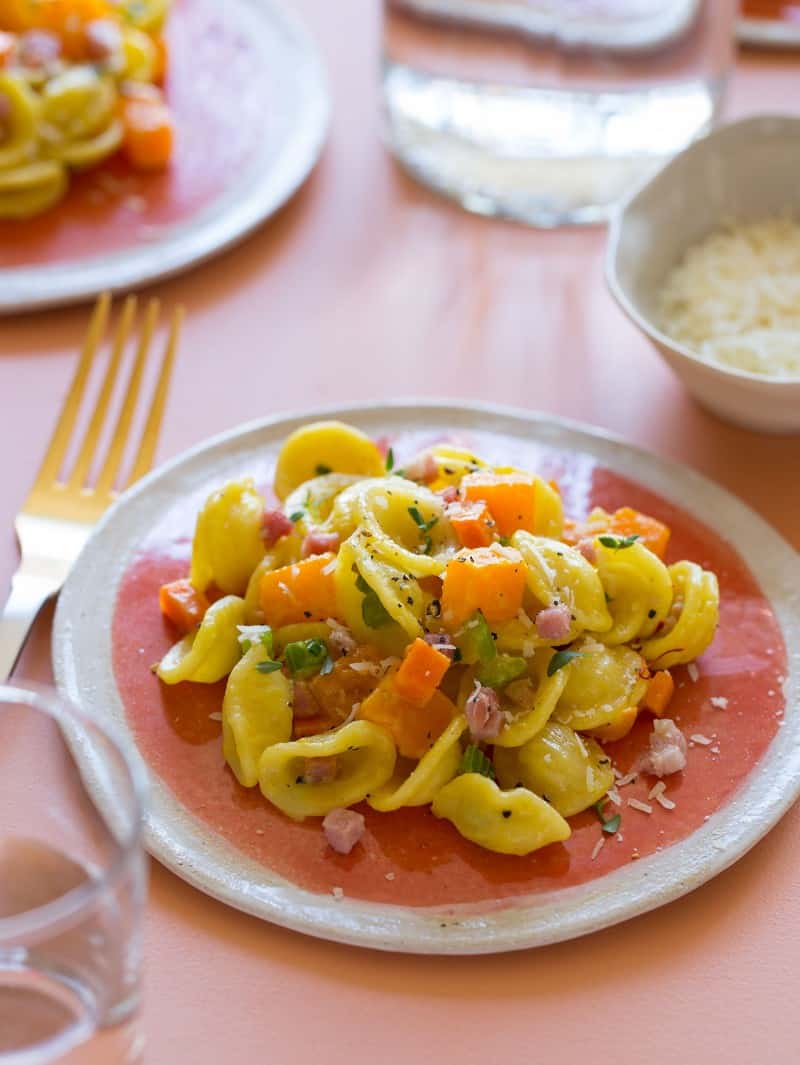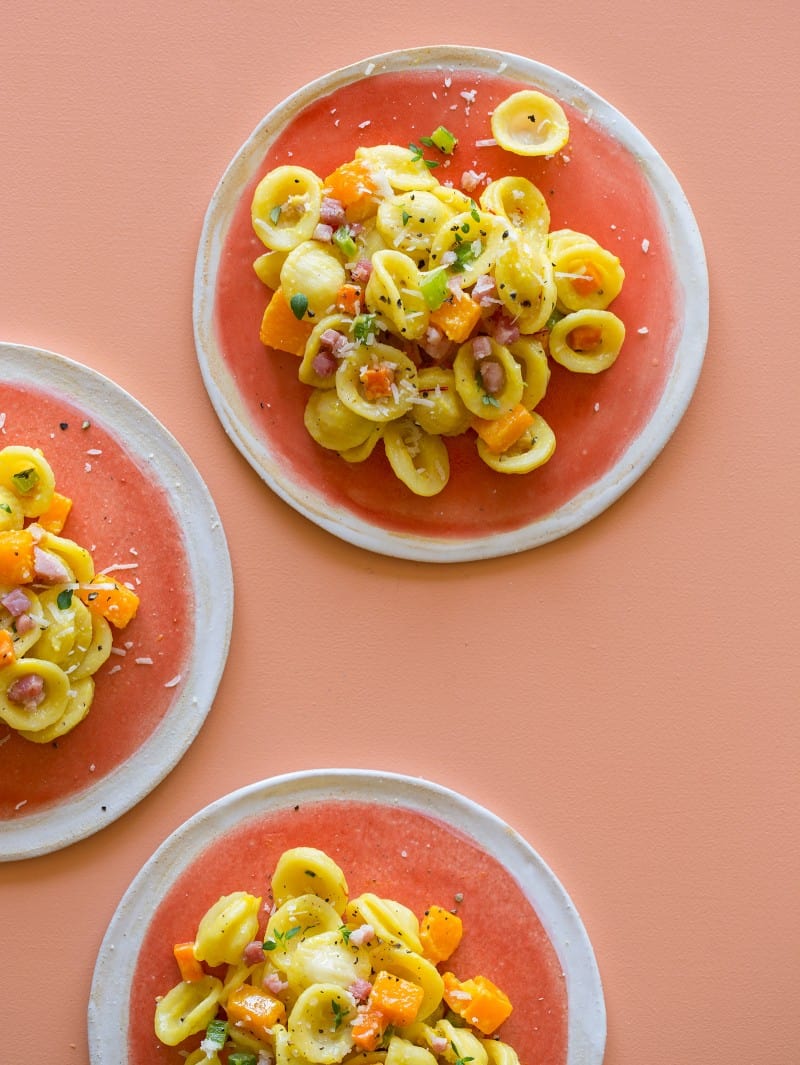 Hi Guys! Lets talk "his and her meals" for just a second. Does anyone else partake in this ritual with their partner? It's funny because my boyfriend and I eat very much alike, yet at the same time so differently. Does this make sense? For example: the fatty goodness part of pork belly? He hates it, I can't get enough. Baked potato chips? He loves…I'll pass and go for the kettle cooked ones. Fresh tomatoes of any kind? Yes, please!!…for him, not so much. Avocados?….Um, YUM ALWAYS!!… he likes them, but not in sandwiches. Our sushi choices? He'll have anything unagi related while I prefer the uni and raw scallops. I could probably go on and on, but you guys get it, right?
One thing we differ in is our taste for pasta sauces. He loves himself a good cream sauce; alfredo, carbonara, etc. if it's creamy he'll probably love it. I on the other hand go a little crazy for a really nice garlic and olive oil sauce or a super fresh pesto….anything with a punch of flavor. This finally takes me to today's recipe! I like to think of this pasta as the pasta that brings us both together, creating one awesome super meal! :) It's pretty much a sauceless pasta with the exception of the egg yolk/pasta water mixture which adds that slightly creamy texture to the overall dish. The egg yolk and pasta water combo really make a diluted cream sauce, so it's kind of like carbonara, but much much lighter and there's just enough to stick to the pasta itself. I use pecorino romano in this dish because I like that it's has a sharper taste than parmigiano reggiano. A lot of people think that pecorino romano is just a cheaper substitute for parmesan, but it's not. Pecorino is made of sheeps milk, giving it that stronger, more pungent flavor while parmesan is made of cows milk, more mild and nutty. Just a quick and fun food fact.
So due to our different palates I've gotten very accustomed to creating "his and her meals" (sometimes). Now this doesn't necessarily mean I cook two whole meals because we're both big brats who won't compromise with one another, but instead because it usually doesn't create too much extra work in the kitchen, at times it forces me to get creative, plus I love the guy so why not? :) An example of a "his and her meal" is weekend breakfast. I'm not the biggest morning eater, but my boyfriend loves a nice big breakfast so I'll usually make him eggs of some sort, turkey bacon and toast. I myself will have some Greek yogurt and a slice of turkey bacon. Or if we're grilling steaks, I'll usually have mine sliced over a dinner salad while he'll eat his with a side of baked sweet potato fries, some garlic bread and his salad will be a small one on the side. Does anyone else do this…or are we just freaks??
This pasta has become my new favorite pasta and I think the saffron is what really does it for me. It's subtle, fragrant and just really freakin' good….that with the pancetta and squash? Done deal! I hope some of you guys out there also know what it's like to experience "his and her meals" (or whatever floats your boat!) and maybe this pasta will act as that super meal like it has for my boyfriend and I. Enjoy! xx, Jenny
Do you love butternut squash as much we do? Here are some more recipes: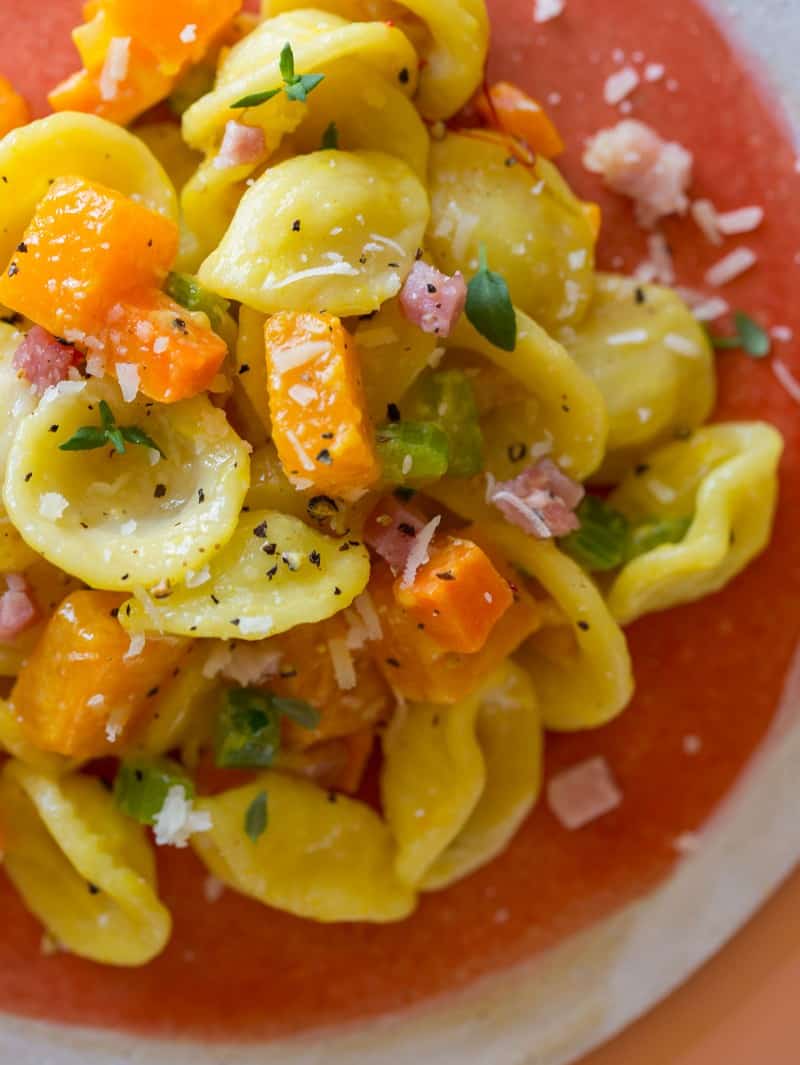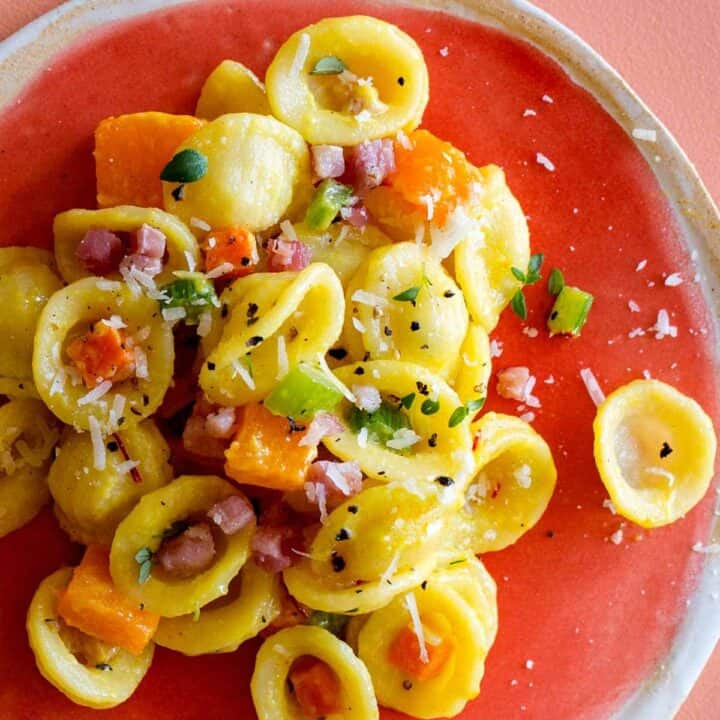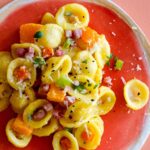 ---
Butternut Squash and Pancetta Orecchiette
INGREDIENTS
1

pound

orecchiette pasta

3 ½

tablespoons

extra virgin olive oil

2

ounces

pancetta, diced

1

shallot, diced

1

medium carrot, peeled and diced

1

celery stalk, peeled and diced

1

garlic clove, minced

⅔

cup

white wine

1 ½

cup

butternut squash, peeled and diced

8 to 10

threads saffron

1

tablespoon

minced thyme

2

teaspoons

thinly sliced chives

2

egg yolks

1

cup

pasta water

½

cup

grated Pecorino Romano, plus more for garnish

salt and pepper to taste
INSTRUCTIONS
Fill a large pot with water and bring to a boil. Once the water has been brought to a boil, add pasta and stir. Cook pasta until al dente, drain (reserving ¾ cup pasta water), toss with ½ tablespoon of extra virgin olive oil and set aside.

Pour 1 tablespoon of oil into a large sauté pan and place over medium-high heat. Add pancetta and sauté for 3 minutes. Drain pancetta onto paper towels and set aside.

Pour remaining oil to pan and sauté shallots for 1 minute. Add carrots, celery and garlic and continue to sauté for 2 minutes. Season with salt and pepper.

Add the squash and continue to sauté for an additional 3 to 4 minutes.

Deglaze the pan with the white wine, stir in the saffron threads and cook until the liquid has almost disappeared or until the squash has softened.

Return pancetta to the pan, with the vegetable mixture and stir in the orecchiette until well combined.

Reduce the heat to medium-low and gently fold in the herbs.

In a small bowl, whisk together the egg yolks and pasta water. Pour the mixture over the pasta and stir together. Sprinkle cheese over pasta and stir until just combined. Adjust seasonings and serve with extra Pecorino sprinkled on top.
Calories:
736
kcal
Carbohydrates:
96
g
Protein:
23
g
Fat:
25
g
Saturated Fat:
7
g
Cholesterol:
120
mg
Sodium:
275
mg
Potassium:
595
mg
Fiber:
6
g
Sugar:
6
g
Vitamin A:
8415
IU
Vitamin C:
16
mg
Calcium:
209
mg
Iron:
3
mg
CUISINE:
Italian-american
KEYWORD:
baked pasta, butternut squash, Orecchiette