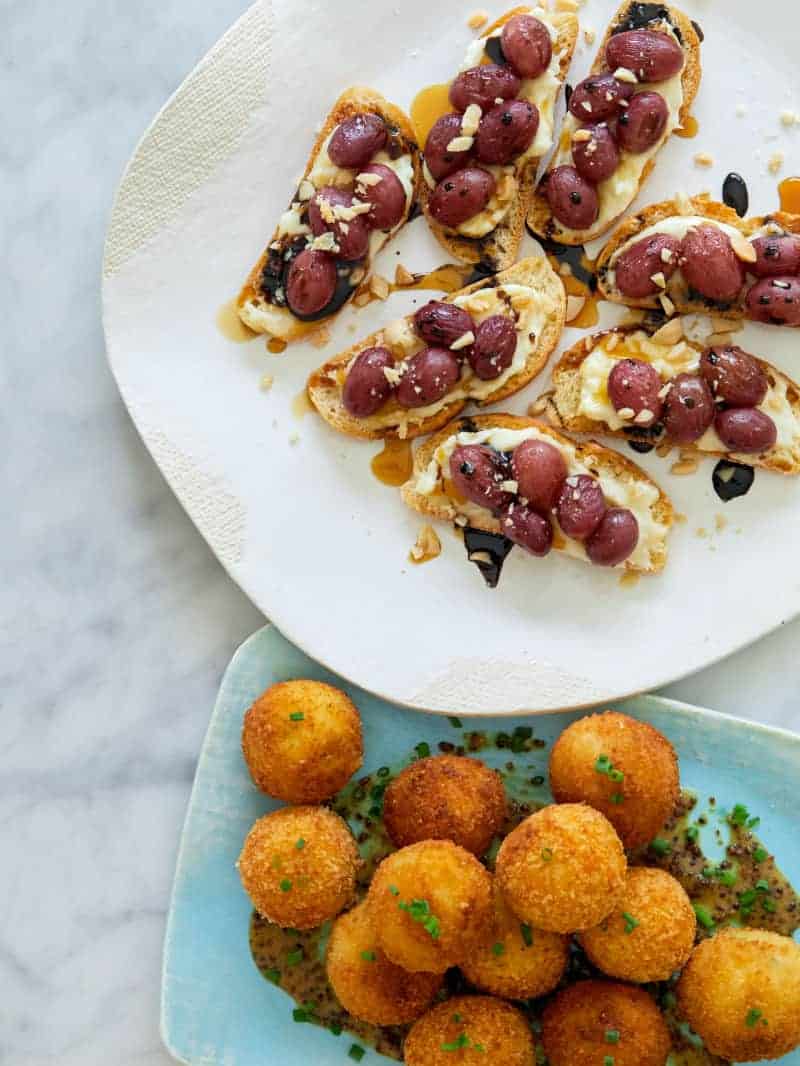 Last month we were invited to the Food52 headquarters in New York, by Delta® Faucet, to check out their new ShieldSpray™ Technology! Food52 has a gorgeous studio/office space and during the event the co-founders demonstrated a couple of quick and easy recipes for us that we had the opportunity to taste later that day. We were first able to see the Delta Esque™ Faucet with ShieldSpray™ Technology in action during the demos and it was really neat! The ShieldSpray™ Technology is a simple and practical way to clean "hard to get off messes" with laser-like precision while eliminating the crazy water splatter you normally get with the protective shield, aka the awesome water bubble. Usually I'm a big 'side eye' type person when it comes to things I might think are gimmicky, but I have to say I was totally impressed when I was at the event and watched people demonstrate the technology of the faucet!
Each of the attendees was lucky enough to walk away with one of these neat faucets for our own kitchens. I chose a beautiful Matte Black faucet to go with the rest of my kitchen. The installation was super easy (says my husband, ha!) and playing around with the new ShieldSpray™ Technology has been great, it really works! You can actually see the jet-like spray in the center of the water shield working hard to get rid of those stains without all the soaking and scrubbing, while the water shield literally forces any water splattering to stay contained inside the water shield.
You can see how the faucet works in the video above! Enjoy!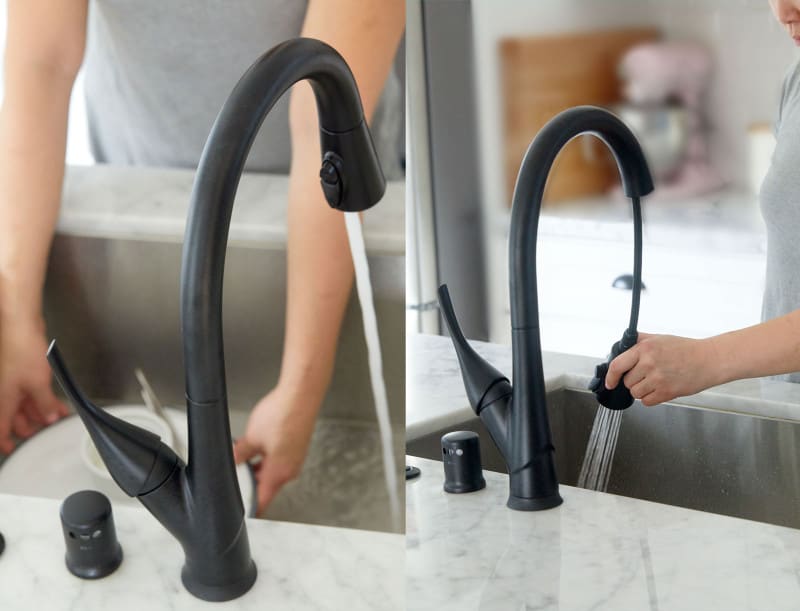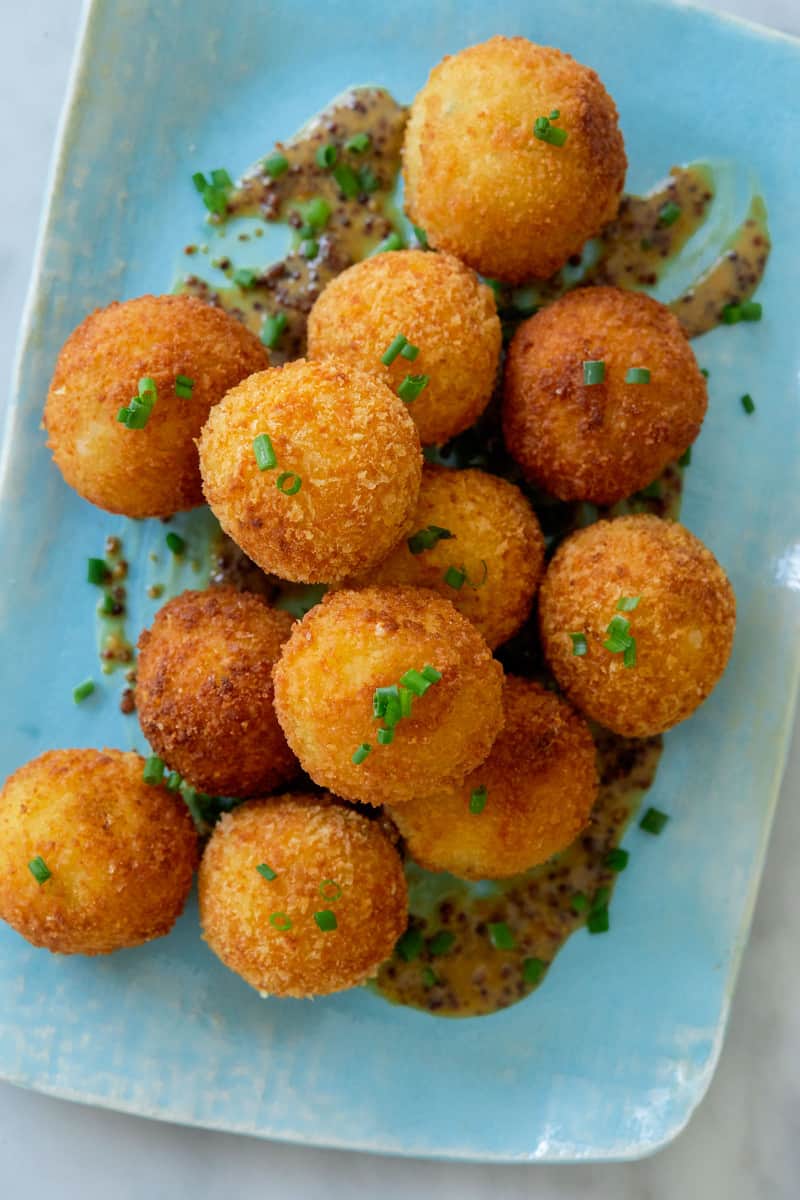 Ham, Gruyere and Chive Croquettes with a Whole Grain Honey-Mustard Sauce

Makes 36 to 40

Ingredients:
filling:
1 1/2 pounds russet potatoes (2 small potatoes), peeled and chopped
3 tablespoons unsalted butter
4 ounces ham, diced
4 ounces shredded Gruyere cheese
2 tablespoons thinly sliced chives, plus more for garnish
11/2 teaspoons salt
1/2 teaspoon cracked black pepper

1 1/2 cups all purpose flour
4 eggs, beaten
2 cup panko breadcrumbs
1/2 cup grated Parmesan

honey-mustard:
1/4 cup whole grain mustard
2 tablespoons honey
1 tablespoon mayonnaise, optional
pinch cayenne pepper

oil for frying

Directions:
1. Place potatoes in a pot and fill with water until submerged.
2. Place pot over high heat and boil until potatoes are fork tender, 12 to 15 minutes.
3. Drain potatoes and transfer to a large mixing bowl. Add butter and mash until potatoes are smooth (can use potato ricer). Set aside and allow potatoes to cool, abnout15 minutes.
4. Fold in ham, cheese and chives until just combined, followed by the salt and pepper and continue to fold together.
5. Roll tablespoon sized balls of the potato filling with clean hands. Toss the panko and Parmesan together in a shallow bowl.
6. Gently roll the balls in the flour mixture, followed by the beaten eggs and finally the panko mixture, shaking balls to remove any excess.
7. Place finished balls onto a parchment lined baking sheet and refrigerate for at least 30 minutes or up to 4 hours.
8. While the balls chill, make your sauce. Place all ingredients into a mixing bowl and whisk together.
9. Fill a tall saucepan with 2 inches oil and heat to 350˚F.
10. Carefully drop a few balls into the hot oil and fry for 2 to 3 minutes on each side or until balls are golden brown and crisp. Drain croquettes onto a plate lined with paper towels and lightly season with salt.
11. To serve: Spread a thin layer of sauce onto the bottom of a serving platter and top with croquettes. Sprinkle croquettes with more sliced chives and serve.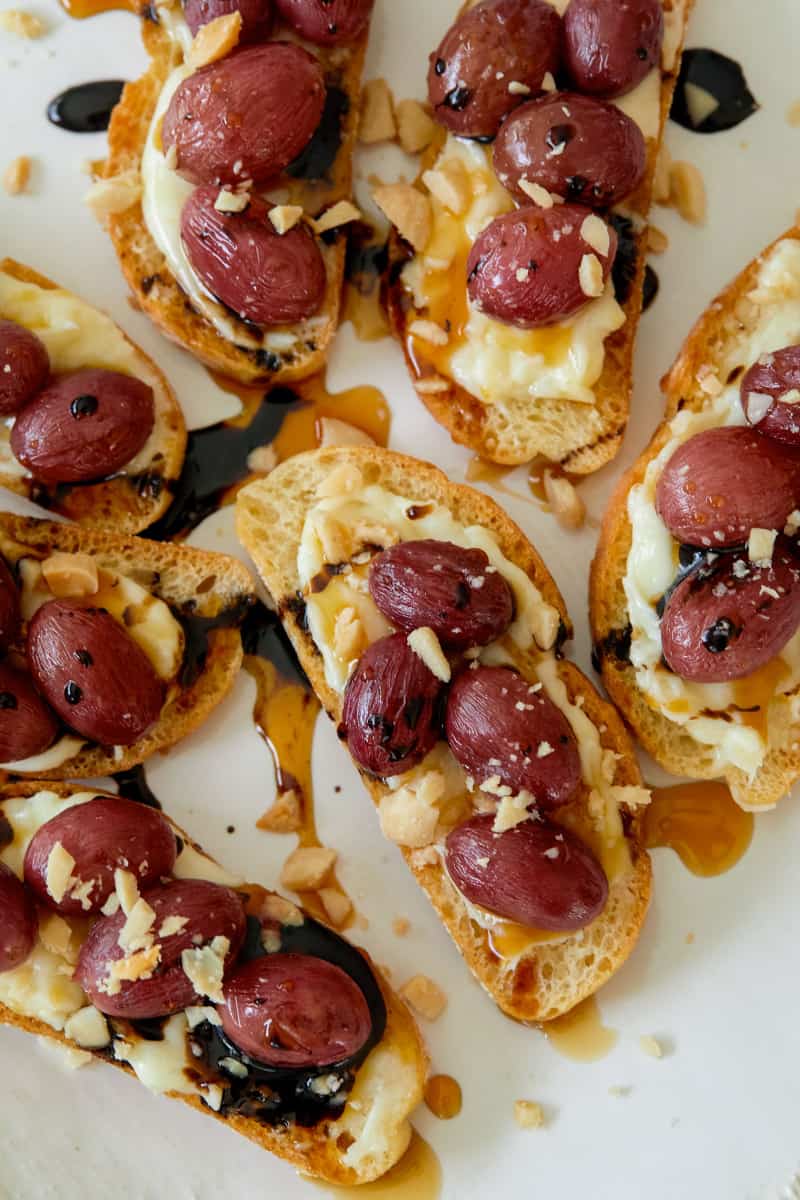 Roasted Grape Topped Brie Bites

Makes 24

Ingredients:
roasted grapes:
2 cups seedless red grapes, stemmed
1 tablespoon extra virgin olive oil
2 sprigs rosemary
salt and pepper to taste

12 crostini
12 ounces triple cream brie, softened
honey for drizzling
balsamic glaze for drizzling
chopped marcona almonds

Directions:
1. Preheat oven 375˚F.
2. Arrange grapes in a single layer on a rimmed baking sheet. Drizzle with oil and season with salt and pepper.
3. Shake the baking sheet to evenly coat grapes. Place baking sheet in oven and roast grapes for 12 to 15 minutes.
4. Remove from oven and allow grapes to slightly cool, about 6 minutes.
5. Assemble: Spread a generous amount of brie onto each crostini and top with a few roasted grapes. Finish crostini with a drizzle of honey and sprinkle of chopped nuts. Serve.

**Balsamic glaze: Pour 1/2 cup balsamic into a small pot and simmer until reduced by 1/3. Cool completely. Glaze will thicken as it cools and should be a drizzling consistency.

This is a sponsored conversation written by me on behalf of Delta Faucet. The opinions and text are all mine.