https://www.Smithfield.com/nokidhungry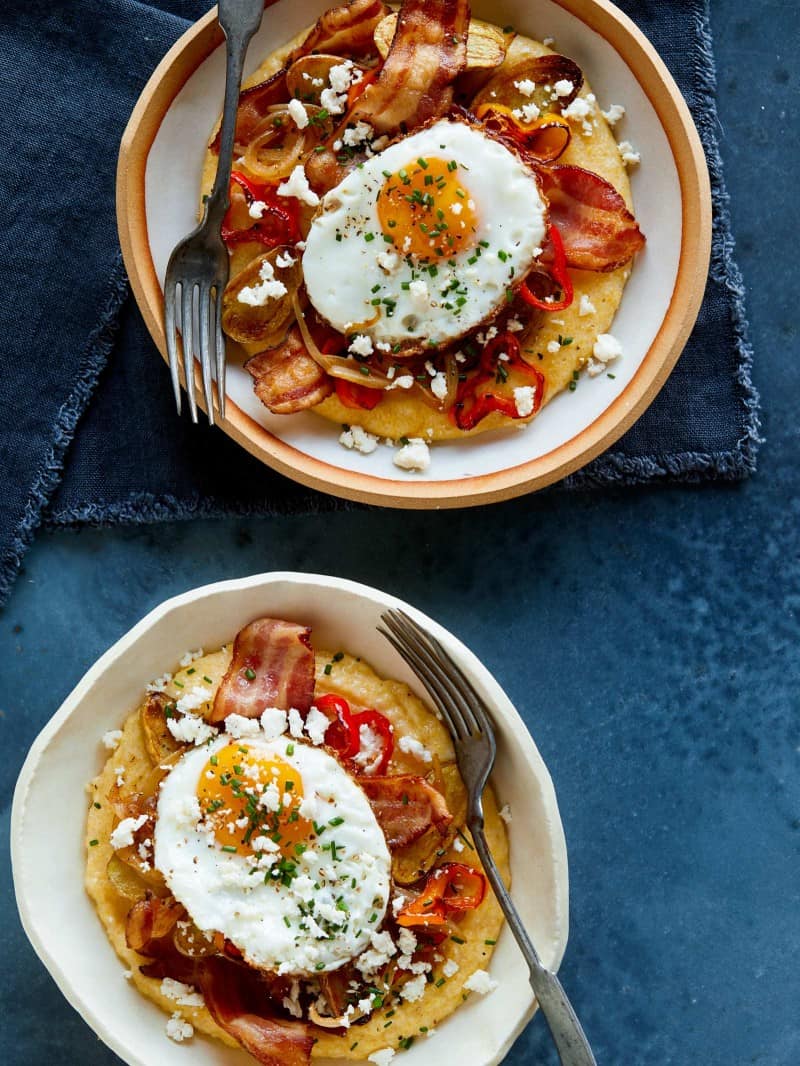 Today we have a recipe for some beautiful Breakfast Polenta Bowls. We topped them with some Smithfield Hometown Original Bacon because it's such a great classic bacon, cured to perfection with a nice smoky flavor. Smithfield's bacon also comes in a variety of flavors and cuts including Thick Cut, Applewood and Cherrywood, so there's something for everyone. Since breakfast is the most important meal of the day Smithfield is committed to fighting against childhood hunger with their program "Make Breakfast, Share Breakfast" where they partnered with
For these Breakfast Polenta Bowls we added some fingerling potatoes and sweet peppers. That with the bacon and polenta makes for a super filling and satisfying breakfast! We personally love taking the time to make a really nice breakfast in the morning because it allows us to wake up and take a breath and fuel ourselves for the busy day we have ahead.
To make this breakfast easier to prepare we cooked our bacon on a baking sheet lined with foil for easy clean up. It's also so much easier to just stick the bacon in the oven and cook other things instead of having to attend a skillet. If you want to make this even easier to prepare you can easily swap many of the ingredients with various veggies you may have had leftover from the previous night's dinner. We always add bacon because it's obviously one of our favorite breakfast meats! Enjoy guys!
Until October 31st, you can help Smithfield and No Kid Hungry reach their goal by purchasing a Smithfield breakfast product – for every purchase Smithfield will donate enough for one meal to No Kid Hungry. To double your donation, post a picture of your Smithfield breakfastyou're your social channels (Facebook, Twitter and Instagram) and tag it #breakfastpower and Smithfield will donate a second breakfast to No Kid Hungry.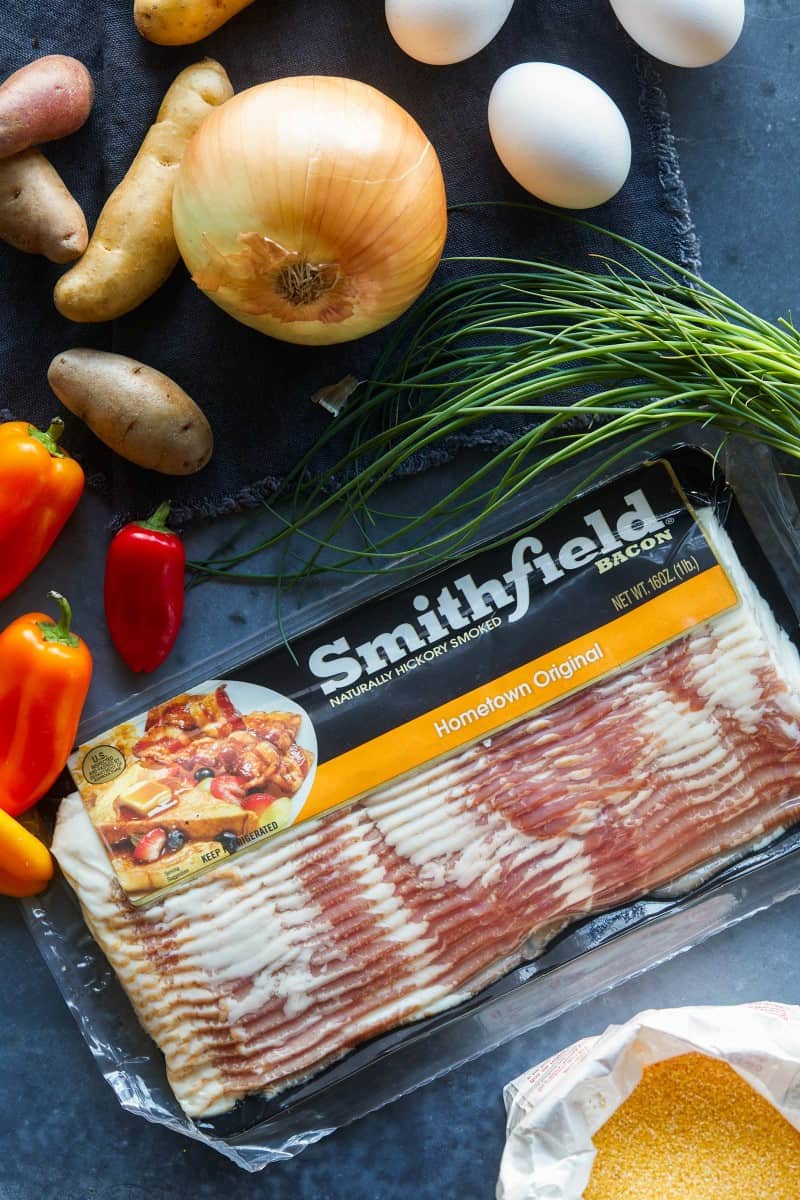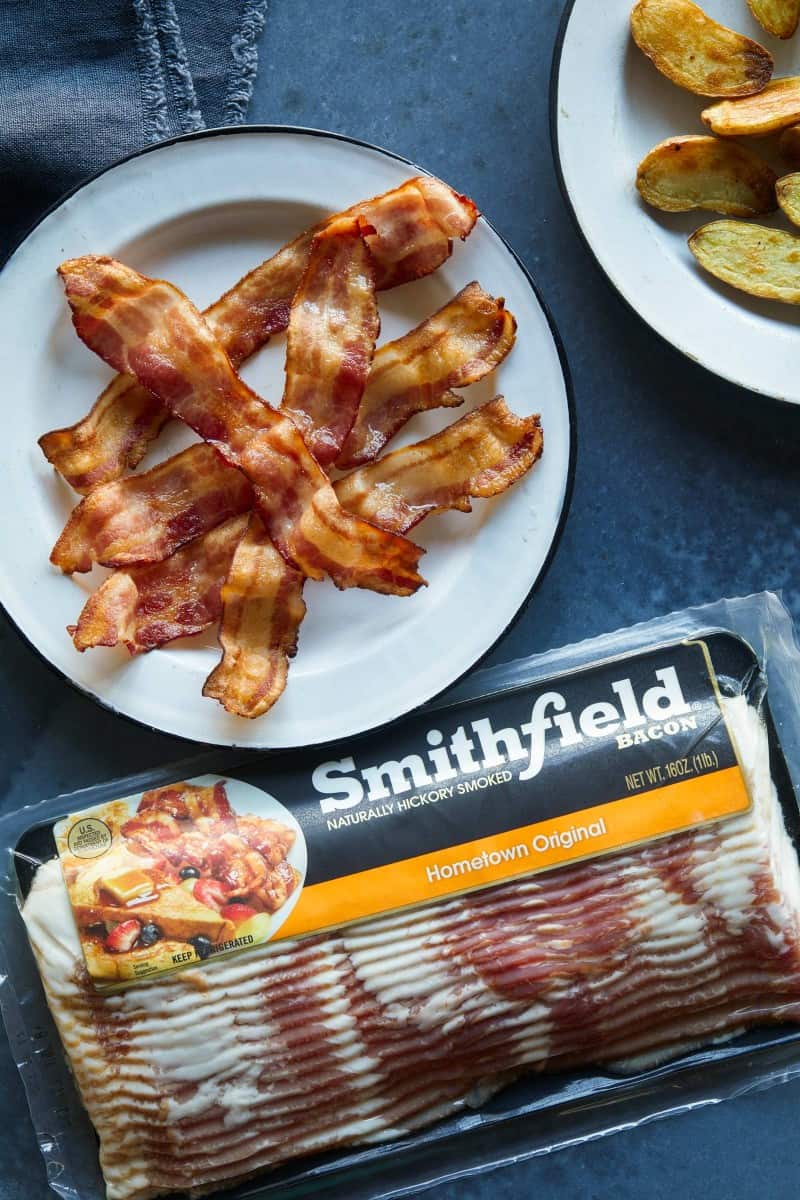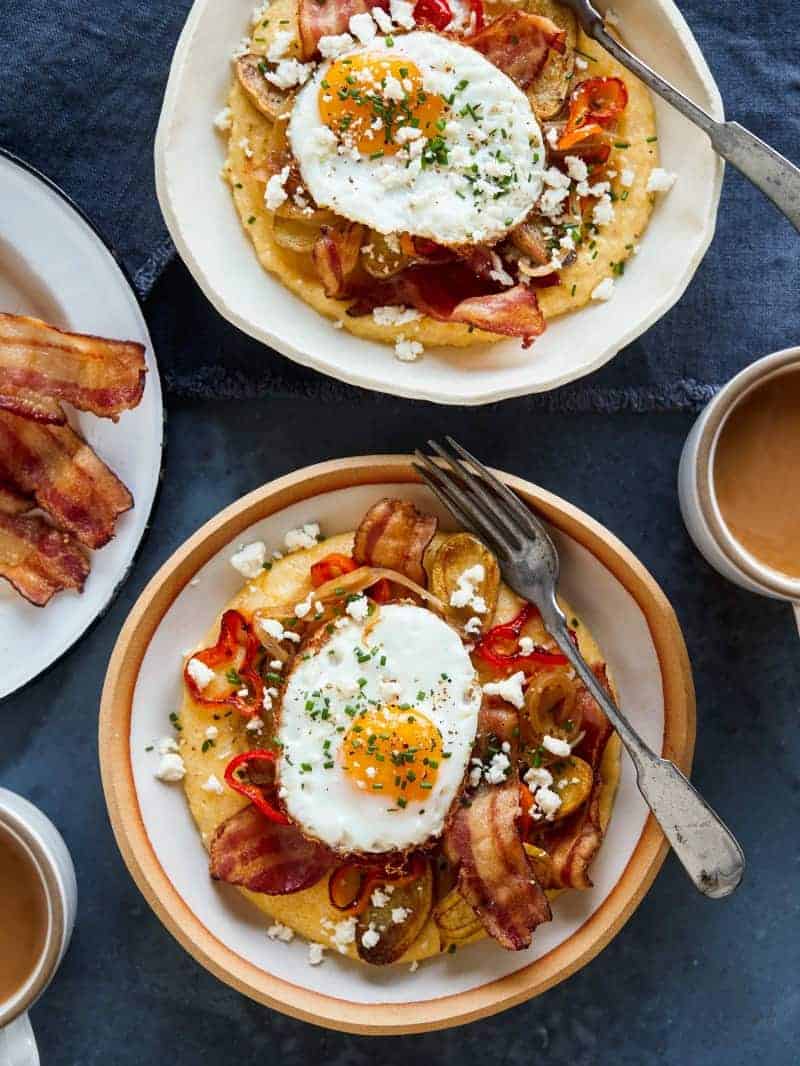 Breakfast Polenta Bowls

Serves 2

Ingredients:
6 strips of Smithfield Hometown Original Bacon
4 tablespoons unsalted butter, divided
2 tablespoons extra virgin olive oil, divided
8-10 small fingering potatoes, sliced in half lengthwise
1/4 small yellow onion, thinly sliced
3 sweet peppers, thinly sliced (seeded)
2 cups water
1/2 cup dry polenta
1/2 teaspoon salt
1/4 teaspoon black pepper
1/4 cup shredded white cheddar cheese

2 large fried eggs
thinly sliced chives, optional

Directions:
1. Preheat oven to 375˚F.
2. Line a baking sheet completely with foil, making sure the foil goes over the edge of the baking sheet on all side
3. Lay bacon slices onto prepared baking sheet, 1/2 inch apart.
4. Bake bacon in oven for 14 to 16 minutes or until, bacon has crisped (add 3 to 4 additional minutes for extra crisp bacon).
5. Remove bacon from oven and transfer to a plate lined with paper towels. Keep warm until ready to use.
6. Place 1 tablespoon of butter plus 1 tablespoon oil into a large skillet and place over medium heat.
7. Add potatoes and sauté for 7 to 9 minutes or until lightly browned. Season with salt and pepper.
8. Add additional tablespoon butter and remaining oil to skillet, as well as the onion and sweet peppers. Season with salt and pepper. Sauté vegetable mixture until lightly caramelized and potatoes have cooked through. Season with salt and pepper, set aside and keep warm with cooked bacon.
9. For Polenta: Pour water and remaining butter into a medium pot and bring to a boil, over medium-high heat. Whisk in polenta and continue to whisk until mixture is bubbling. Lower heat to medium and allow polenta to simmer, stirring often, for 20 to 25 minutes or until mixture thickens, softens and turns creamy. Add salt, pepper and shredded cheese to the mix and fold together until fully incorporated.
10. To assemble: Divide polenta into two shallow bowls and top with vegetable mixture and bacon. Finish each dish with a fried egg, a light sprinkle of salt and pepper and thinly sliced chives. Serve.