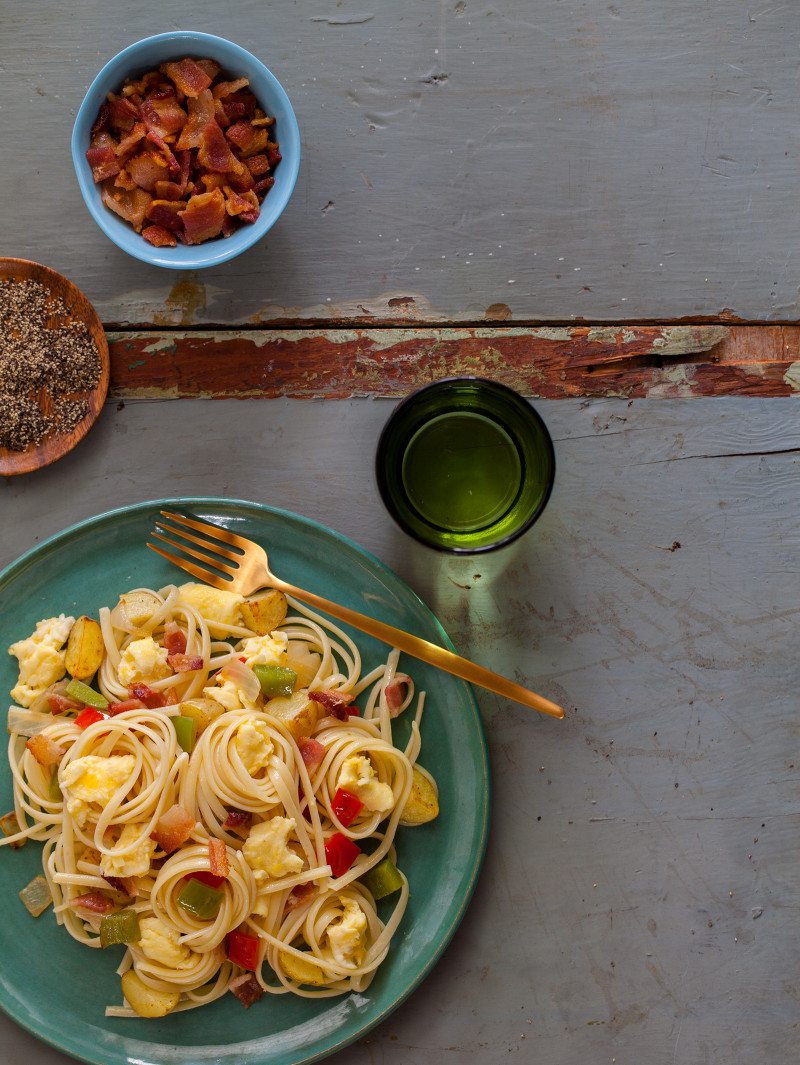 I don't know what it is about breakfast, but I love it. Well, let me rephrase that. I love breakfast foods. I actually don't have a very big appetite in the morning, but I love breakfast foods in general and can really eat it anytime of the day. There's something so comforting about pancakes, waffles, bacon (duh), eggs, pastries, fruit and yogurt, oatmeal (well not really, I hate oatmeal…sorry, I know a lot of you are probably disgusted with me right now and I apologize…but the stuff's like glue to me…I'll take warm buttered grits over oatmeal any day).
This dish came about because I was craving both breakfast and pasta one night. I know, totally a lame story, but it's the truth; plain and simple. It's a great comfort food dish and is really hearty and filling. You could easily swap the bacon out for crumbled breakfast sausage if that's your preference OR just add both to the pasta, which is my personal preference! You should probably make this dish for someone, because it's tasty and it'll make them happy. Okay, that's all. Enjoy!
xx Jenny
More breakfast recipes you might love: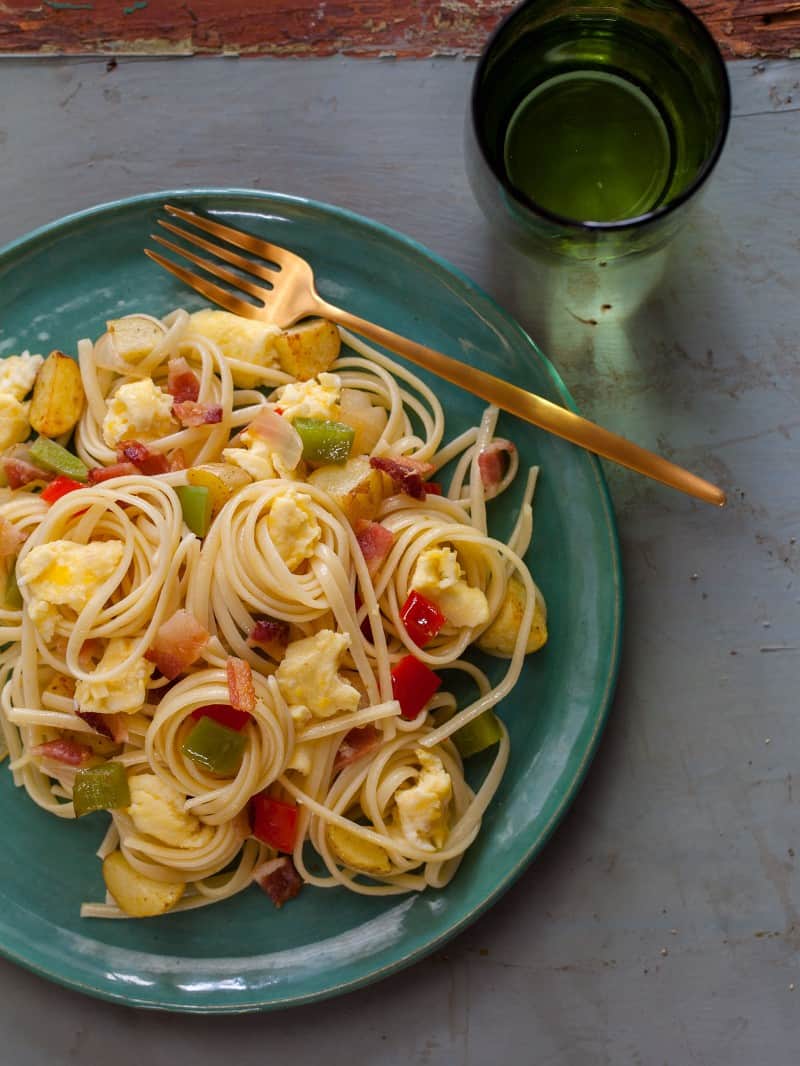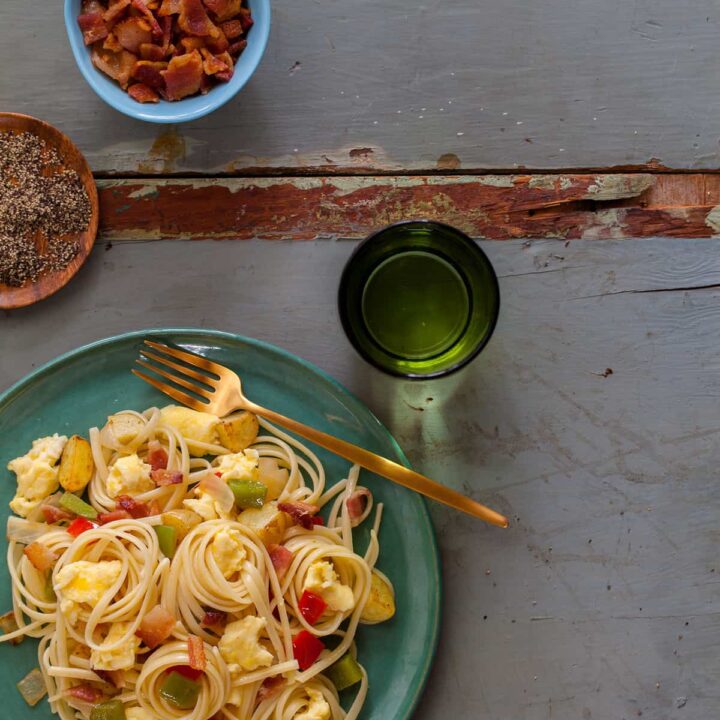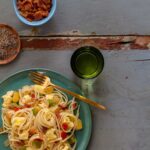 ---
Breakfast Pasta
INGREDIENTS
1

pound

linguine

3

tablespoons

extra virgin olive oil

½

pound

baby new potatoes, quartered

1

medium yellow onion, diced

½

red bell pepper, diced

½

green bell pepper, diced

1

tablespoons

fresh thyme, minced

1

tablespoon

unsalted butter

4

eggs plus 2 egg whites, lightly beaten

⅔

cup

cheddar cheese, grated

½

pound

bacon, cooked and crumbled

salt and pepper to taste
INSTRUCTIONS
Place a large pot, filled with water, over medium-high heat and bring to a boil.

Once the water has come to a boil, drop the pasta in along with a small handful of salt (about 3 tablespoons).

Cook the pasta for 7 to 9 minutes or until al dente, stirring frequently.

Drain the pasta, toss with a small amount of oil and set aside.

Place the olive oil in a large sauté pan and place over medium heat.

Add the potatoes to the pan and season with salt and pepper.

Sauté for 5 minutes and add the onion, bell peppers and thyme. Season with salt and pepper and stir.

Sauté the mixture for 6 to 8 minutes or until the onions and peppers have softened and the potatoes become fork tender.

Pour the mixture into a bowl and set aside.

Place the pan back on the stove over medium heat and add the tablespoon of butter.

Pour the beaten eggs to the pan and gently scramble for about 2 minutes.

Add the cheese and stir. The mixture should still be a partially runny.

Add the linguine and potato mixture to the pan and toss together until everything is fully combined and the eggs have cooked through. Season with salt and pepper.

Sprinkle the bacon over the pasta and serve hot.
Calories:
672
kcal
Carbohydrates:
67
g
Protein:
31
g
Fat:
30
g
Saturated Fat:
11
g
Cholesterol:
164
mg
Sodium:
777
mg
Potassium:
643
mg
Fiber:
4
g
Sugar:
4
g
Vitamin A:
759
IU
Vitamin C:
31
mg
Calcium:
141
mg
Iron:
3
mg