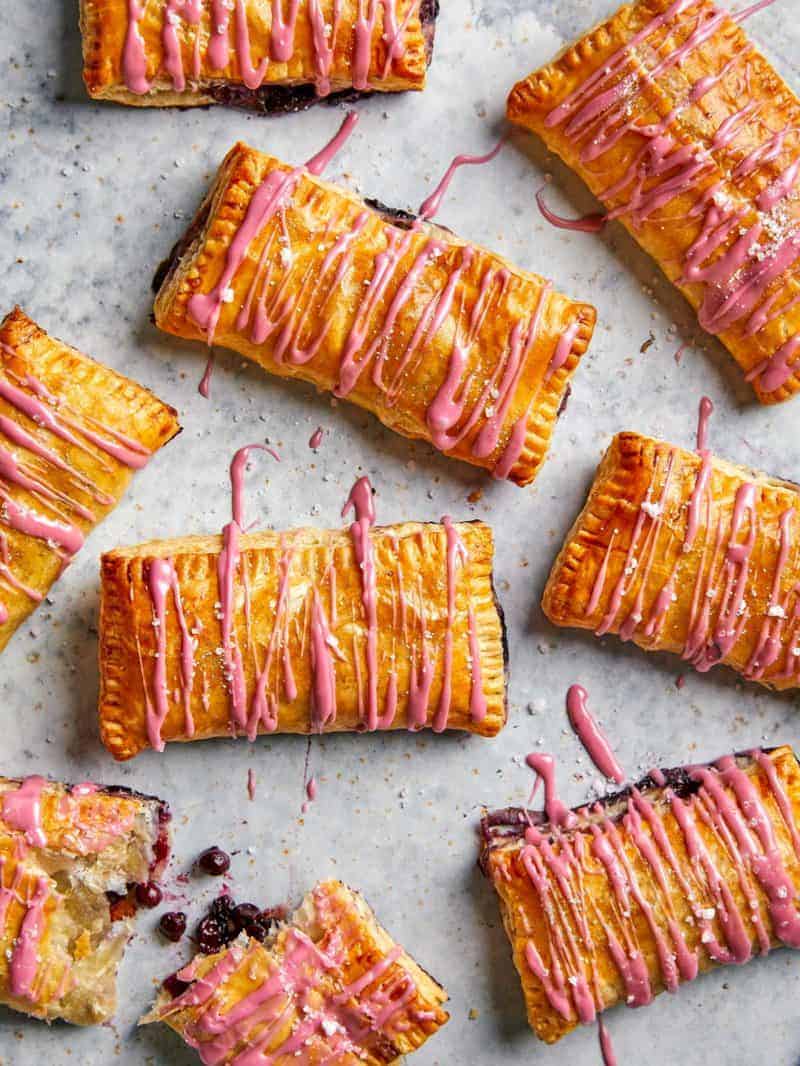 I only got Toaster Strudels as a kid if I begged. Begged a lot. I loved that you had to put the icing on yourself. We made our own little version for you, but no toaster this time. These are super easy because you use store bought puff pastry so you're really just making the filling and frosting. These are also the pefect thing to bring for a group because they are individual. This also makes them really great for snacking. :)
♥ Teri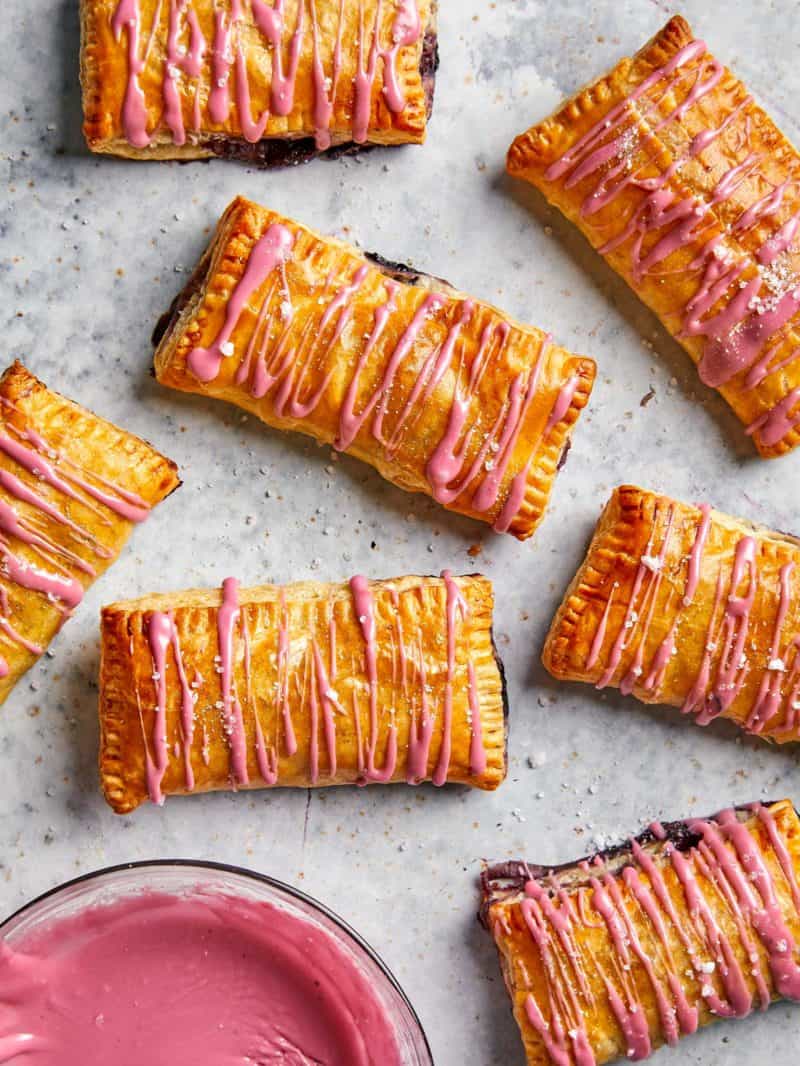 Blueberry Toaster Strudel

Makes 8

Ingredients:
blueberry filling:
2 cups frozen blueberries, thawed and drained (reserving 2 tablespoons blueberry juice)
1/4 cup sugar
2 tablespoons corn or tapioca starch
1 teaspoon fresh lemon juice
1/2 teaspoon ground cinnamon

1 egg, beaten
2 sheets puff pastry, thawed
blueberry glaze:
2 tablespoons reserved blueberry juice
1 tablespoon heavy cream
2 cups sifted powdered sugar

1/2 cup crushed Belgian pearl sugar (or roughly crushed sugar cubes)

Directions:
1. Preheat oven to 425˚F.
2. Place all filling ingredients into a mixing bowl and toss together until blueberries are evenly coated.
3. Cut a cross into each puff pastry sheet, to divide into 4 equal pieces, 8 pieces total.
4. Whisk 1 tablespoon water to beaten egg and brush each puff pastry with egg wash.
5. Top one side of each piece of puff pastry with 1/4 cup of the blueberry mixture, leaving a 1/2 inch border.
6. Fold each puff pastry sheet in half, covering the blueberry mixture, then crimp edge with back of a fork, pressing firmly to avoid spilling while baking.
7. Transfer strudels to a parchment lined baking sheet, 1 1/2 inches apart, and brush tops of each with more egg wash.
8. Bake for 20 to 25 minutes or until strudels are golden brown. Remove from oven and cool strudels completely.
9. Meanwhile make blueberry glaze. Place blueberry juice and cream into a mixing bowl and stir together. Whisk powdered sugar into liquid mixture until fully incorporated and a thick, smooth glaze has formed.
10. Drizzle glaze over each strudel and while glaze is still wet, sprinkle with crushed pearl sugar.
11. Allow glaze to set, about 30 minutes. Serve.