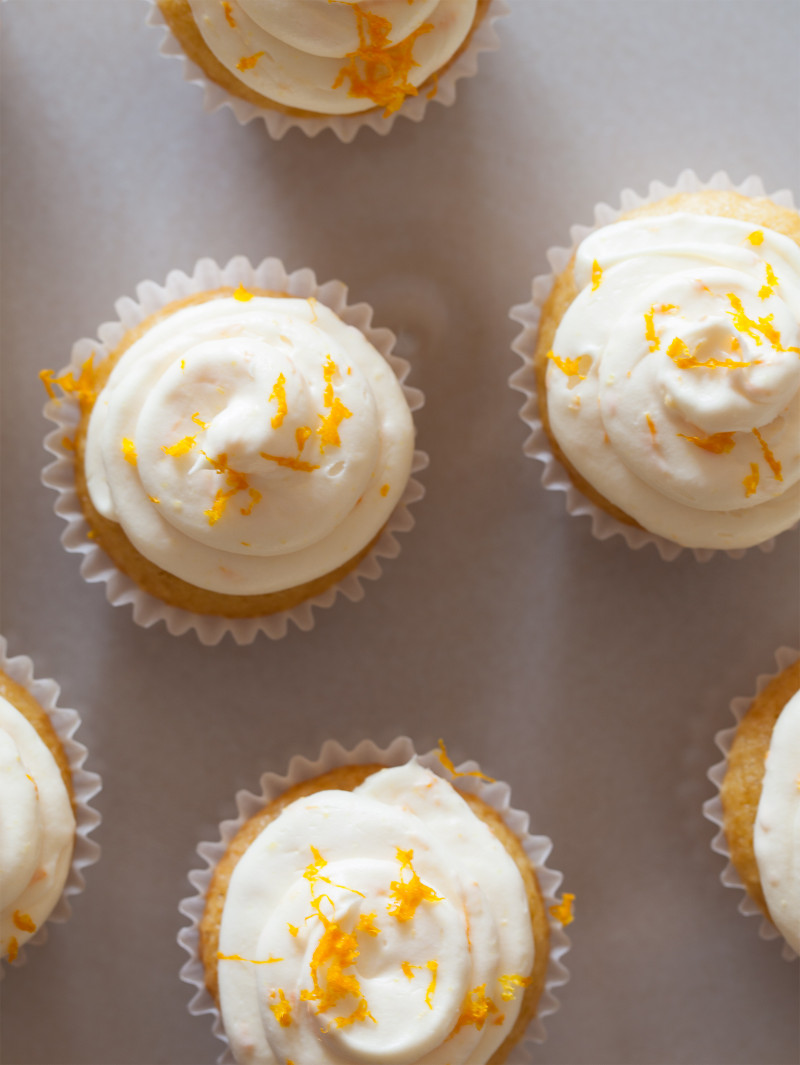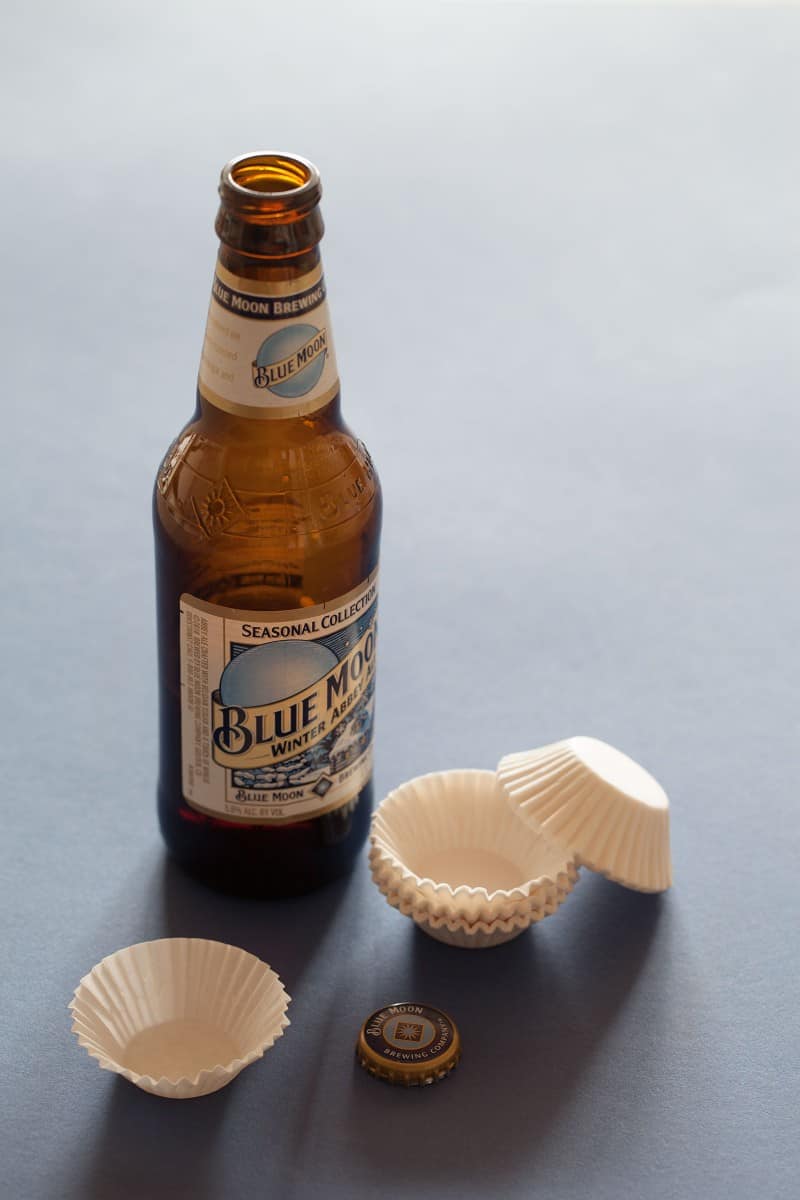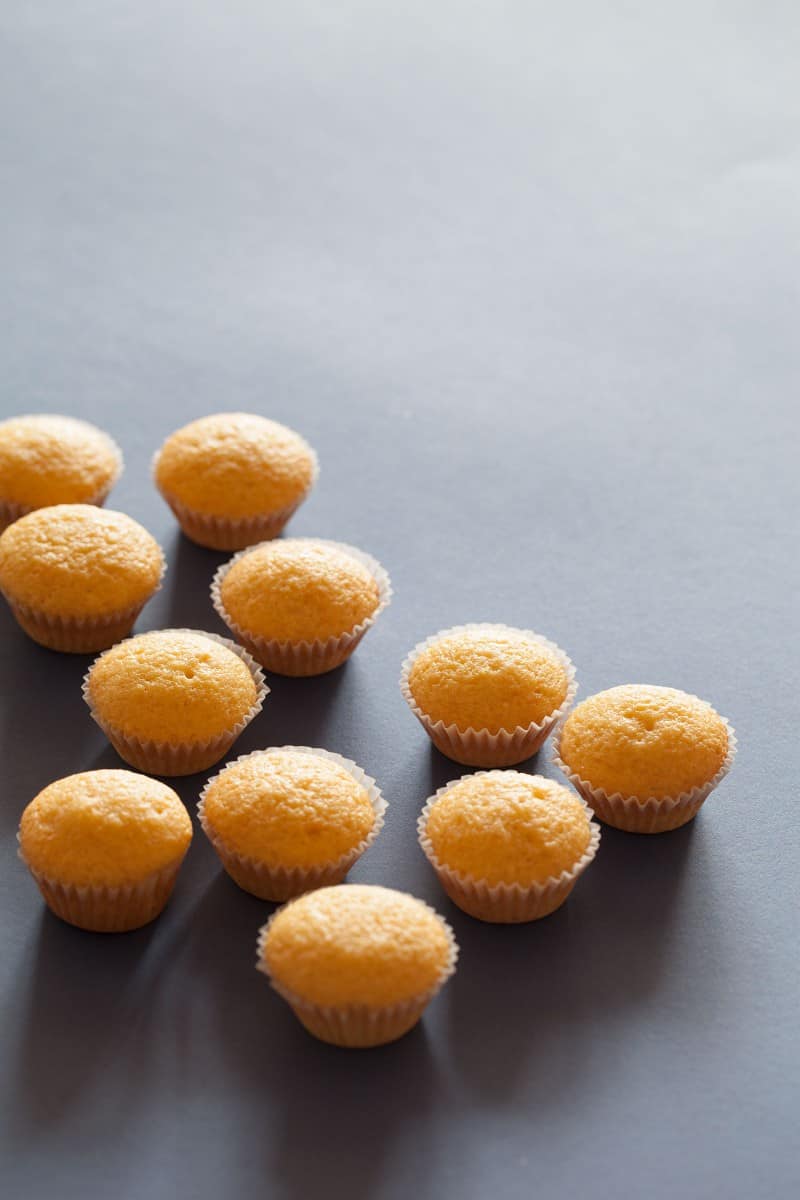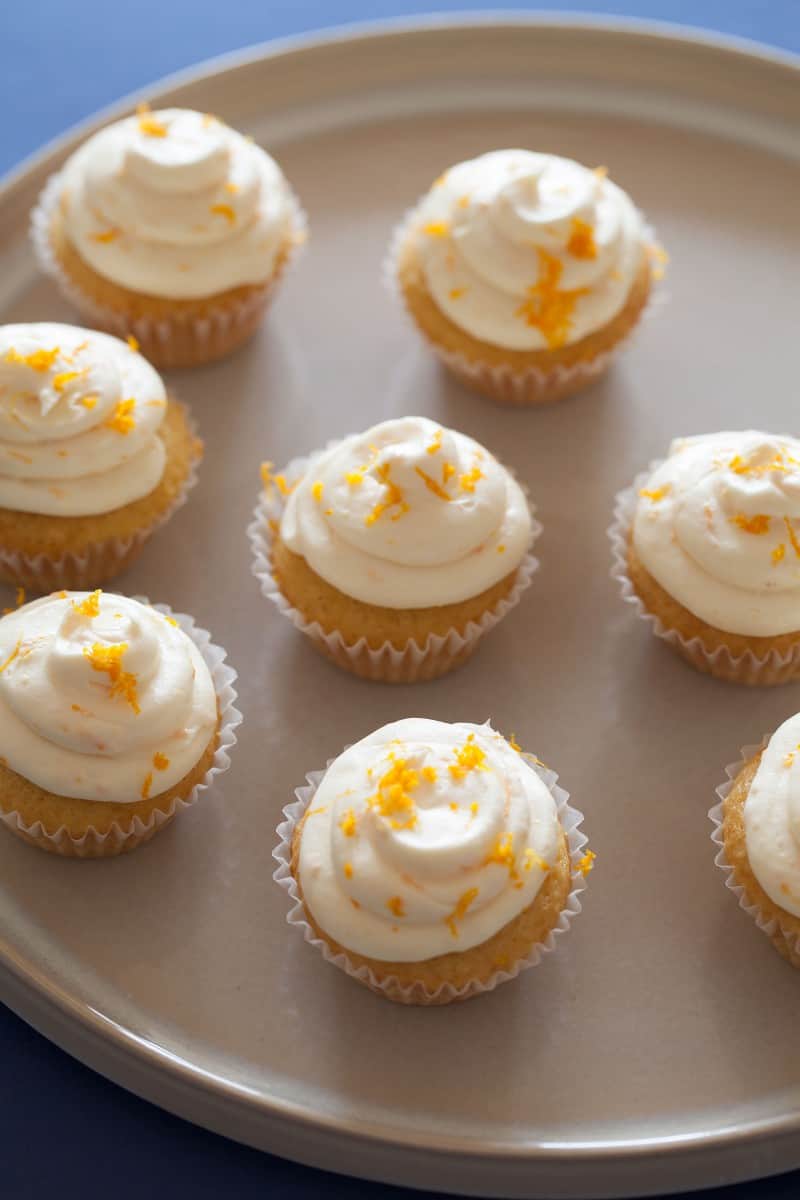 Hi All! Something you guys might not know about me is that I'm a big craft beer lover….like huge. I live one block from a liquor store that has the, "Biggest Beer Selection in the South Bay" and it's really awesome because they have large bottles of Dogfish Head, Allagash Black (yes, yes and Allagash White, of course), Pliny the Elder, Delirium Nocturnum, Leinenkugel's Sunset Wheat, and much much more. It's totally an adult candy shop…very awesome…makes me happy.
Anyway, when I'm not in the mood to spend $12.99 on one bottle of beer (gross) I like to go to one of my "everyday" favorites, Blue Moon. I love wheat ales in general and especially love the citrus notes in Blue Moons. Plus, I like their seasonal ales….specifically the Winter Abbey seasonal, but I digress……Why Blue Moon cupcakes? why not, right?! These little guys are light and fluffy and the orange infused cream cheese frosting is so simple and really good. They're a fun treat to bring to any get together..so go make them this weekend, okay?! Enjoy!
xx Jenny
Mini Blue Moon Cupcake
Makes 24
Ingredients:
1/2 cup unsalted butter, softened
1 1/4 cup granulated sugar
1 2/3 cup all purpose flour
1 teaspoon baking powder
1/8 teaspoon salt
2 eggs, room temperature
1 teaspoon vanilla extract
1 oraange, zested (plus more for garnish)
2/3 cup Blue Moon beer
2 tablespoons whole milk
orange cream cheese frosting:
4 ounces cream cheese, softened
1/2 cup (1 stick) unsalted butter, softened
2 1/2 cups powdered sugar, sifted
2 tablespoons freshly squeezed orange juice
Directions:
1. Preheat oven to 375°F. Line a mini muffin tin with 24 mini cupcake liners.
2. In a mixing bowl, sift together flour, baking powder and salt.Set aside.
3. In a stand mixer fitted with a paddle attachment, or with a hand mixer, cream butter for 1 minute. Add sugar and cream together with butter for about 3 to 4 minutes.
4. Add eggs, one at a time, scraping down after each addition.
5. Add vanilla and orange zest and mix until just combined.
6. In a mixing bowl whisk together beer and milk. Alternatively add beer mixture and flour mixture to butter mixture until fully incorporated.
7. Fill cupcake liners 1/2-2/3 full.
8. Bake for 15 to 18 minutes until golden brown and a toothpick inserted in center comes out clean. Transfer cupcakes onto a cooling rack and allow to cool completely.
9. For frosting: In a stand mixer, or with a hand mixer, cream together butter and cream cheese. With motor running add sugar, 1/2 cup at a time until all sugar has been added, scraping down sides of the bowl after each cup of sugar. Stir in the orange juice until fully incorporated.
10. Pipe frosting onto cupcakes or spread with an offset spatula and top with fresh orange zest. Serve.