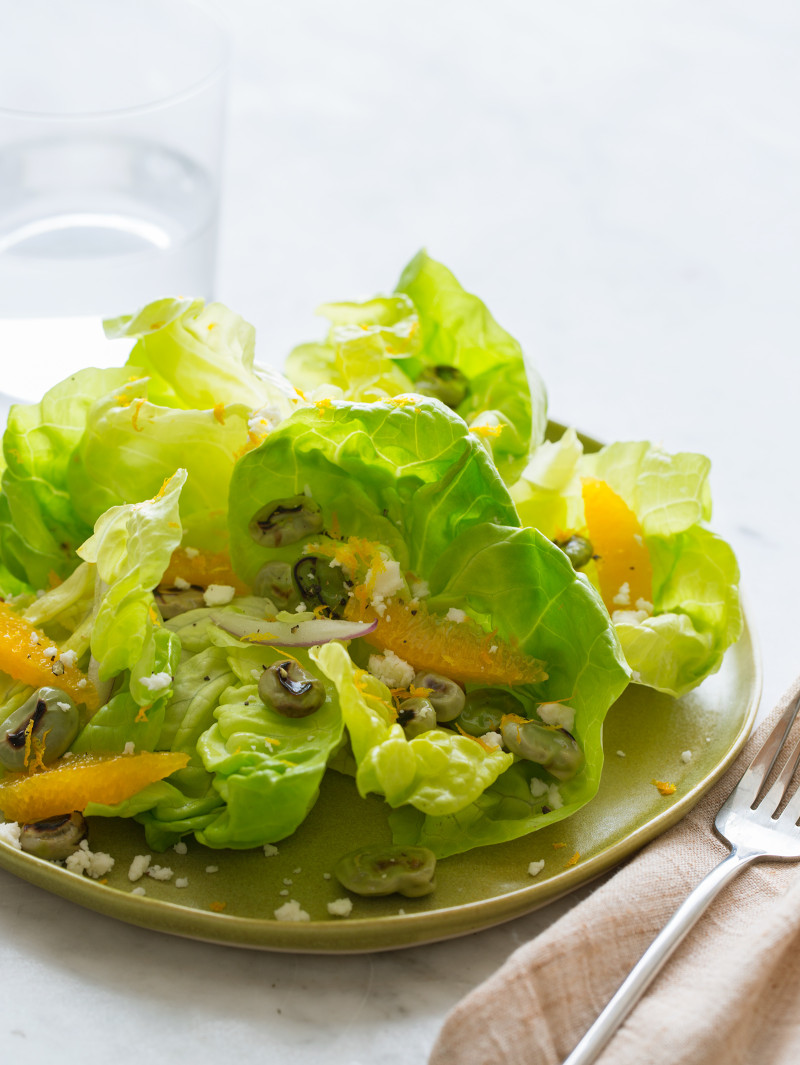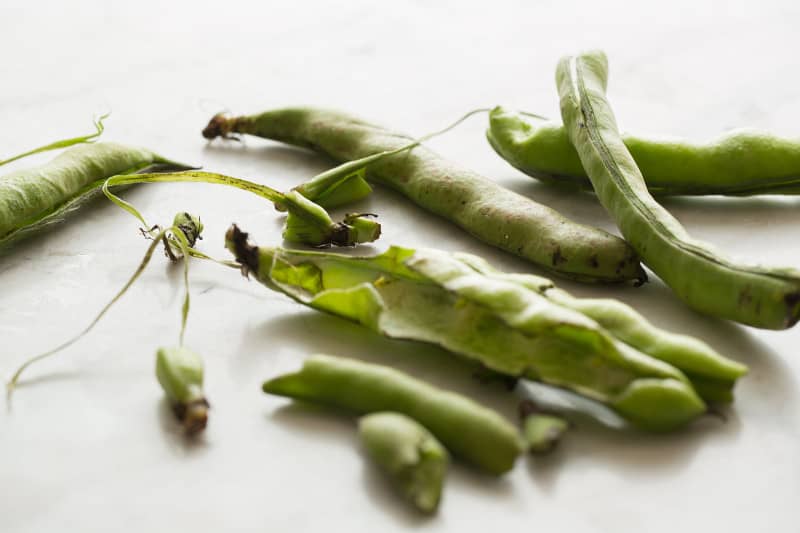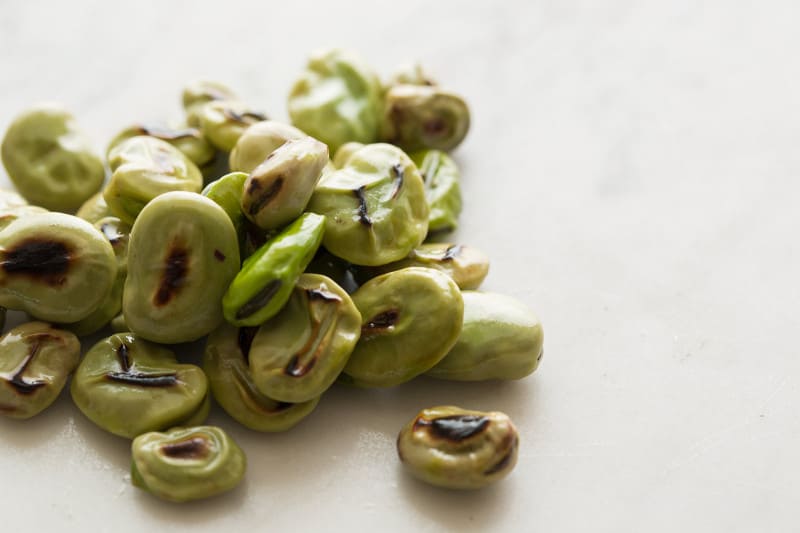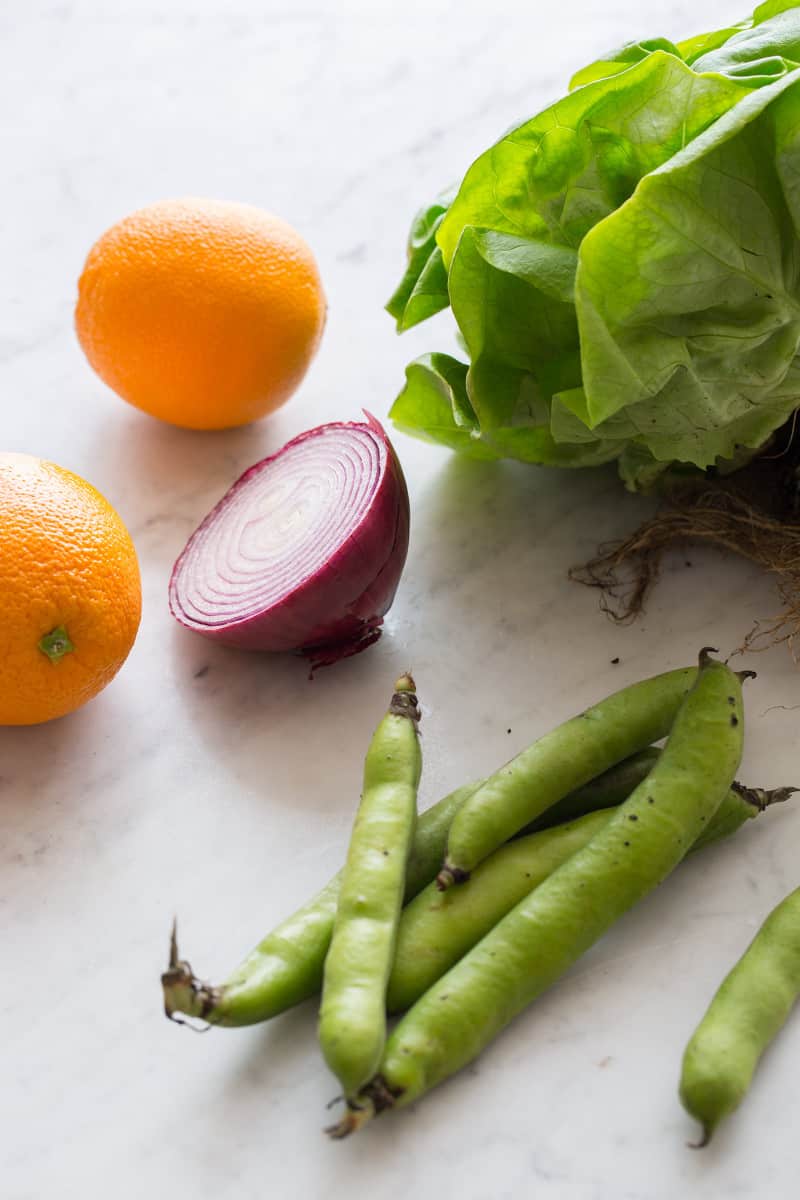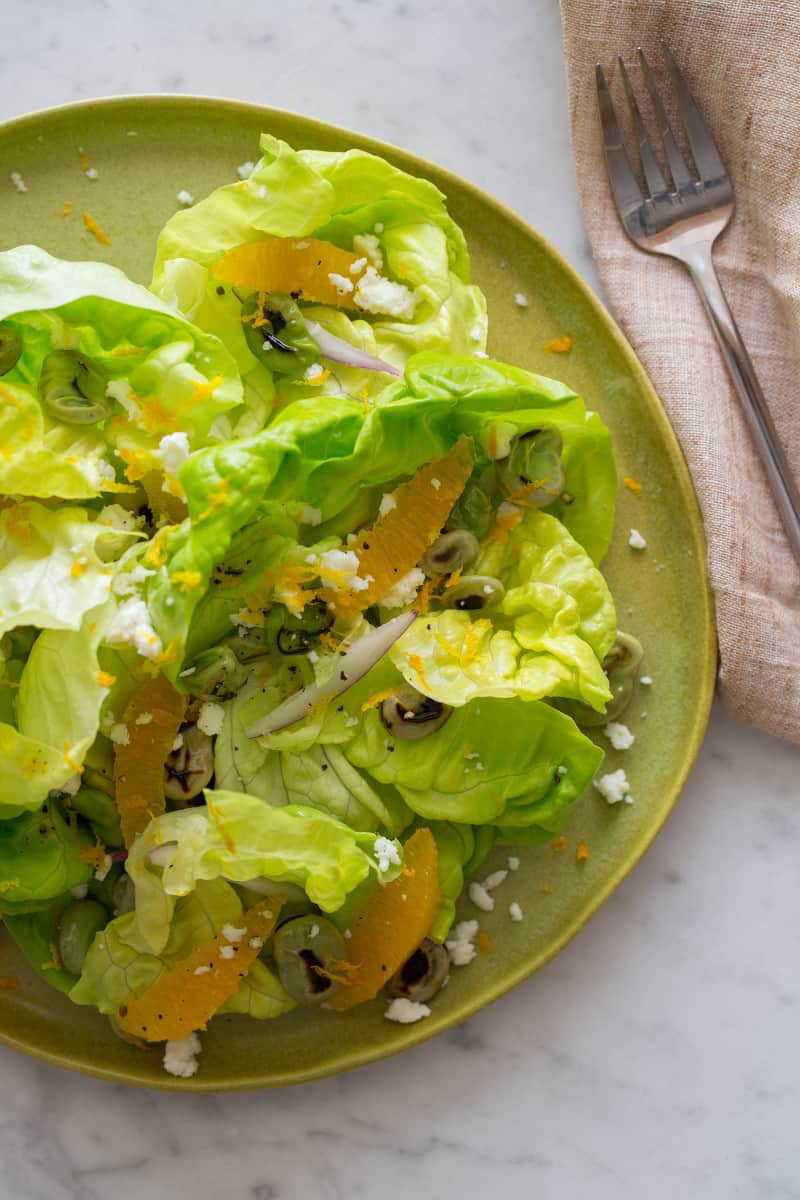 Hi Guys! Teri and I spend last weekend in Aspen, eating our way through the Food & Wine Classic. It was pretty amazing: the food, the chefs, the weather….just perfect across the board….well except for a travel hiccup or two, but much more on that at another time! (If you guys are interested in checking out a few of our favorite bites from the past weekend, head on over to our instagram @spoonforkbacon)
Now that we're back from stuffing our faces in Colorado, we're trying to balance everything out by eating just a little lighter and healthier. So today we have a simple Blistered Fava Bean and Butter Lettuce Salad, with a citrus vinaigrette. I love this salad because it's fresh and simple. Blistering the fava beans will create a lovely smoky flavor on the outside and a great creamy texture on the inside.
Aside from the fava beans, I really enjoy using this as my "base salad" recipe. If I'm not too hungry or am in the mood for something light, I'll whip this salad up in about 10 minutes. So easy. Although if I'm in the mood for something a bit more substantial, I'll still whip up this salad but also cook some yummy grains like quinoa or farro to add to the mix along with some crushed nuts like almonds or pistachios.
After gorging all weekend and not really walking/moving around as much as I had hoped for, except to get from one bite to the next, it's nice to come home and sort of detox the weekend away with a clean and simple meal like this one. Enjoy! xx, Jenny
Blistered Fava Bean and Butter Lettuce Salad
Serves 4
Ingredients:
1 tablespoon extra virgin olive oil
10 fava bean pods, shelled (discarding empty pods)
2 oranges, peeled and cut into supremes
zest of 1 orange
2 ounces queso fresco, crumbled
1 head, butter lettuce
citrus vinaigrette:
2 tablespoons minced shallot
1 garlic clove, minced
2 tablespoons whole grain mustard
zest and juice of 1 medium orange
1 tablespoon fresh lemon juice
2/3 cup extra virgin olive oil
salt and pepper to taste
Directions:
1. Toss oil and fava beans together in a small bowl and season with salt and pepper.
2. Heat a cast iron pan (or another heavy bottom skillet) over medium-high heat and add fava beans. Allow beans to blister, stirring occasionally, for 5 to 6 minutes. Remove from heat and set aside.
3. For vinaigrette: Place all ingredients, except oil, into a small bowl and whisk together. While whisking, begin to add oil in a slow and steady stream until fully incorporated. Season wit salt and pepper.
4. To assemble: Roughly tear lettuce into a bowl and top with blistered fava beans, orange supremes and queso fresco. Pour vinaigrette over salad and toss together. Top with grated orange zest and adjust seasoning with salt and pepper. Serve.