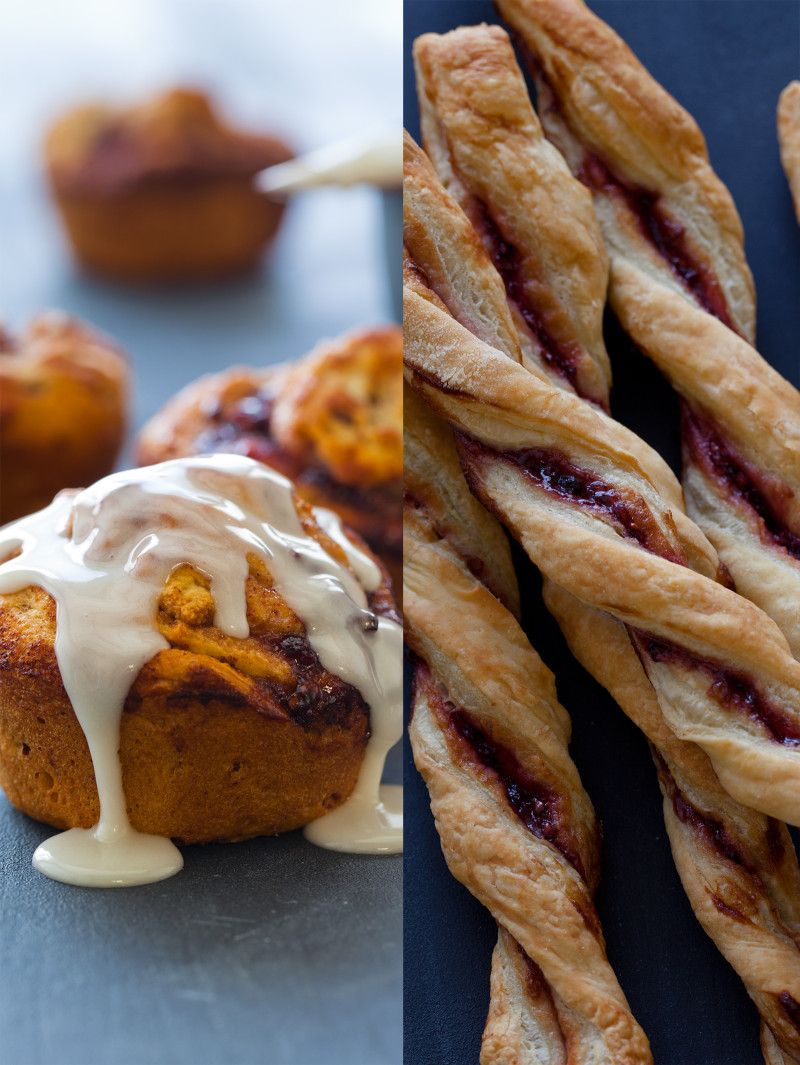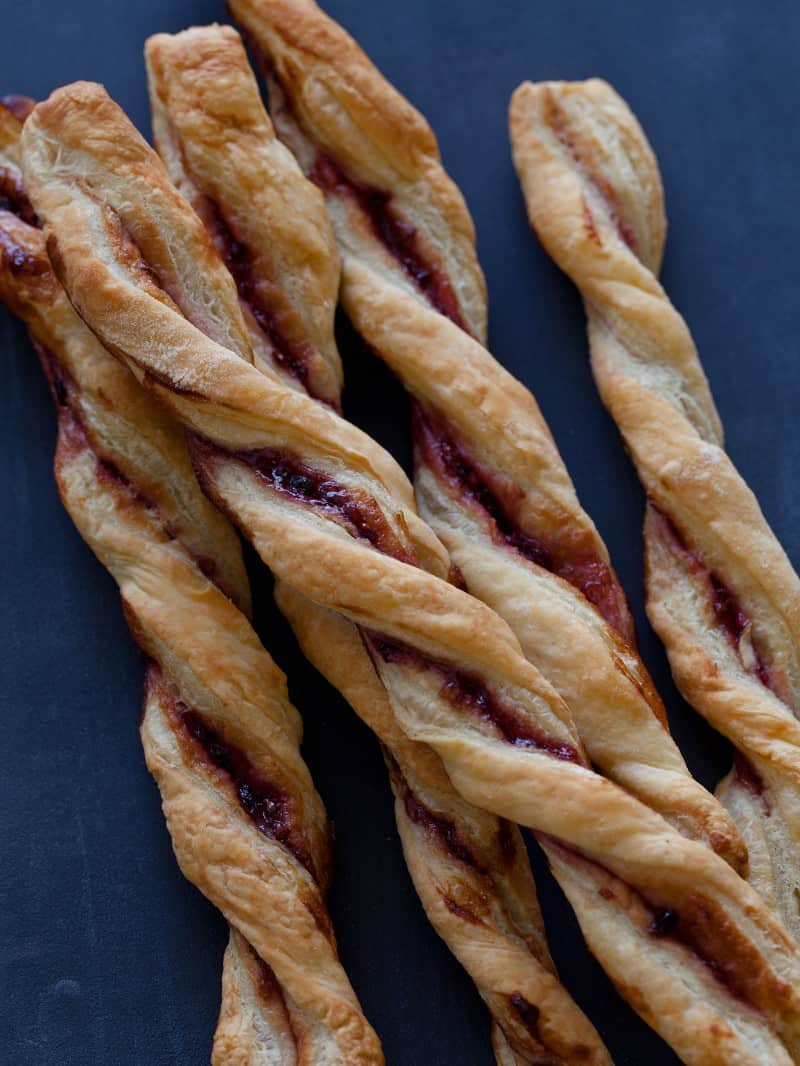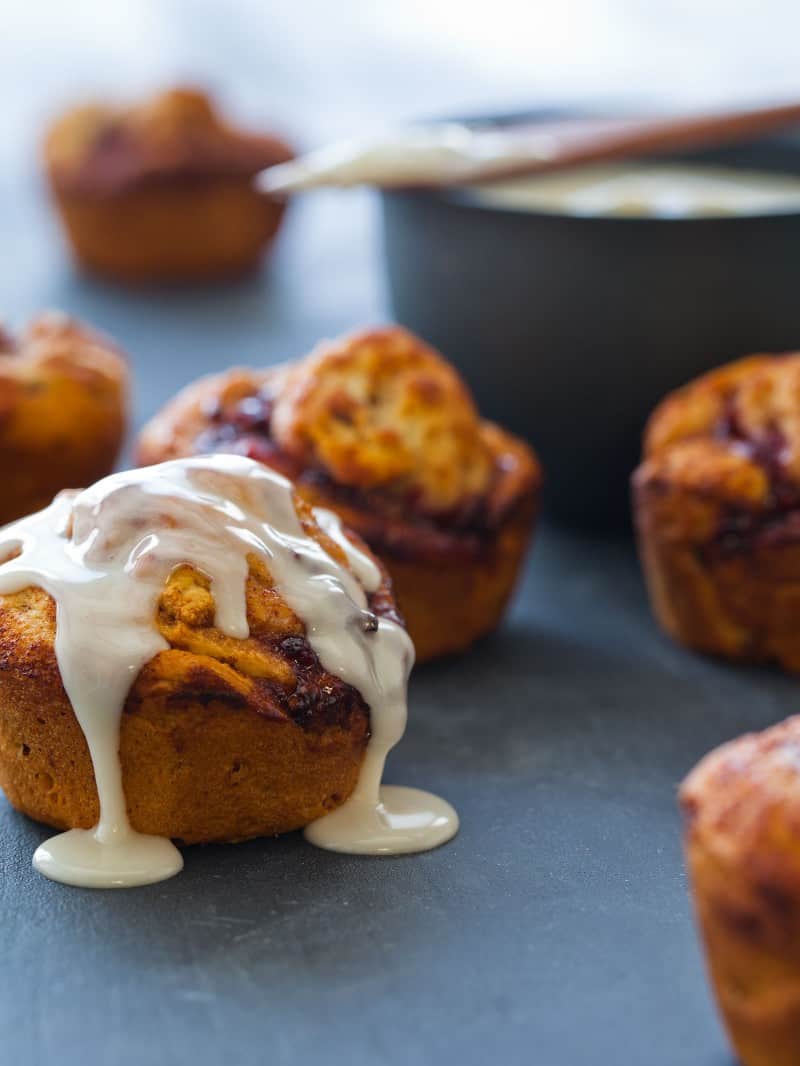 Remember how we made blackberry jam about a month ago? Well I still have a ton of it. I love making jam and eating it, but I always find that I always make more than I know what to do with. These super "semi-homemadeish" pastries are a great way to use up all the homemade jam you might have laying around from the summer. So we have made Blackberry Jam Straws & Blackberry Stuffed Cinnamon Rolls. If you're feeling ambitious you can make your own cinnamon rolls from scratch. I wasn't feeling so ambitious so I bought some; I'm usually not a fan of the canned cinnamon roll dough, but I kind of like them with sweet berry jam swirled in them. I'm not going to lie, the cinnamon rolls can get a bit messy when unrolling, stuffing, and re-rolling, but it's so easy it's worth it. You can totally skip the homemade icing and use the stuff that comes with the cans, but I just prefer to make my own because it takes two minutes and tastes much better, me thinks. Enjoy and have a great weekend!
xx Jenny
Jam Straws
Makes 16
Ingredients:
2 sheets puff pastry, thawed
1/2 cup homemade blackberry jam
Directions:
1. Preheat oven to 425°F.
2. Place one of the sheets of puff pastry onto a cutting board.
3. Spread a thin layer of jam over the entire surface and top with the remaining sheet of puff pastry.
4. Gently press down on the surface to seal the sheets together.
5. Using a pizza cutter or large knife cut 16 strips.
6. Twist each puff pastry strip and place it onto a baking sheet lined with parchment.
7. Line the baking sheet, leaving about 1/2 inch – 1 inch gap between each strip.
8. Bake for about 15-17 minutes or until the strips puff up and begin to brown.
Blackberry Jam Stuffed Cinnamon Rolls
Makes 16
Ingredients:
2 cans refrigerated cinnamon roll dough
½ cup homemade blackberry jam
vanilla icing:
2 cups powder sugar, sifted
¼ to ½ cup heavy cream
1 teaspoon vanilla extract
Directions:
1. Preheat the oven to 375°F.
2. Open a can of cinnamon rolls and unroll the entire sheet.
3, Spread ¼ cup of jam onto the surface and gently roll the cinnamon rolls back up.
4. Separate each roll and place into a muffin tin, lightly sprayed with cooking spray.
5. Repeat with the remaining can until all the cinnamon rolls have been used (you'll need a second muffin tin).
6. Place the cinnamon rolls in the oven and bake for 15 to 20 minutes or until golden brown.
7. While the cinnamon rolls bake, place the ingredients for the icing into a bowl and stir with a fork (whisking will cause air bubbles), until completely combined.
8. Remove the cinnamon rolls from the oven and allow to cool slightly.
9. Drizzle the icing over each cinnamon roll and serve.