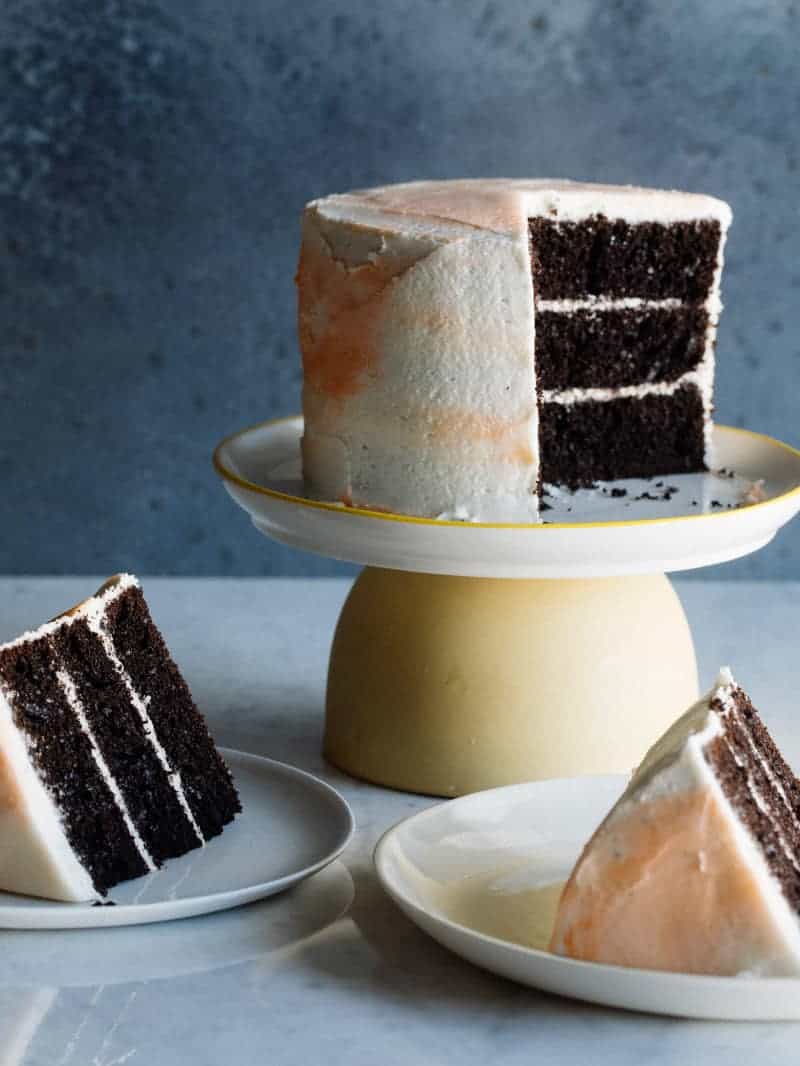 Halloween is tomorrow, so we're leaving you with this ultra black cake; it's our Black Cocoa Devil's Food Cake with Marbled Buttercream! The black color isn't from food coloring, but from black cocoa powder! Neat, right? I love using black cocoa powder when I want to get a 'midnight black' color onto my sweets. I should warn you though that a little goes a long way here, not just with the color, but the flavor!
I marbled the buttercream with a little bit of orange just to stay festive, but feel free to frost your cake however you like! This cake would make a great Halloween treat for both the classroom and the workplace and they can easily be converted to cupcakes! Enjoy! xx, Jenny
Black Cocoa Devil's Food Cake with Marbled Buttercream

Makes 1 (6") cake

Ingredients:
devils food cake:
1 cup boiling coffee
1/2 cup black cocoa powder
1/4 cup unsweetened cocoa powder
1 cup vegetable oil
2 large eggs
2 egg yolks
1/2 cup sour cream
1 teaspoon vanilla extract
2 cups all purpose flour
1 1/4 cups light brown sugar
3/4 cup superfine sugar (granulated is fine)
1 1/4 teaspoon baking soda
1/2 teaspoon salt
quick vanilla buttercream:
1 cup (2 sticks) unsalted butter, softened
5 to 5 1/2 cups sifted powdered sugar
2 teaspoons vanilla extract

*professional grade 'orange' food coloring

Directions:
1. Preheat oven to 350˚F. Lightly grease three, 6" round cake pans and line each with parchment paper. Set aside.
2. Cake: In a mixing bowl combine coffee , black cocoa powder and unsweetened cocoa powder and whisk together until dissolved.
3. In another mixing bowl combine oil, eggs, egg yolks, sour cream, and vanilla extract. Whisk together. Once the cocoa mixture has cooled whisk it into the oil mixture.
4. In a medium mixing bowl combine the remaining ingredients and whisk together. Add the flour mixture into the oil mixture and stir until just combined.
5. Divide batter between the cake pans and bake for 30 to 35 minutes or until a toothpick comes out clean when inserted into the center of the cake.
6. Cool cake layers in pans, on cooling racks. Once completely cooled, slice each layer in half (widthwise), creating six, thin, even layers of cake.
7. Place layers in the refrigerator for at least an hour to chill.
8. Buttercream: In a stand mixer fitted with a paddle attachment beat butter and 1 cup powdered sugar. Scrape down sides of bowl and continue adding remaining sugar, 1/2 cup at a time until buttercream is light and fluffy.
9. Scoop 1/3 of the buttercream mixture into a bowl and add 1 to 2 drops professional grade food coloring. Stir together until buttercream has an even coloring of light orange.
10. To assemble: Trim the tops of each cake round, so they each have a flat and even surface. Place 1 cake layer onto a cake plate and top with a thin layer of buttercream. Repeat until all layers have been stacked. Frost a thin layer of uncolored buttercream around the side and top of cake to crumb coat. Place cake in refrigerator for 1 hour.
11. Fit two piping bags with a #12 round piping tip and fill one with orange buttercream and the other bag with the uncolored buttercream.
12. Randomly pip small dots of orange and white buttercream throughout the sides and top of the cake (evenly filling up about 2/3 of the cake)
13. Using an offset spatula, smooth the sides and top of the cake until buttercream colors have randomly, but evenly blended and the cake is smooth on all sides.
14. Slice and serve!