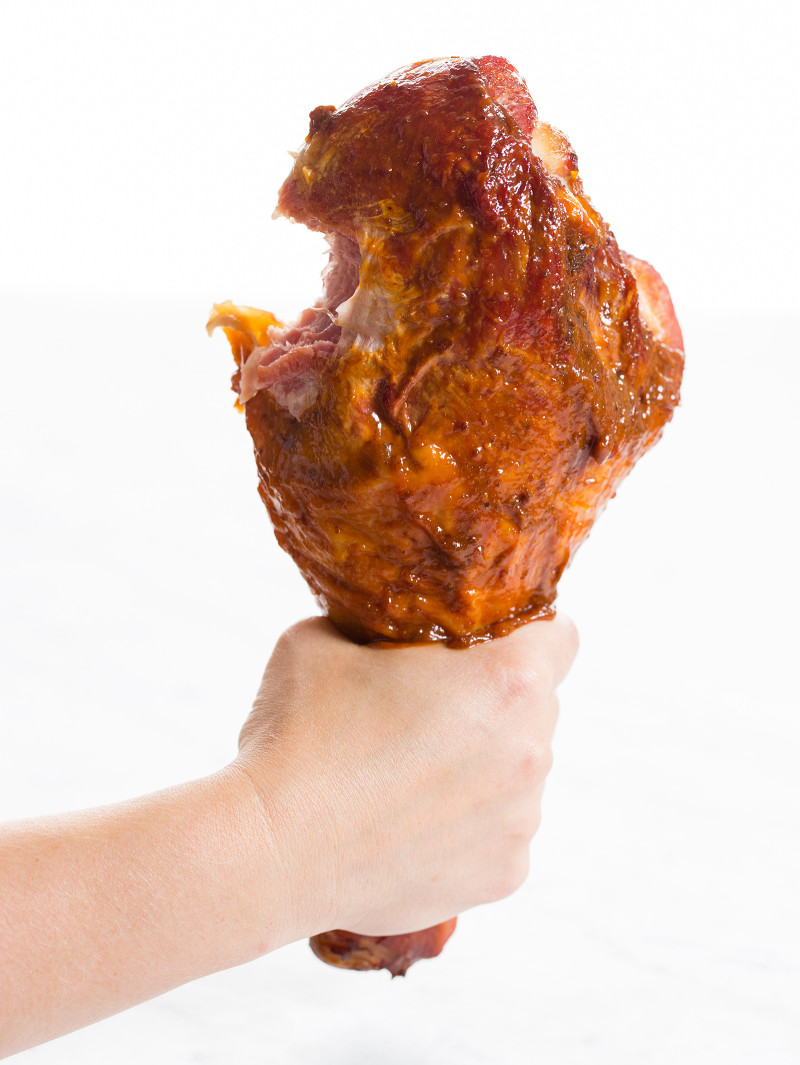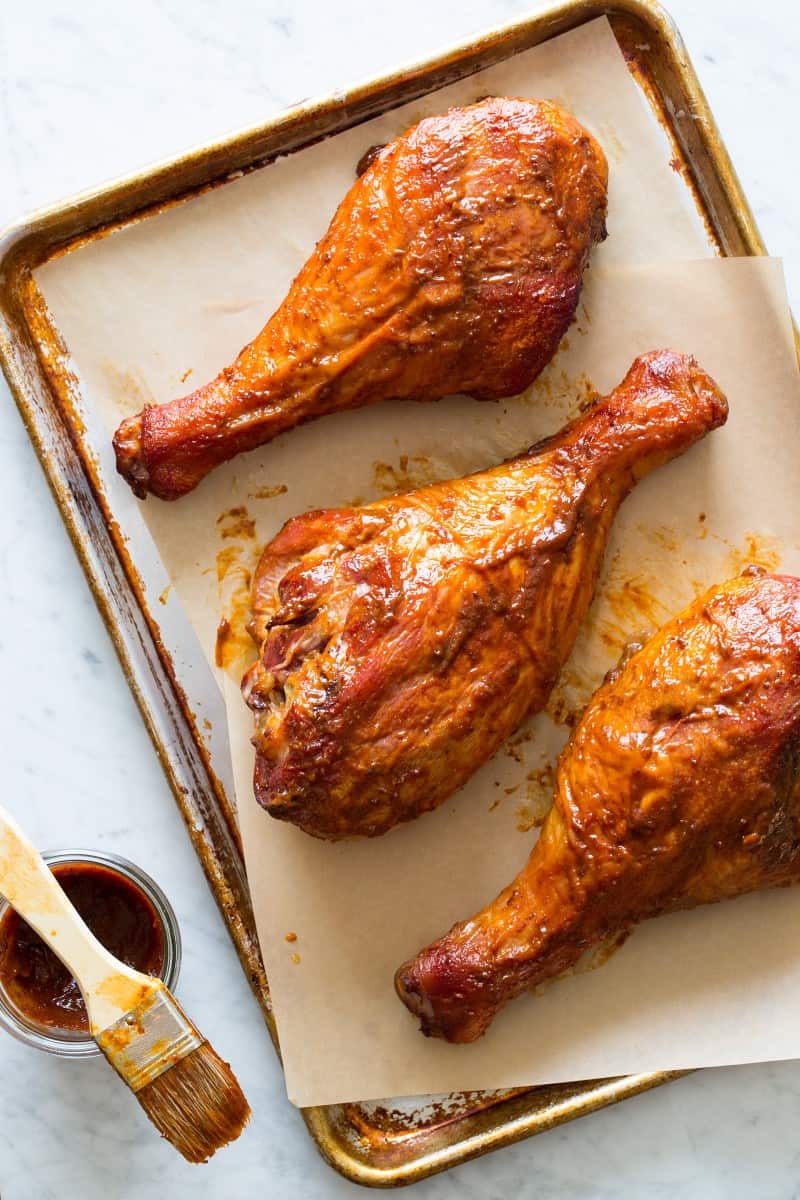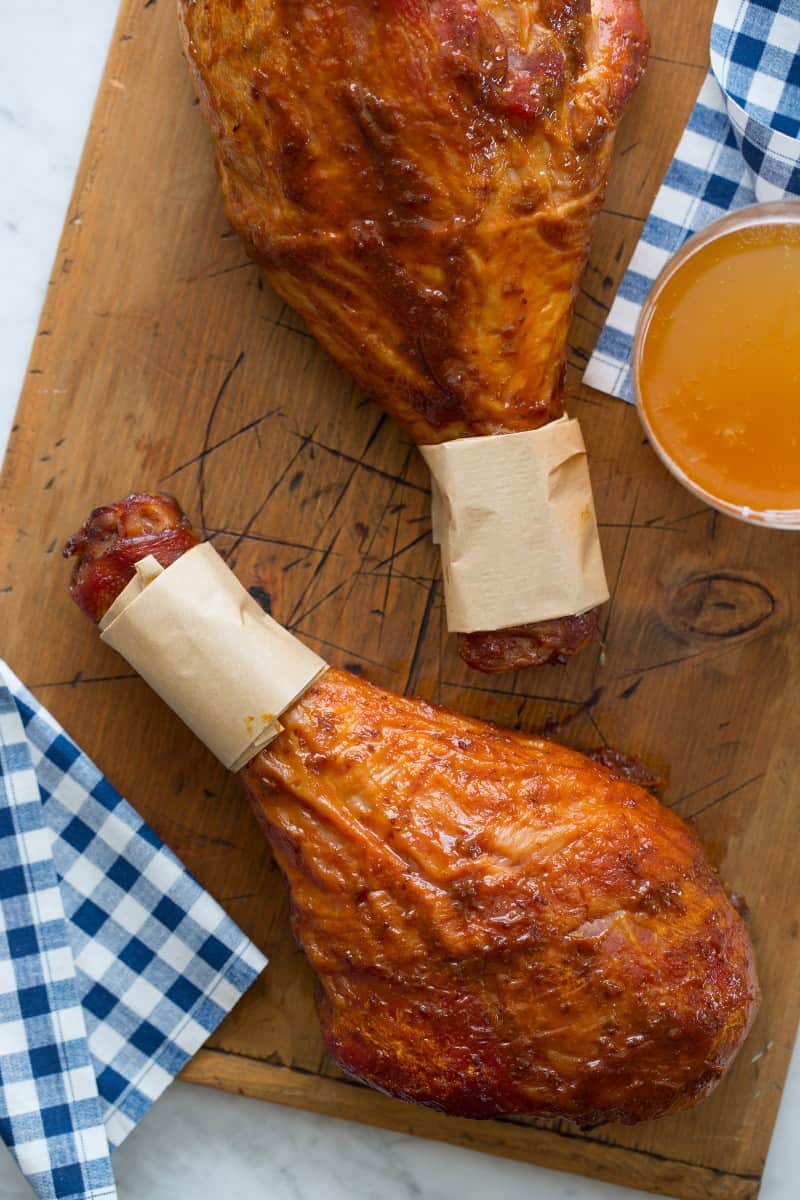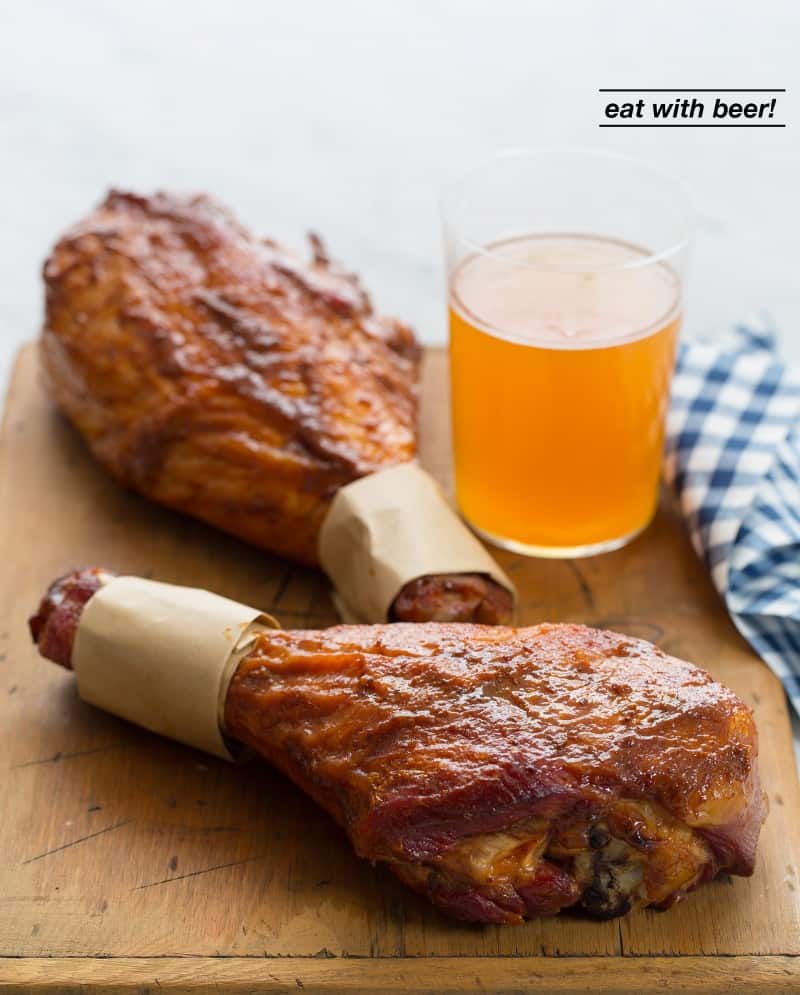 Hi guys! Yesterday we shared our recipe for Sweet and Tangy BBQ Sauce. I really love making my own condiments, it's always pretty easy and for some reason I end up feeling more accomplished than when I cook a whole meal. Anyway, while I love all kinds of barbecue sauce (I'm totally a sauce person…the more sauce the better for me) I love a nice, sweet and thick barbecue sauce for poultry. I like the flavor it gives and the char you get from the sugar hitting the heat.
Anyway, I thought this would be a fun recipe to tackle because I've never seen BBQ Turkey Drumsticks being served anywhere other than theme parks and county fairs. Am I right? Has anyone seen these things anywhere else? I don't really frequent either of the above, but when the boyfriend and I do happen to find ourselves around a BBQ Turkey Drumstick vendor we must have one….that and buttery corn on the cob. Those two food items are a must. So today we're using our sweet and tangy barbecue sauce recipe to slather onto lightly brined and slow grilled turkey drumsticks. You can usually find turkey drumsticks year round at markets such as Whole Foods, meat markets/butchers; this includes (pre-cooked) smoked meat that is great if you want to skip the brine and long cook time. You can throw them onto the grill until heated through before brushing with sauce.
If you're looking for a little something different and delicious to grill this summer season, maybe think about adding these bbq turkey drumsticks to your menu. You can even make a meal of it by pairing it with a few of our quick and easy side dishes: Hawaiian Style Macaroni Salad, Warm German Potato Salad, or our Buttermilk Cornbread. Enjoy! xx, Jenny
---
BBQ Turkey Drumsticks
Ingredients
brine
½

gallon

(1.9L) water, divided

½

cup

(62.5g) kosher salt

½

cup

(62.5g) brown sugar

¼

cup

(31g) crystallized ginger

1

tablespoon

juniper berries
Instructions
Preheat grill to medium-low.

Bring 2 cups (480ml) of water to a boil and stir in salt, sugar and crystallized ginger until dissolved. Add juniper berries and stir.

Pour the hot mixture into a large container followed by the remaining water, heavily iced. Stir.

Gently submerge drumsticks into the liquid and brine for 3 to 4 hours.

While the turkey brines, combine the butter, thyme and lemon zest in a small bowl and stir together. Set aside.

Remove drumsticks from brine and pat dry. Season with salt and pepper. Place onto grill and close lid. Grill for 45 to 1 hour, basting with the butter mixture every 10 minutes and turning occasionally.

In the last 20 minutes begin basting drumsticks with sweet and tangy barbecue sauce, basting every 10 minutes.

Once fully cooked, brush drumsticks with more sauce. Serve.