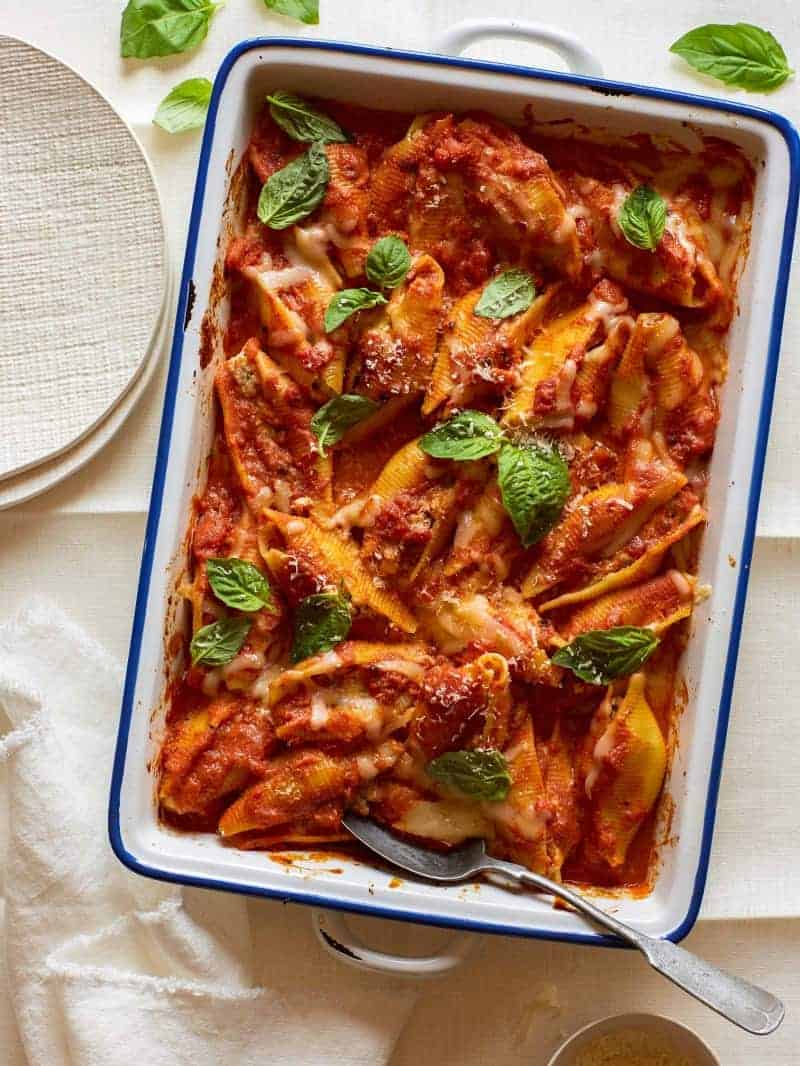 Fall is my favorite season of the year. I love how crisp the air becomes and how cozy everything becomes, including the meals we eat. Today we have one of those simple, but cozy and comforting meals that's great for feeding small groups of people. Not only is this a great meal for a crowd, but it also freezes really well, which makes this dish a great one to gift to friends and family; or just to have in your own freezer to pull out at a future date, for a lazy night in.
The addition of the mascarpone in the filling, instead of the usual ricotta, makes the filling extra rich and creamy. The filling also drips into the bed of marinara while it's baking, adding a nice creamy element to the sauce. You can also make, assemble and refrigerate this entire dish up to 2 days ahead of time, which is a great time saver if you're having people over last minute or just in need of a quick weeknight meal for your family. Enjoy! xx, Jenny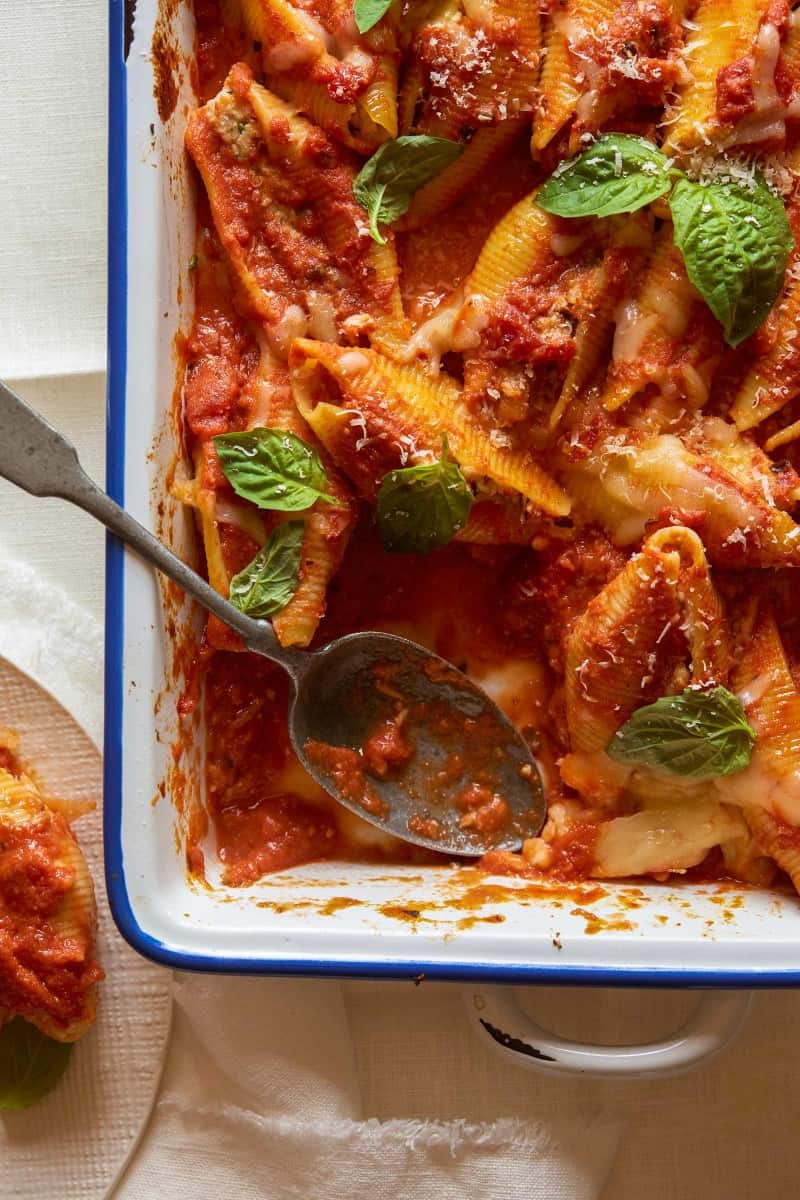 Baked Turkey Sausage and Mascarpone Stuffed Shells

Makes 1 (9"x12")

Ingredients:
filling:
2 1/2 tablespoons extra virgin olive oil, divided
1/2 pound Italian turkey sausage
1/2 pound lean ground turkey
1/2 small onion, finely diced
2 garlic cloves, minced
1 tablespoon minced basil
1 1/2 teaspoons minced oregano
1 1/2 teaspoons minced thyme
1 cup mascarpone, softened
1/3 cup grated Parmesan cheese, plus more for garnish
salt and pepper to taste

20 jumbo pasta shells, boiled to al dente and drained
1 recipe marinara sauce (or 3 cups marinara of choice)
1/2 cup shredded mozzarella

fresh basil leaves, garnish

Directions:
1. For filling: Pour 1 1/2 tablespoons oil into a large skillet and place over medium-high heat. Add sausage and ground turkey and brown for 4 to 5 minutes, breaking up into small piece with a wooden spoon.
2. Strain meat from skillet and place into a large mixing bowl. Set aside.
3. Drain grease from skillet and place back over medium-high heat. Add remaining oil and sauté onion for 3 to 4 minute. Add garlic and herbs and continue to sauté for an additional 2 minutes.
4. Transfer mixture to bowl with the meat and allow mixture to cool, about 15 minutes.
5. Add remaining filling ingredients into the mixing bowl, season with salt and pepper and stir together until fully combined.
6. To assemble: Preheat oven to 375˚F. Pour and evenly spread 2 cups of marinara sauce into the baking dish and set aside.
7. Toss shells with remaining cup of marinara sauce until each is evenly coated.
8. Stuff each shell with 2 tablespoons of filling and place into the baking dish until all shells have been stuffed and baking dish is full.
9. Cover with foil and bake for 15 to 20 minutes. Uncover shells, sprinkle with shredded mozzarella and bake for an additional 10 minutes.
10. Remove shells from oven, cool for about 10 minutes and top with fresh basil leaves. Serve with extra grated Parmesan on the side.