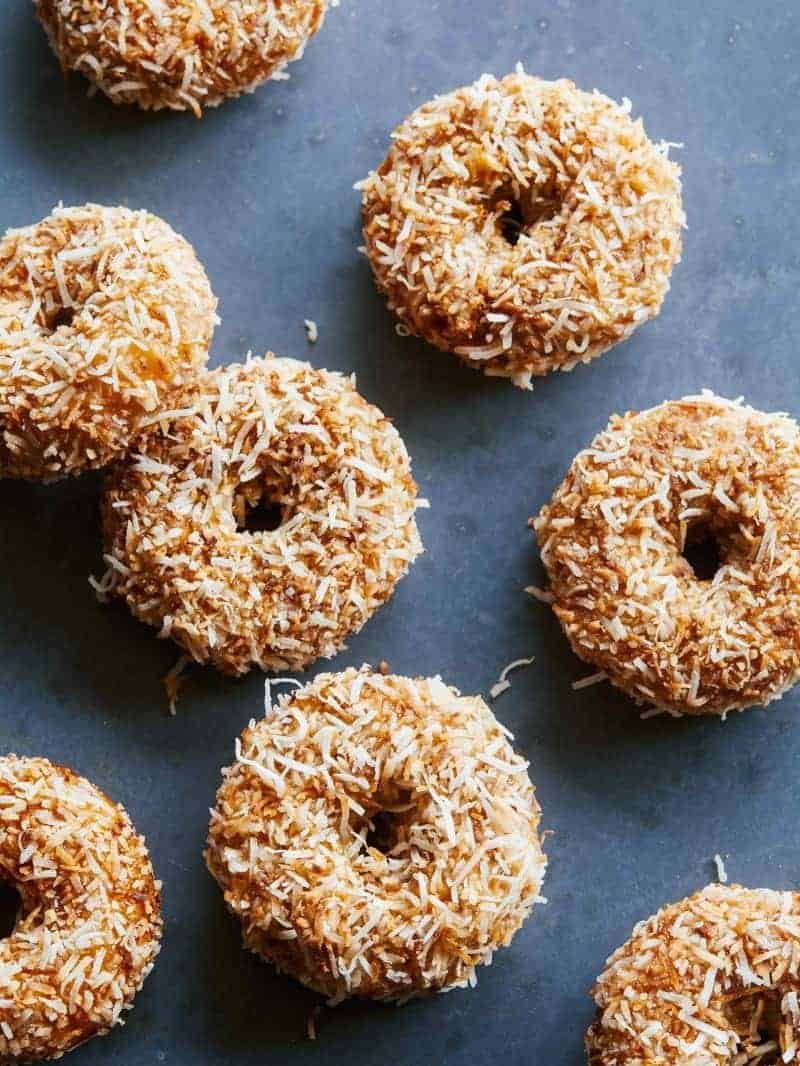 We made these seriously good Baked Pumpkin Cake Doughnuts With Maple Glaze and Toasted Coconut for all you pumpkin lovers out there. Pumpkin haters ignore! I look forward to fall because of pumpkin food – and although I am not a fan of the Pumpkin Spiced Latte, I am a fun of pumpkin pancakes, or pumpkin waffles or pumpkin whatever. We have a lot of pumpkin recipes for you pumpkin fans out there. Anyway, back to these doughnuts. We made them baked because it's just so much easier. We coated them in this yummy maple glaze and then covered them in toasted coconut. These doughnuts are not super overly sweet, but just the right amount. I love them. ♥ Teri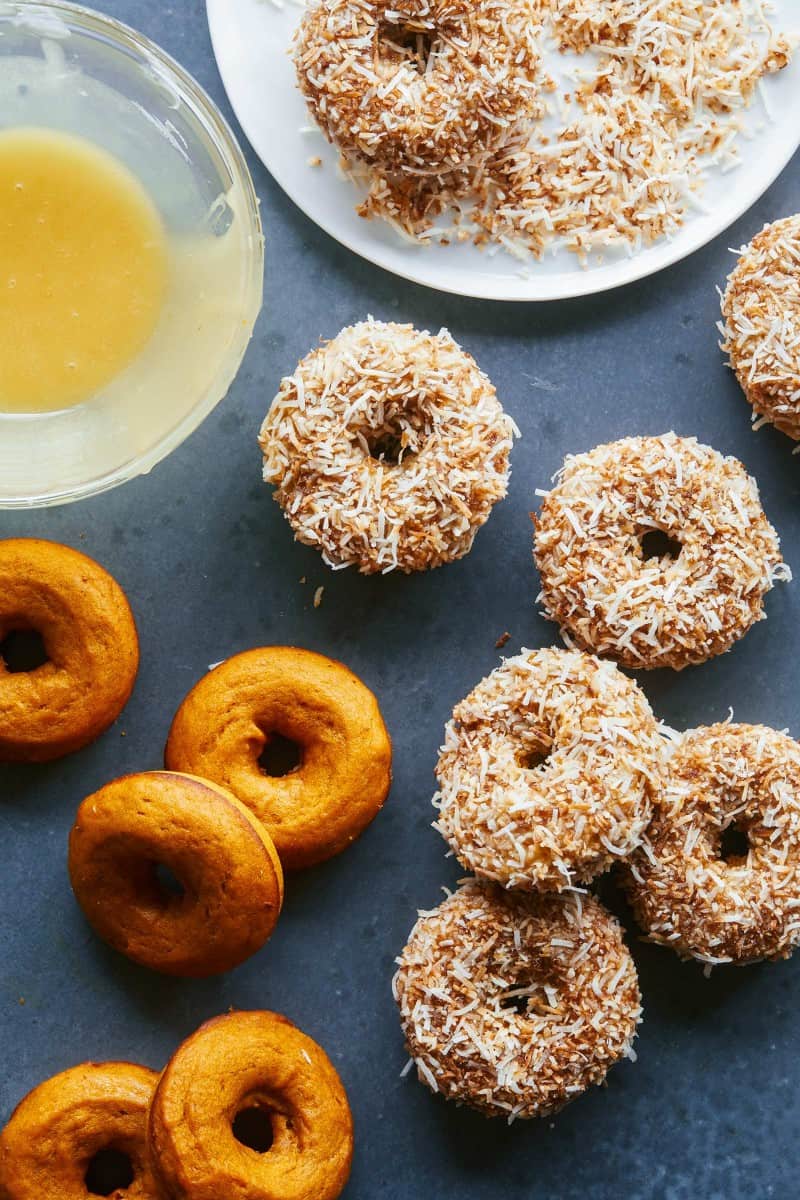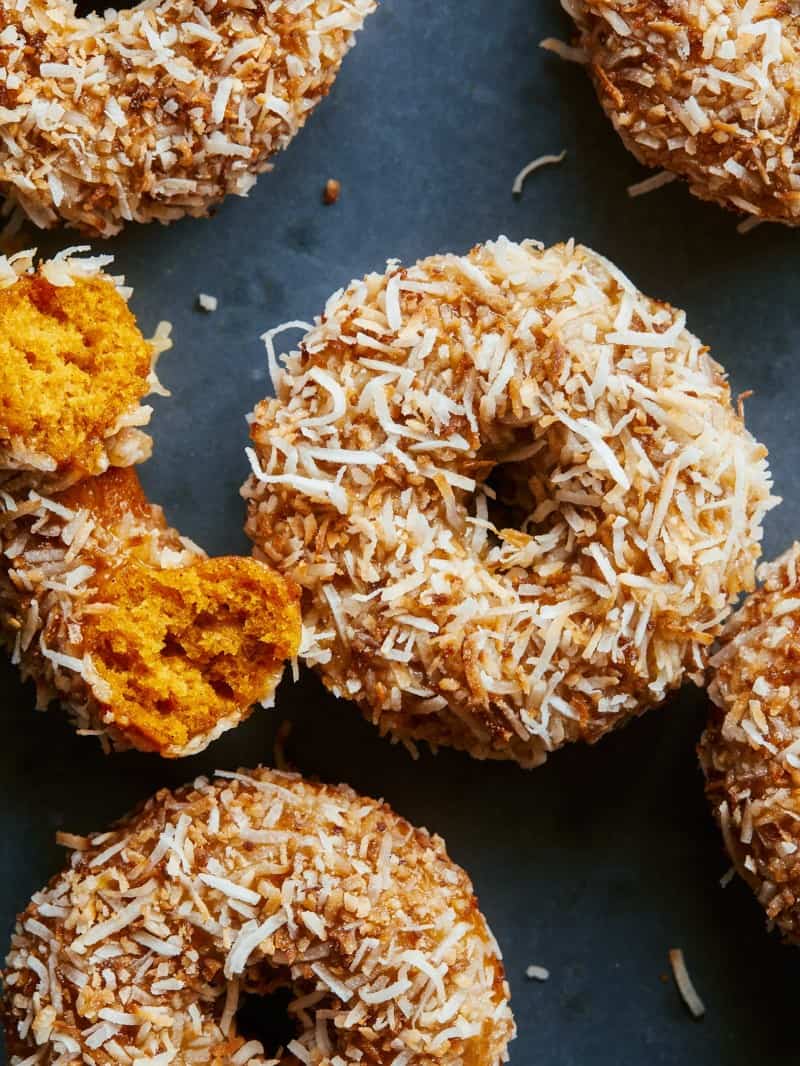 Baked Pumpkin Cake Doughnuts with Maple Glaze and Toasted Coconut

Makes 22 to 24

Ingredients:
1/2 cup vegetable oil
3 large eggs
1 1/4 cups light brown sugar
1 (15 ounce can) 100% pure pumpkin puree
1 1/2 teaspoons salt
1 1/2 teaspoons baking powder
1/2 teaspoon ground cinnamon
1 3/4 cups bread flour, sifted
maple glaze:
1 cup (2 sticks) unsalted butter
1 cup 100% pure maple syrup
3 cups powdered sugar
2 to 4 tablespoons whole milk

3 cups finely shredded and toasted coconut

Directions:
1. Preheat oven to 350˚F.
2. Lightly grease 2 doughnut pans and set aside.
3. Pour oil, eggs, sugar, pumpkin puree, and salt into a large mixing bowl and whisk together. Add baking powder and cinnamon and whisk together.
4. Begin adding flour 1/2 cup at a time, stirring between each addition until a thick and even batter has formed.
5. Pour 1/2 batter into a re-sealable, gallon sized plastic bag and make a small cut through on of the bottom corners (creating a makeshift piping bag).
6. Pipe batter into each of the doughnut pan wells, filling each nearly to the top.
7. Bake doughnuts for 17 to 19 minutes or until a toothpick comes out clean when inserted into the center of the doughnuts.
8. Remove from heat and transfer doughnuts to a cooling rack. Allow doughnuts to cool completely.
9. Repeat steps 6 to 8 and bake remaining doughnuts.
10. Maple Glaze: Place butter and syrup into a saucepan and place over medium heat and melt together. Whisk together and bring to a simmer. Remove from heat and whisk in powdered sugar, 1/2 cup at a time until fully incorporated. Whisk milk into the mixture until glaze is smooth and slightly thinned out.
11. To assemble: Dip doughnut halfway into the maple glaze. Flip over to submerge other side, shaking off any excess so you're left with a thin, even coating. Dip glazed doughnut into the toasted coconut and completely cover with more coconut. Gently press onto the doughnut, so coconut adheres all over, shaking off any excess. Repeat with remaining doughnuts and serve.