Breakfast is the best. The endless combinations of delicious food make for creative meals and awesomeness. Do you want sweet or do you want savory? Do you want cold or hot? Its up to you. This is a good recipe for you guys to kick off your breakfast genius. You could add bacon, or nutella, or bananas. Anything will really be good. Remember when we posted our Baked Egg Boats? This is like that, a vehicle for breakfast creativity. So go and get your breakfast on!
♥ Teri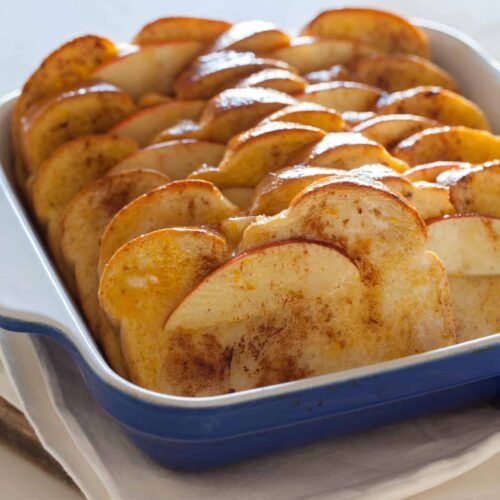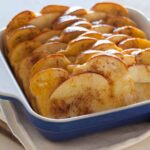 ---
Baked Apple Cinnamon French Toast
INGREDIENTS
2

tablespoons

unsalted butter, softened and divided

2

apples, peeled, cored and thinly sliced and divided

2

tablespoons

light brown sugar

1

tablespoon

ground cinnamon, divided

½

teaspoon

ground nutmeg, divided

¼

teaspoon

ground cardamom

6

eggs, lightly beaten

2

cups

milk

1

teaspoon

vanilla extract

½

loaf

(thick sliced) sourdough bread (about 10 to 12 slices), slightly stale
INSTRUCTIONS
Lightly grease an 8"x8" baking dish with 1 tablespoon butter.

Place apples in a mixing bowl and sprinkle with sugar, ½ tablespoon cinnamon, and ¼ teaspoon nutmeg. Gently toss together until apple slices are well coated.

Place all but 10-12 slices apple into the bottom of the baking dish and spread into an even layer. Set aside.

Place eggs, milk, vanilla, cardamom, remaining cinnamon and nutmeg into a mixing bowl and whisk together.

Dip a slice of bread into the egg mixture until well coated and place into the baking dish with a slice of apple pressed onto it. Repeat until all bread slices have been used or until baking dish is filled. Pour remaining egg mixture over the baking dish, cover with plastic wrap and place in refrigerator for 1 hour. Uncover, dot surface with remaining butter and bake for 40 to 45 minutes or until egg mixture has set and bread has toasted.

Allow to cool for 5 minutes before scooping and serving with powdered sugar and maple syrup, if desired.
Calories:
231
kcal
Carbohydrates:
29
g
Protein:
10
g
Fat:
9
g
Saturated Fat:
4
g
Cholesterol:
136
mg
Sodium:
220
mg
Potassium:
211
mg
Fiber:
2
g
Sugar:
12
g
Vitamin A:
389
IU
Vitamin C:
2
mg
Calcium:
115
mg
Iron:
2
mg