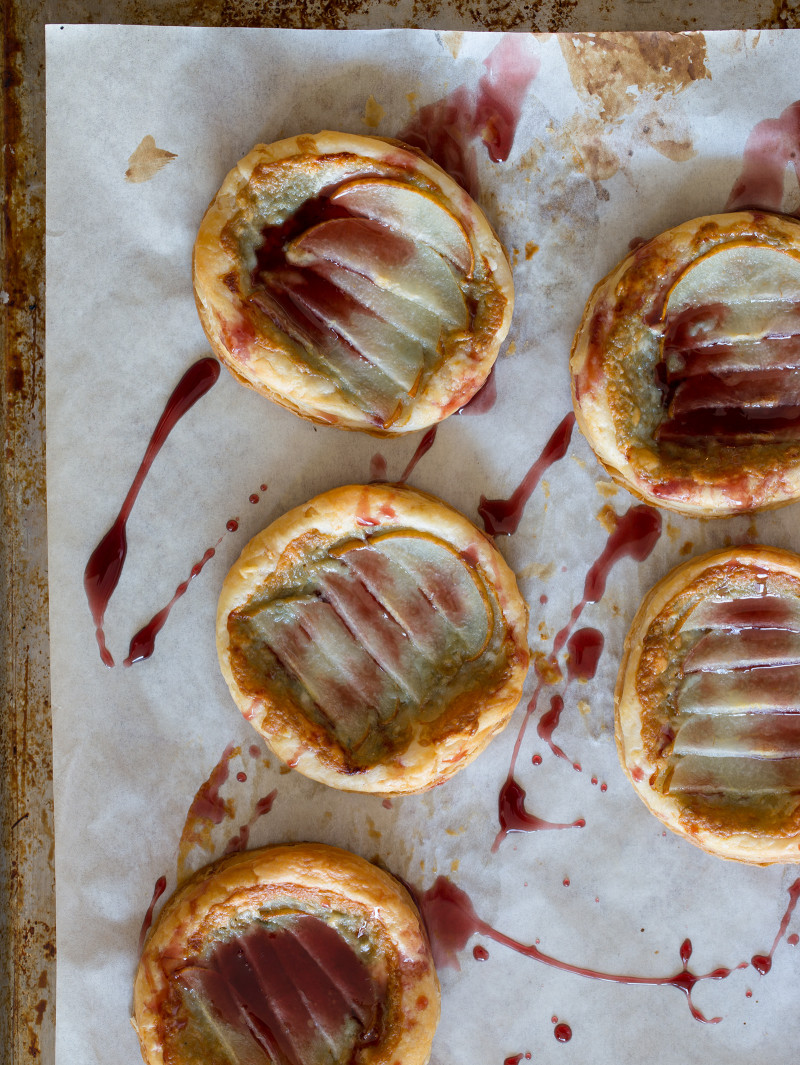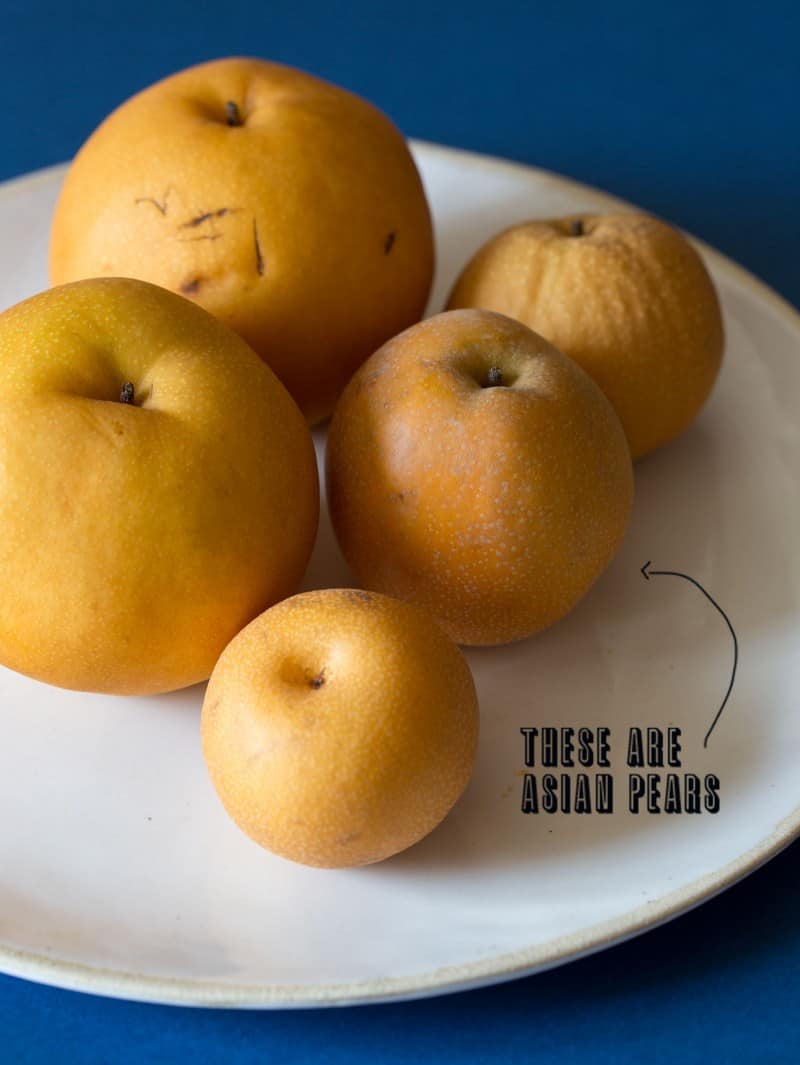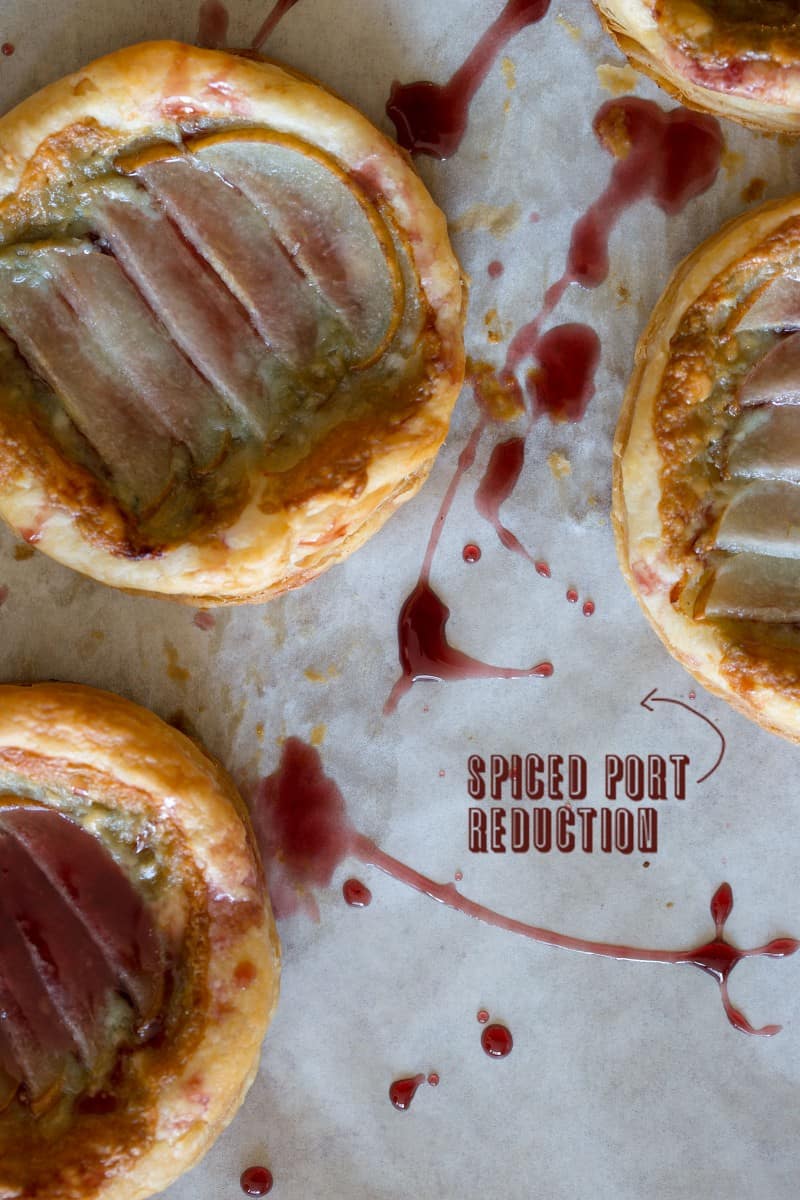 We all know that with the holiday season comes parties and parties and fake smiling, and makeup, and high heels, and food. So some things are about holidays are awesome, and some things about holidays are not. On the good side, I would put all the delicious food you get to eat, and make. These little tartlets are just for those times. You know when you make cookies, you eat the dough? Or when you make frosting, you lick the spoon? So while you're assembling these I suggest you take a slice of pear and top it with some cheese and maybe even some of the port reduction. It will be a good snack for you while you wait for these to get out of the oven. These are seriously so yummy, and very pretty. The marriage of the flavors is really perfect, and it is so easy to make. Consider it for your next party. Also, just so you remember, we have a TON of appetizer foods in our recipe index if you're in the market!
♥ Teri
Asian Pear Tartlets with a Spiced Port Reduction
Makes about 9 (2 1/2" tartlets)
Ingredients:
spiced port reduction:
1 1/2 cups port wine
1/4 cup granulated sugar
1 cinnamon stick
2 star anise
5 whole cloves
1 ripe Asian pear, thinly sliced into half moon-like strips (can substitute with pear of
your choice)
4 ounces bleu cheese softened (can substitute goat cheese if desired)
1 tablespoon heavy cream
pinch cracked black pepper
1 sheet frozen puff pastry, thawed
Directions:
1. Preheat oven to 400°F.
2. For spiced port reduction: Place all ingredients into a small pot and stir together. Simmer over medium-low to medium heat until the sugar dissolves and the mixture has reduced by one third. Set aside and allow reduction to cool.
3. For the tartlets: In a small mixing bowl combine the bleu cheese, cream and black pepper. Mix together with the back of a fork until the mixture is nice and creamy.
4. Cut out 2-2 1/2" inch circles of puff pastry with a circle cutter (or you can just cut your sheet into 9 squares).
5. Spread a small amount of the bleu cheese mixture over each piece of puff pastry, leaving a 1/4 boarder around each one.
6. Lay a few slices of pears over each schmear of bleu cheese spread and place each tartlet onto a parchment lined baking sheet.
7. Bake tartlets for about 17-22 minutes or until golden brown. Drizzle each tart with the port reduction and serve.