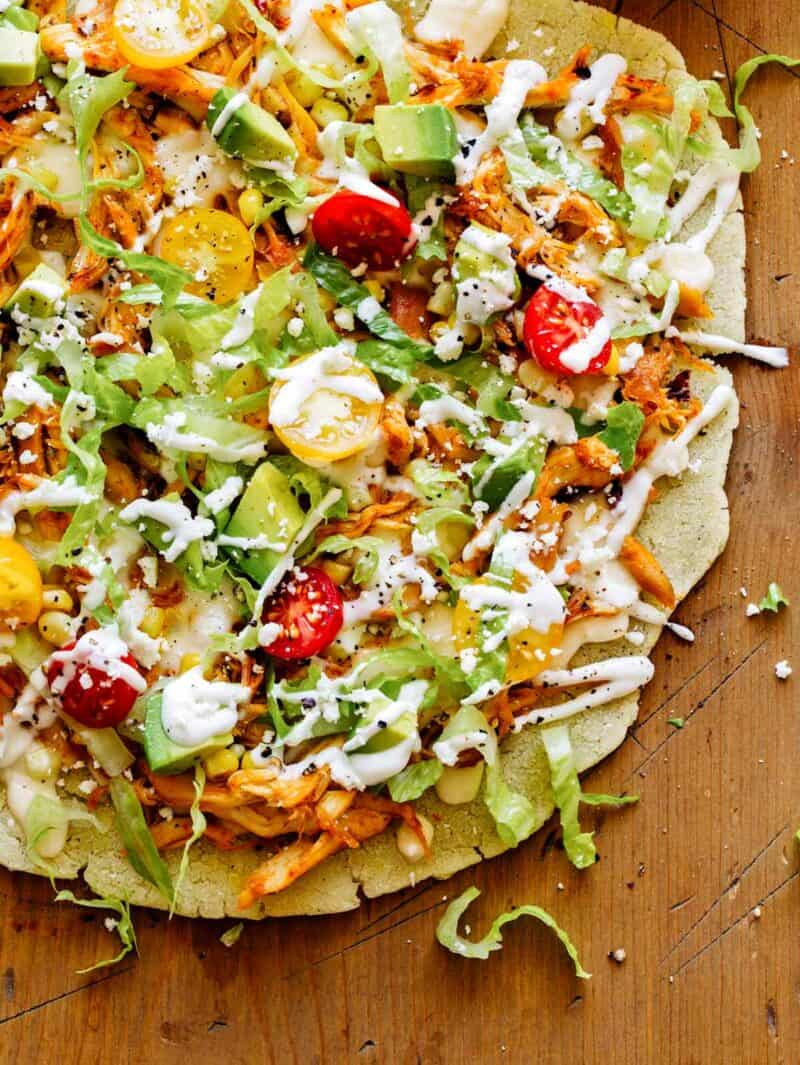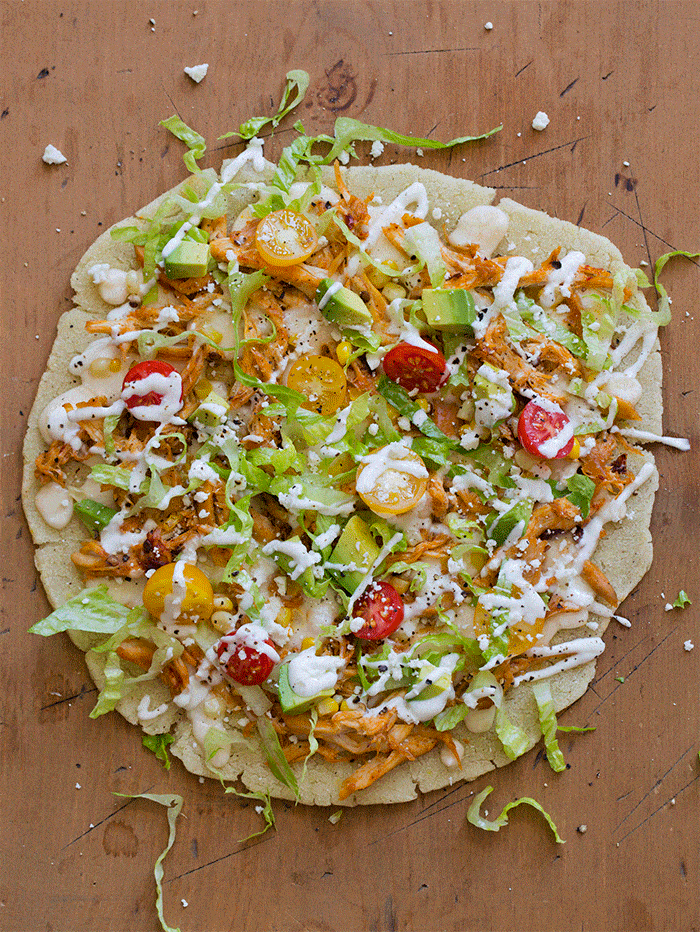 Hey All! So Last week I was in Wisconsin on a styling job, which was awesome!…not just because the job itself was a lot of fun and I got to work with some super chill people, but also because going to Milwaukee means, driving down to Chicago after the job is done and spending a week with my parents! So here I am now, sitting in my parents home, relaxing and pretty much stuffing my face with all my mom AND dad's awesome, delicious, unreal, amazing home cooking (sure I'm bias, but hey they really make some kick ass Korean food!) Yes, there are tons of amazing restaurants in Chicago that I miss dearly, but for some reason all I ever crave and seem to want to eat is my parent's home cooking. Is that weird? Do any of you feel like this? What are some of your favorite "back at home" meals you all crave? For me, it's usually my dad's bbqing (both Korean and non), my mom's amazing Korean soups and her incredibly mouthwatering "banchan" (Korean side dishes). YUMMMM! Of course I do my fair share of cooking for my parents as well! They usually request certain things from me, like my loaded seafood gumbo, panzanella salad and potato, pesto gnocchi. When they don't have special requests I like to go to town and make them something I know they would never make themselves, but would love…..enter Arepa Pizza.
Remember last fall we gave you an
arepa recipe
…filled with carnitas? Plus a bit of a whiny story about wandering New York exhausted? Well…today we've turned that arepa dough recipe into a nice little pizza crust…topped with a lot of totally awesome things. Just like any good recipe…especially pizza one, feel free to change the toppings around according to your taste, duh. :)
So I'm off now to go eat more of my parents phenomenal home cooking and hope you all enjoy this Arepa Pizza and have a fab day! xx Jenny
Here are some other recipes you might like: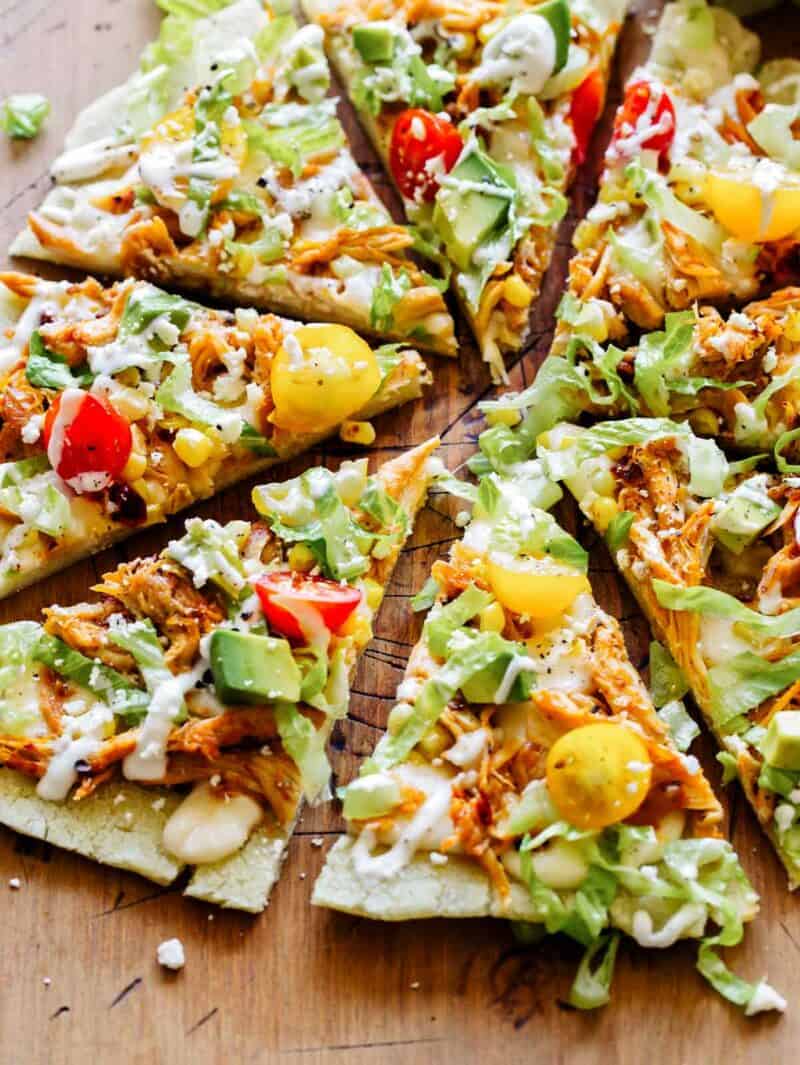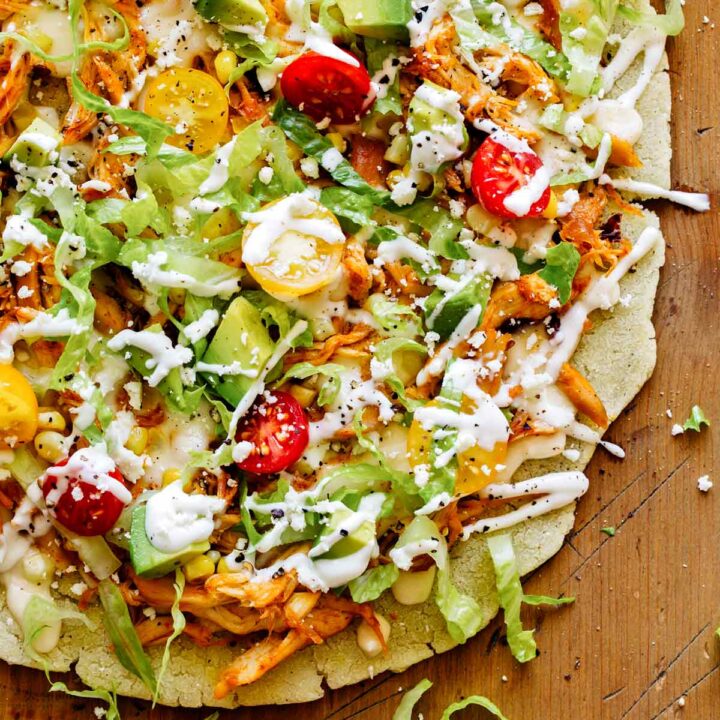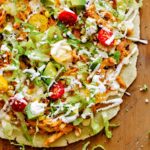 ---
Arepa Pizza
INGREDIENTS
sweet-chipotle chicken
2

teaspoons

vegetable oil

2

tablespoons

minced shallot

1

chipotle pepper in adobe, minced, plus 1 tablespoon adobe

1 ½

cups

shredded, roasted chicken

2 to 2 ½

tablespoons

honey
cilantro yogurt sauce
½

cup

nonfat Greek yogurt

can use sour cream or Mexican crèma

¼

bunch

cilantro

½

lime, juiced
toppings
1 ½

cups

shredded Oaxaca cheese

1

cup

shredded iceberg lettuce

8 to 10

cherry tomatoes, halved

½

avocado, diced

½

cup

grilled corn

Mexican crèma, as much or as little as you like

4 to 6

lime wedges

Salt and pepper to taste
INSTRUCTIONS
Preheat oven to 400°F. Heat a large cast iron skillet (or nonstick pan) over medium heat.

Make arepa dough according to the recipe. After dough has rested, form into a ball and place between plastic wrap. Using the bottom of a baking dish or large pan, gently and evenly press down on the wrapped ball until you've formed somewhat of an 8-10 inch round that's about ⅛ inch thick.

Carefully peel the top layer of the plastic wrap from the arepa and flip into the hot skillet, then removing the bottom layer of plastic wrap. Cook arepa on each side for about 15 minutes.

While the arepa cooks, pour oil in a medium sauté pan and place over medium-high heat. Add shallots and sauté for 1 minute. Add chipotle and adobe to shallots and stir for an additional minute. Add chicken and fold together until fully incorporated. Finally, add the honey, gently stir together and remove from heat. Set aside.

For the cilantro sauce: Place all ingredients into a food processor pulse 6-8 times or until cilantro is finely minced and incorporated. Season with salt and pepper and set aside.

Once the arepa has crisped and slightly browned on each side, remove from heat and spoon cilantro sauce over the surface. Sprinkle half the cheese over the sauce and top with chicken. Sprinkle remaining cheese over chicken and place in the oven for 3 to 4 minutes (you're just looking to melt the cheese).

Remove arepa from the oven and skillet and top with shredded lettuce, tomatoes, avocado, and a drizzle of crema. Lightly season with salt and pepper and serve with lime wedges.