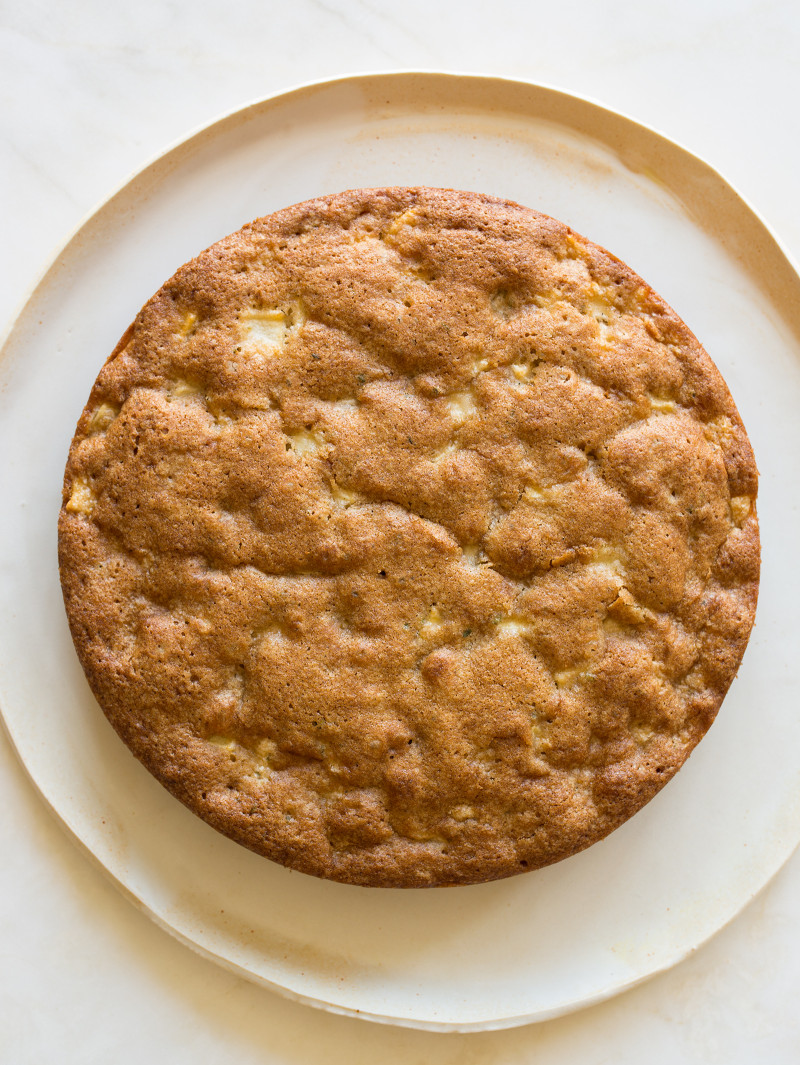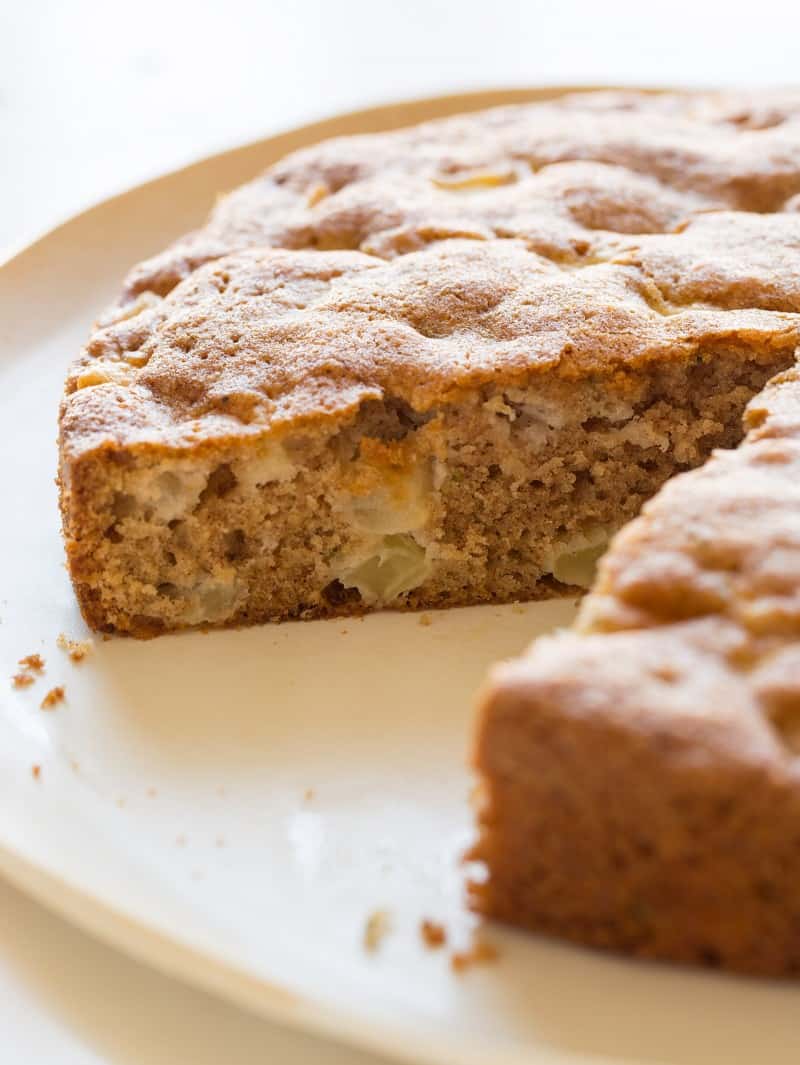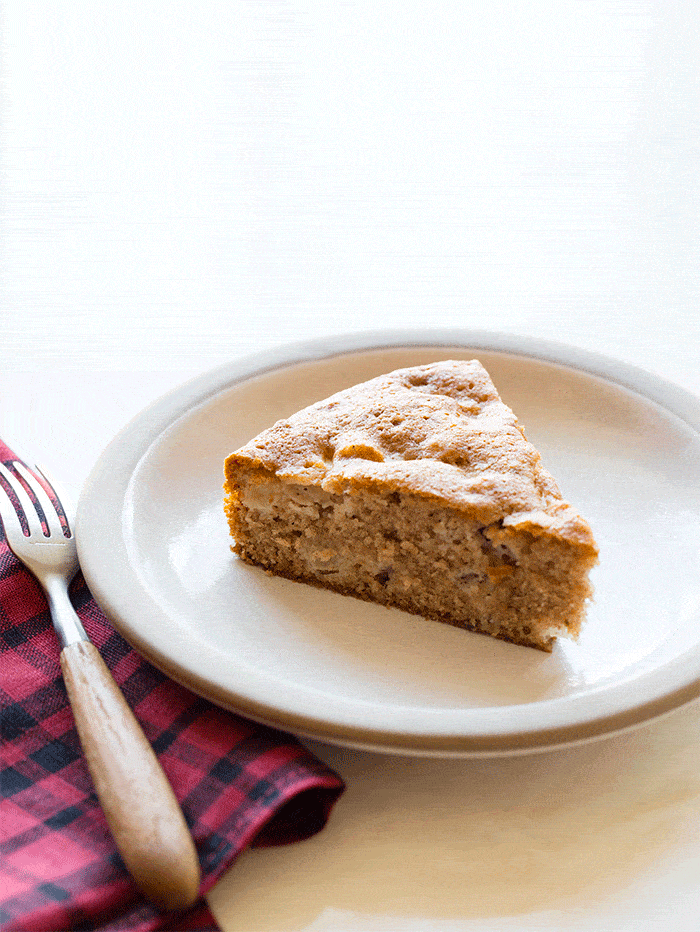 Hey Guys! Yayayaya! It's finally a little chilly out in LA (again!)…just let me do a quick Giuliana Rancic *happy dance*…yay! I love chilly weather! I know I've said this before, but I really do. To get myself even more into this amazing season I like to bake things that remind me of fall when I was a little girl….enter Apple Thyme Cake with a caramel sauce. :) It's my fun little play on the caramel apple! Last week I made a pumpkin mac and cheese with hints of thyme; now this week thyme is back, but in a dessert! I love thyme, it's such a versatile little herb packed with tons of flavor. It's an herb that truly compliments so many different ingredients. The thyme is really subtle in this recipe, but adds a very lovely aromatic touch to the cake.
The cake is great by itself, but the caramel sauce just sort of pushes it over the edge. If you fancy a salted caramel, like most of us do, feel free to add 2-3 teaspoons of sea salt to the sauce, before adding the cream. I thought a salted caramel sauce might be a little much for this cake, but to each their own! Oh and before I forget, use whatever apples you like to bake with; I chose to use golden delicious apples because they're one of my absolute favorites, plus their sweet and tart combo is really great for this cake! Oh and did I mention how easy this cake is? It's one of those all wet ingredients in one bowl and all dry ingredients in another, combine, mix and pour. I adore simple, but delicious baking recipes and this is definitely one of them! I hope eveyone has a great weekend….possibly making apple, thyme cake! :) xx, Jenny
Apple Thyme Cake Drizzled with Caramel Sauce
Makes 1 10" cake
Ingredients:
apple-thyme cake:
1 1/2 cups all purpose flour
3/4 teaspoon ground cinnamon
1/2 teaspoon baking soda
1/4 teaspoon ground nutmeg
1/4 teaspoon ground allspice
1/4 teaspoon salt
1 cup granulated sugar
2/3 cup vegetable oil
2 eggs
2 1/2 tablespoons milk
1 teaspoon vanilla extract
2 medium golden delicious apples, peeled, cored and diced
2 tablespoons minced thyme
quick caramel sauce:
1/2 cup (1 stick) unsalted butter
2/3 cup light brown sugar
1/3 cup granulated sugar
1 tablespoon water
1/4 teaspoon salt
1/2 cup heavy cream 1 teaspoon vanilla extract
Directions:
1. Preheat oven to 350°F. Line a 10" round cake pan with parchment paper and lightly grease. Set aside.
2. In a mixing bowl sift together the flour, cinnamon, baking soda, nutmeg, all spice, and salt.
3. In another mixing bowl, whisk together the sugars, oil, eggs, milk, and vanilla.
4. Pour the dry ingredients into the wet ingredients and stir until completely mixed.
5. Fold in the apples and thyme until even distributed throughout the batter.
6. Pour mixture into the prepared cake pan and bake for 20 to 25 minute or until a toothpick comes out clean when inserted into the center of the cake.
7. Allow cake to cool, about 30 minutes to an hour.
8. While the cake cools, make the caramel sauce: Pour butter, sugars, water, and salt into a medium saucepan and stir together over medium heat. Allow mixture to boil for about 5 to 6 minutes, stirring frequently. (the longer you boil this, the thicker your caramel sauce will be)
9. Remove from heat and stir in the heavy cream and vanilla (mixture may bubble up, so be careful).
10. Drizzle over apple-thyme cake and serve.