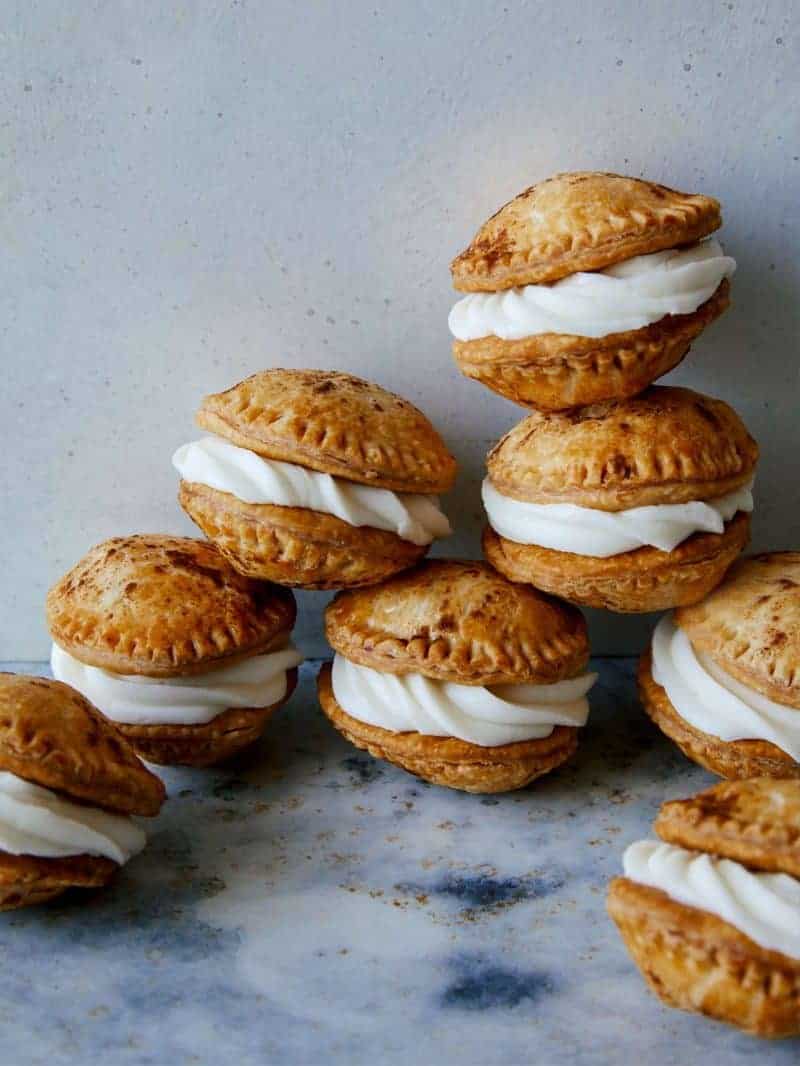 I can't wait for the weather to really turn and get cold. So getting a little jump start on pie season we made these Apple Pie Whoopie Pies. Basically, they are little apple pie pockets with a bunch of cream cheese frosting in the middle. These are a little time consuming, but once you get going it's easy. AND they are delicious. So so very delicious. A perfect little fall to summer transition dessert. Yum.
♥ teri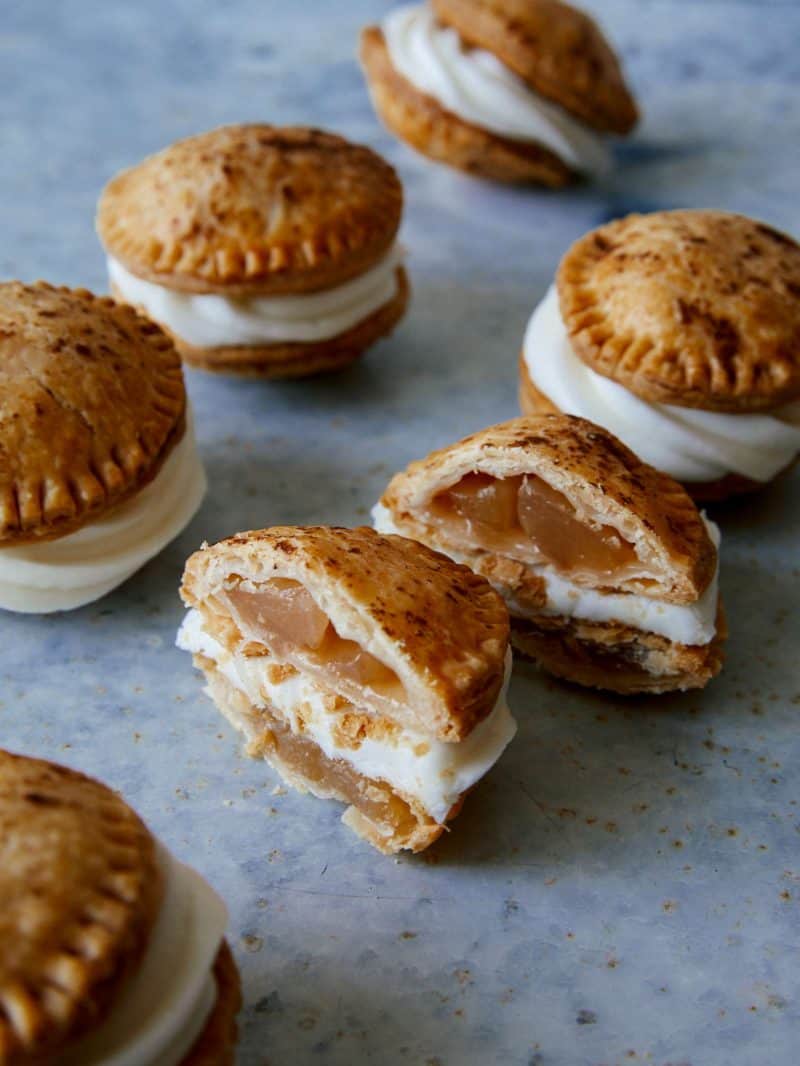 Apple Pie Whoopie Pies

Makes 12

Ingredients:
cream cheese pie dough:
3 1/2 cups all-purpose flour
2 tablespoons sugar
1/2 teaspoon kosher salt
1 teaspoon baking powder
1 (8-ounce) package cold cream cheese, cut into small pieces
1 cup (2 sticks) cold unsalted butter, cut into small pieces
1 teaspoon apple cider vinegar
apple filling:
1 large sweet apple, peeled, cored and diced
1/4 cup sugar
1 1/2 tablespoons tapioca starch
1 teaspoon ground cinnamon
1 teaspoon lemon juice
pinch salt

1 large egg, beaten
ground cinnamon for dusting
cream cheese frosting:
1 stick unsalted butter, softened
1/2 (8-ounce) package cream cheese, softened
3 cups powdered sugar, whisked
2 tablespoons milk
2 teaspoons vanilla extract

Directions:
1. Dough: Place flour, sugar, salt, and baking powder in the well of a food processor and pulse a few times. Add pieces butter and cream cheese to the food processor and pulse until mixture is crumbly. Add vinegar and continue to pulse until a dough forms. Remove dough from food processor and flatten into a disc. Refrigerate for 30 minutes to an hour.
2. Pie filling: Place all ingredients into a large mixing bowl and toss together until evenly combined.
3. Assemble mini apple pies: Preheat oven to 400˚F. Lightly sprinkle a clean surface with flour. Roll dough until 1/8 inch thick. Cut out 24 (3 inch) rounds with a circle cutter. Brush beaten egg onto each round.
4. Place 2 teaspoons of apple filling in center of half of the rounds and top each with remaining rounds.
5. Seal each pie by crimpling edges with the back of a fork and transfer each mini pie to parchment lined baking sheet, spacing them 1/2 inch apart. Brush tops of each pie with beaten egg and lightly sprinkle with ground cinnamon.
6. Bake pies for 18 to 22 minutes or until golden brown. Remove from oven and cool completely.
7. Frosting: Place butter and cream cheese into a mixing bowl and beat together (can use hand mixer), until light and fluffy. Scrape down sides of bowl and while continue to beat together, add sugar 1/2 cup at a time, until fully incorporated. Beat in milk and vanilla and continue to beat together until light, fluffy and smooth.
8. Assemble whoopie pies: Scoop frosting into a piping bag, fitted with a large star tip, and pipe frosting onto bottoms of half the pies. Gently top each frosting covered pie with remaining pies and serve.