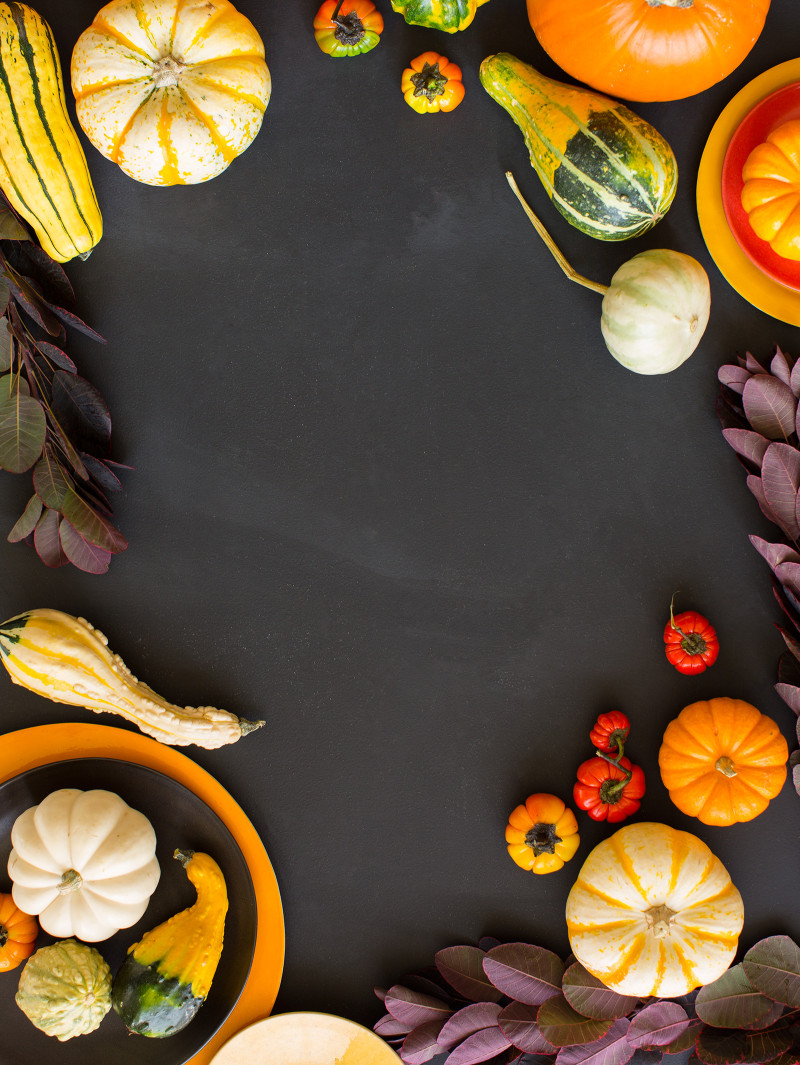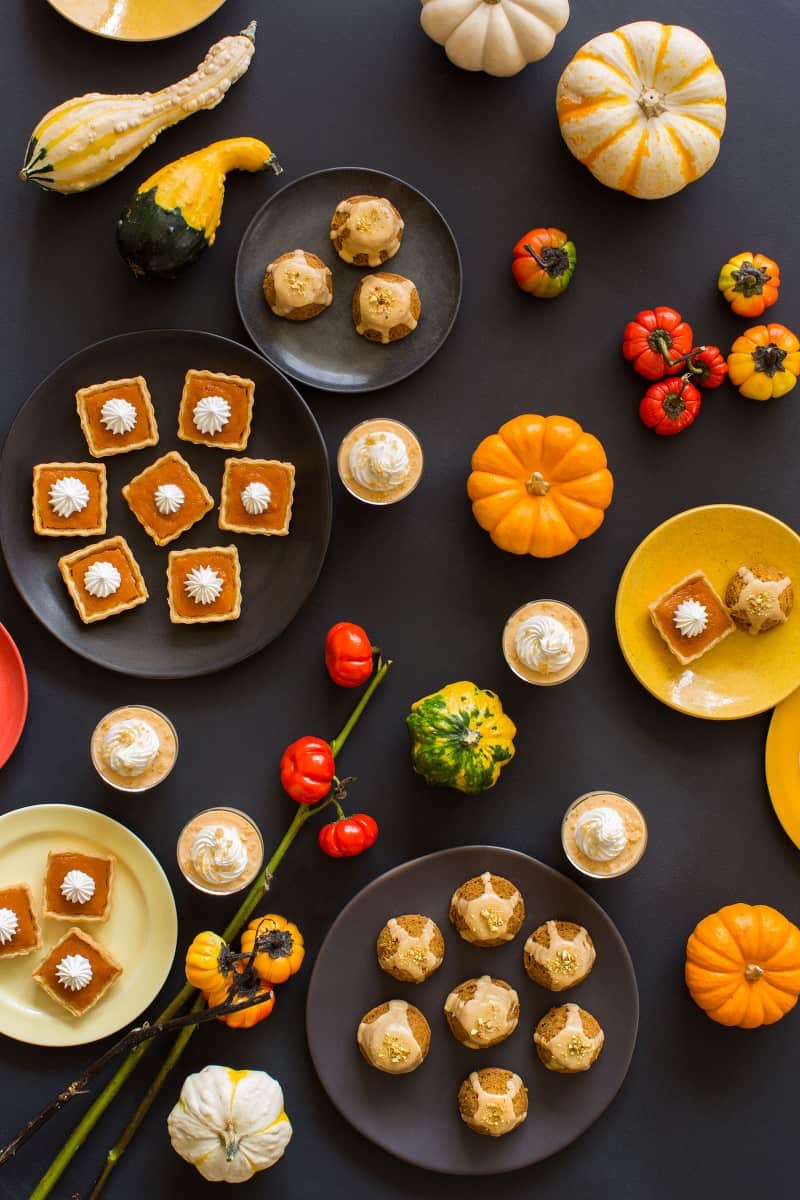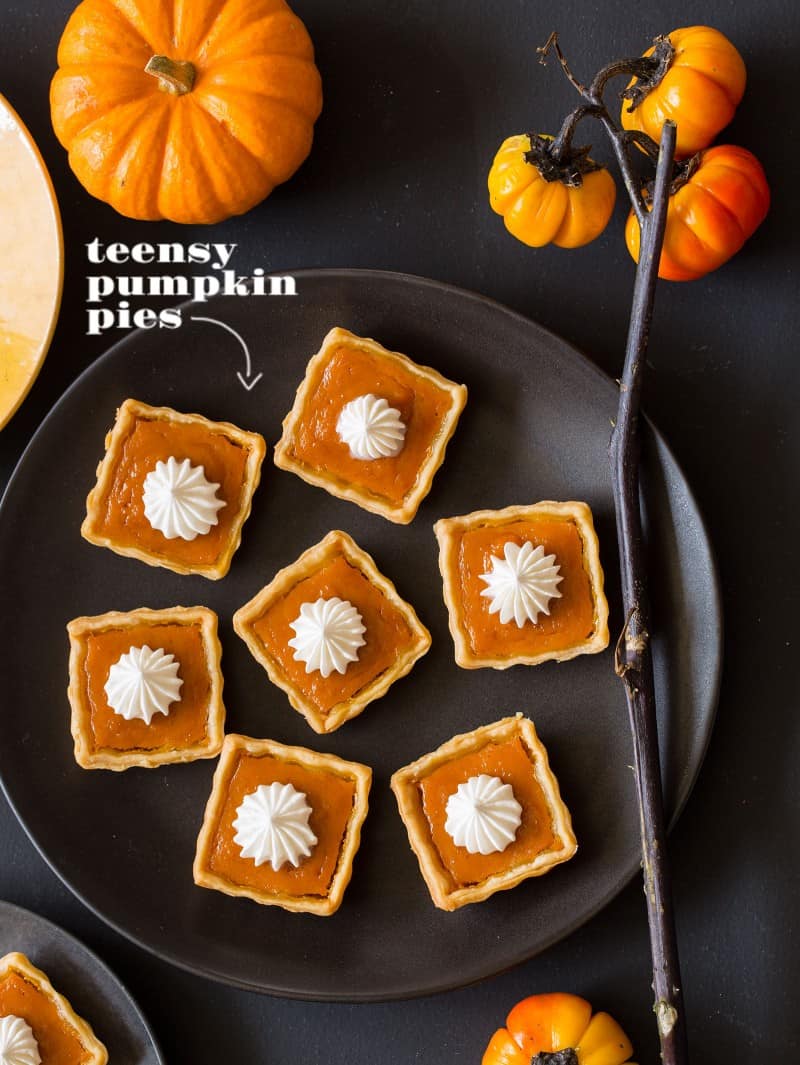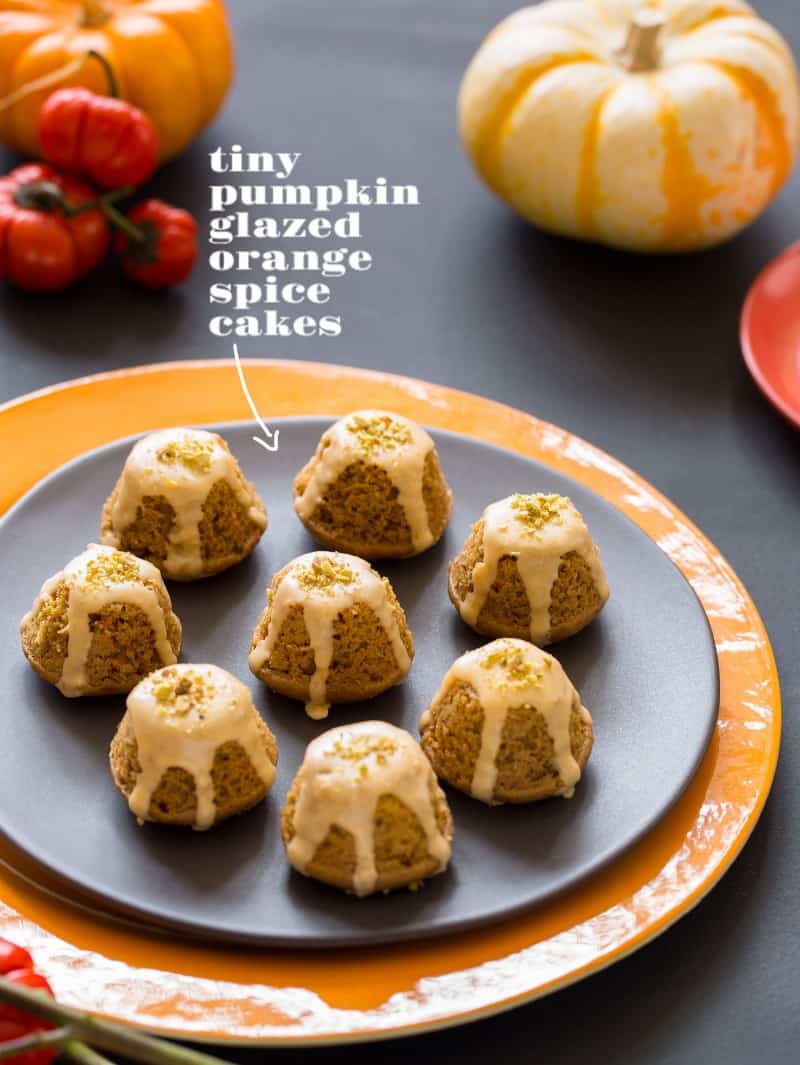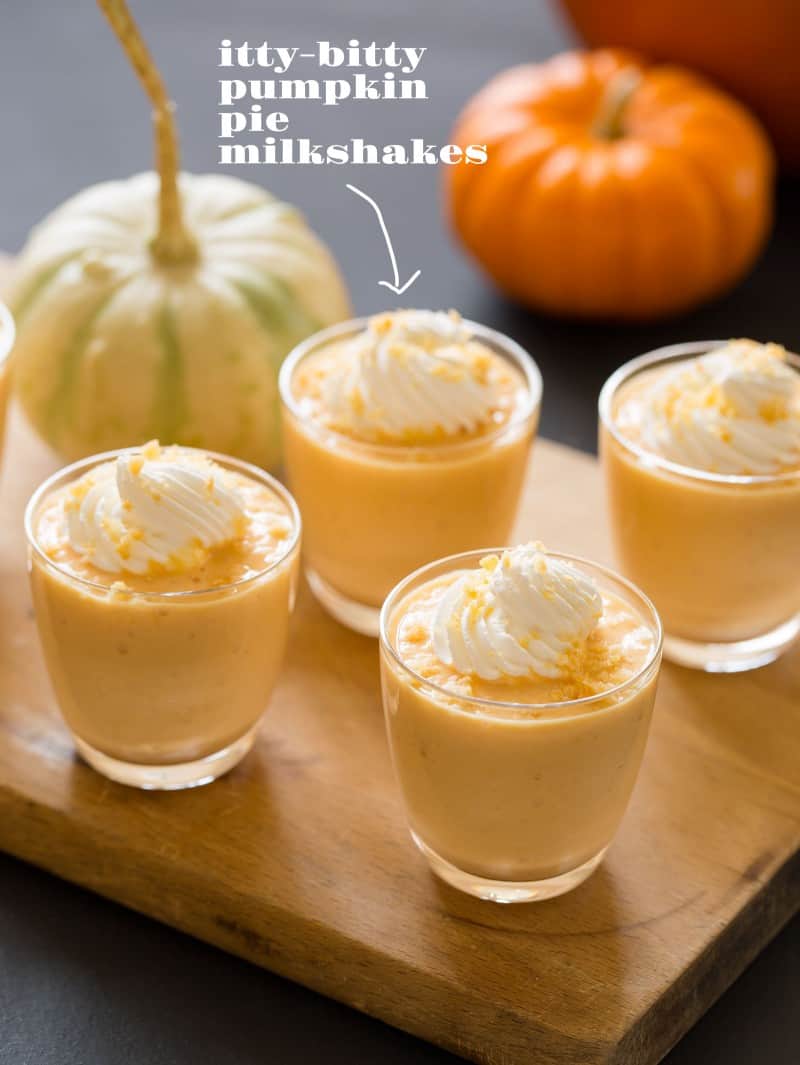 Happy Halloween guys! Most of you know already we have a book out called Tiny Food Party! (we're actually hosting a giveaway right now!…check it out!) In that book we have lots of recipes of delicious things made mini. Today we thought we would share some Mini Halloween Desserts. We have yummy mini pumpkin pies; little pumpkin glazed orange spice cakes, and tiny pumpkin pie milkshakes. These recipes are all super easy and are obviously perfect for Halloween, but because they are so fall friendly feel free to make them throughout the entire holiday season. We hope you all have a fun and safe Halloween!!
Teri + Jenny
Teensy Pumpkin Pies
Makes 24
Ingredients:
cream cheese crust:
2 cups all-purpose flour
2 tablespoons granulated sugar
1/4 teaspoon salt (for savory recipes, use 1 1/2 times the salt)
1/8 teaspoon baking powder
3/4 cup (6 ounces) cold cream cheese, cubed
1/2 cup plus 2 tablespoons (1 1/4 sticks) cold unsalted butter, cubed
1 1/2 tablespoons ice water
1 tablespoon apple cider vinegar
filling:
2 cups pumpkin puree
6 ounces (about 3/4 cup) sweetened, condensed milk
1/2 cup light brown sugar
2 eggs
1 teaspoon ground cinnamon
1/2 teaspoon ground ginger
1/2 kosher salt
1/4 teaspoon ground nutmeg
1/4 teaspoon ground all-spice
garnish:
whipped cream
Directions:
1. Preheat oven to 425°F.
2. For crust: Place flour, sugar, salt, and baking powder into a food processor and pulse together. Add cream cheese and butter and pulse until a fine mealy texture has been formed. Add the water and vinegar and pulse until a dough forms. Form dough into a disc and wrap with plastic wrap. Refrigerate for an hour. Roll dough onto a lightly floured surface until about 1/8 inch thick. Cut 24, 2 inch squares from the dough and form into 1 inch tart molds, trimming the edges of excess dough as needed. Place in the refrigerator until ready to use.
3. For the filling: Place all ingredients into a large mixing bowl and stir together until fully combined. Pour mixture into prepared shells and completely fill.
4. Bake mini pies for 10 minutes. Lower temperature to 350°F and bake for an additional 15 to 20 minutes or until the pies have set in the center and the crusts are golden brown. Allow to cool for about an hour before topping each with a dollop of whipped cream and serving.
Tiny Pumpkin Glazed Orange-Spice Cakes
Makes 24
Ingredients:
orange-spice cakes:
2 cups all purpose flour
1 teaspoon baking powder
1/2 teaspoon baking soda
1 teaspoon ground cinnamon
1 teaspoon ground ginger
½ teaspoon ground nutmeg
1/4 teaspoon all-spice
1/4 teaspoon kosher salt
1/3 cup vegetable oil
1 cup granulated sugar
1/2 cup light brown sugar
2 eggs
1 teaspoon vanilla extract
2/3 cup Greek yogurt
2 oranges, zested and juiced
pumpkin glaze:
3 tablespoons pumpkin puree
3 tablespoons evaporated milk
1/2 teaspoon vanilla extract
1/4 teaspoon ground cinnamon
pinch ground nutmeg
1 1/2 -2 cups powdered sugar, sifted
garnish:
pistachios, toasted and minced
Directions:
1. Preheat oven to 350°F. Lightly grease two mini muffin tins and set aside.
2. In a medium mixing bowl sift together flour, baking powder, baking soda, cinnamon, ginger, nutmeg, all-spice, and salt. Set aside.
3. In another mixing bowl combine oil and sugars and whisk together. Add eggs and vanilla and continue to whisk together.
4. In a small bowl, stir together yogurt, orange zest and juice.
5. Alternately add dry mixture and yogurt mixture to sugar mixture, in thirds until fully incorporated. Fill each muffin tin 2/3 way and bake for 20 to 25 minute or until a toothpick come out clean when inserted into the center of the cakes. Allow cakes to cool before removing cakes from tin and flip each over some they're standing top down.
6. For the glaze: In a small bowl stir together the pumpkin puree, evaporated milk, vanilla extract, cinnamon, and nutmeg. Add powdered sugar and stir until fully incorporated (using a fork over a whisk is recommended to avoid air bubbles).
7. To assemble: Pour about 1 teaspoon of the pumpkin glaze over each orange-spice cake and finish with a sprinkle of pistachios. Allow glaze to set before serving.
Itty-Bitty Pumpkin Pie Milkshakes
Makes approx. 15
Ingredients:
1 1/2 cups vanilla ice cream
1 cup broken up pumpkin pie
1/2-3/4 cup milk
1/4 teaspoon ground cinnamon
pinch ground nutmeg
garnishes:
whipped cream
crumbled pie crust
Directions:
1. Place ice cream, pie, milk, cinnamon, and nutmeg into a blender and blend until smooth.
2. Pour milkshakes into 2 ounce glasses and top with a dollop of whipped cream (can use piping bag if preferred). Finish with a sprinkle of crumbled pie crust and serve immediately.