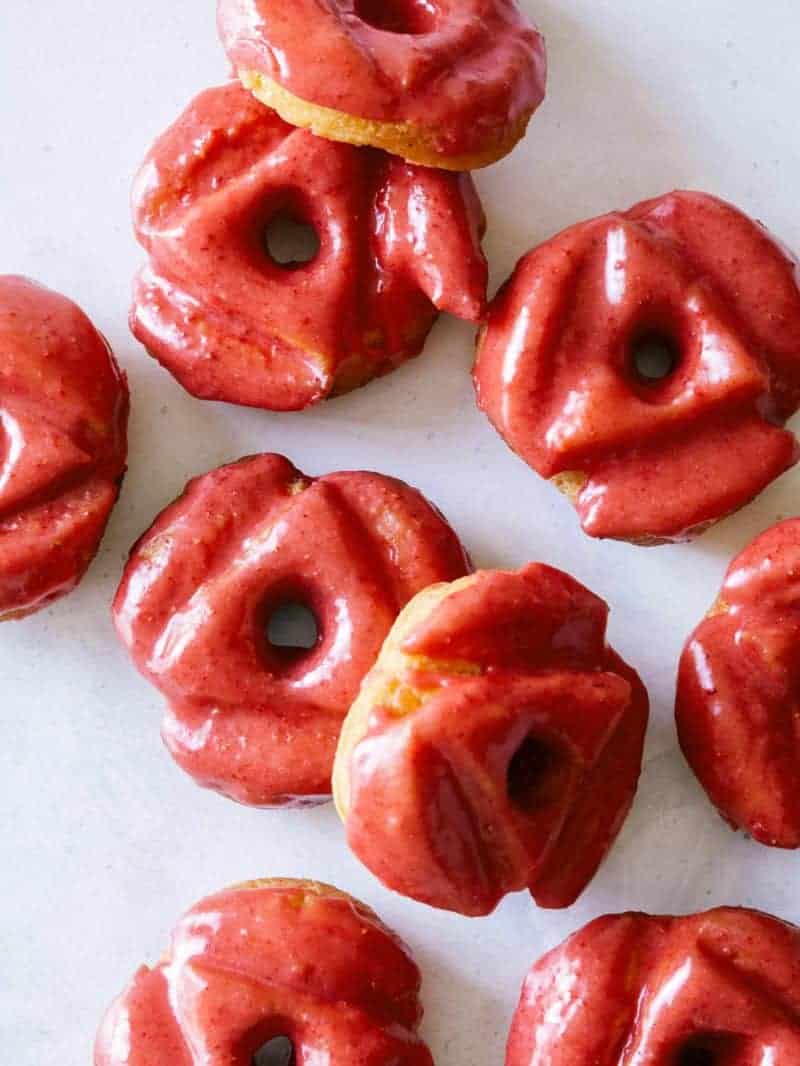 These doughnuts are so so good. The frosting tastes like real strawberries. It's kind of incredible. You will see the little hack Jenny uses to make the frosting still really pink, but also still have the taste of strawberries. Honestly this recipe is a keeper if not for the frosting alone. It's so so good. The doughnuts are good too – they are doughnuts! Hahah. Enjoy :)
♥ Teri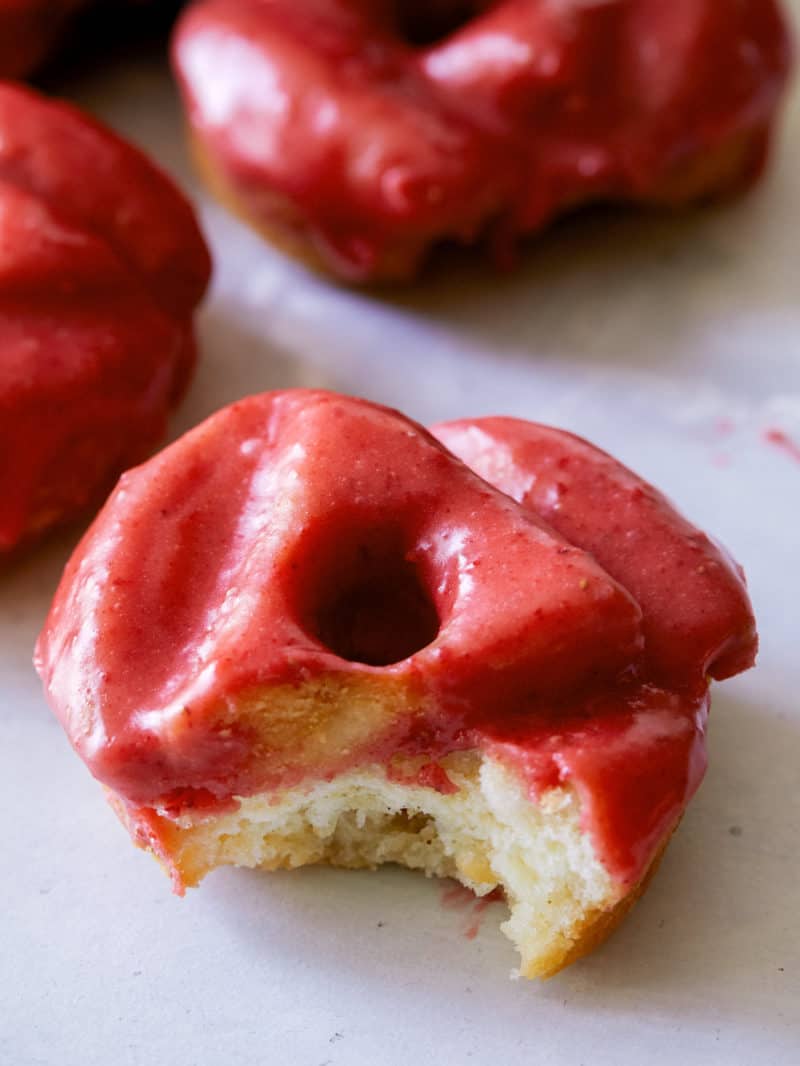 Strawberry Glazed Old Fashioned Doughnuts

Makes 18 to 20

Ingredients:
doughnuts:
2 1/2 cups cake flour, plus extra for dusting
2 teaspoons baking powder
1 teaspoon salt
1/2 teaspoon freshly ground nutmeg
1/4 cup (1/2 stick) unsalted butter, softened
1/2 cup sugar
1 large egg plus 1 large egg yolk, room temperature and lightly beaten
2/3 cup sour cream
strawberry-vanilla glaze:
3 1/2 cups powdered sugar
2/3 heaping cup freeze-dried strawberries
1/3 cup plus 1 tablespoon hot water
2 teaspoons honey
1/4 teaspoon salt
Peanut or vegetable oil for frying

Directions:
1. For Doughnuts: Pour flour, baking powder, salt, and nutmeg into a mixing bowl and whisk together until well combined and no lumps remain. Set aside.
2. Place butter and sugar into the bowl of a stand mixer, fitted with a paddle attachment, and beat together until light and fluffy.
3. Add egg and egg yolk mixture and continue to beat together.
4. Alternate adding the dry mixture and sour cream to the butter and sugar mixture a third at a time, with the mixer on, until all the ingredients have been added and soft dough has formed.
5. Wrap the dough in plastic wrap and form into a disc. Refrigerate for about 1 hour (and up to 2 days).
6. Fill a large skillet with 2 inches of peanut oil and preheat to 325˚F.
7. Sprinkle a clean surface with a small amount of cake flour and roll dough out until 3/4" thick. Using a 2 1/2" circle cutter, cut out as many circles as possible, and using a 3/4"circle cutter cut a small hole out of the center of each 2 1/2" circle. Re-knead and roll any remaining dough scraps as needed.
8. Carefully score a triangle over the top of each doughnut, being careful not to cut all the way through.
9. Carefully place a few doughnuts into the hot oil, triangle cut-side down. Fry doughnuts for 2 to 3 minutes on each side or until golden brown and just cooked through. Drain on a paper towel before transferring to a baking sheet lined with a cooling rack.
10. Repeat until all doughnuts have been fried.
11. For Glaze: Place powdered sugar and freeze dried strawberries into a food processor and pulse until completely blended. Sift mixture into mixing bowl to remove any clumps and bigger pieces of strawberries. Add remaining glaze ingredients into the mixing bowl and gently whisk together until mixture dissolved and a smooth and shiny glaze has formed.
12. Once doughnuts have cooled completely, carefully dip each doughnut into the glaze until evenly coated, shaking to remove any excess glaze. Place glazed doughnuts back onto the cooling rack and allow glaze to set, about 30 minutes. Serve.