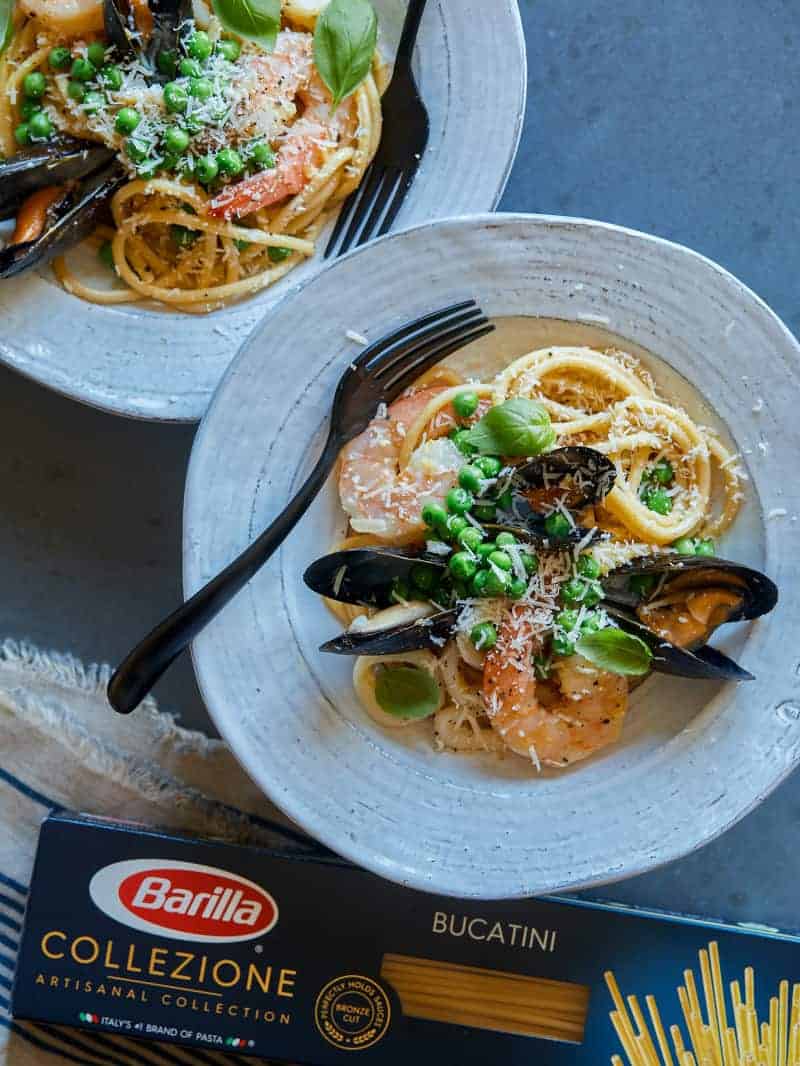 This is a sponsored conversation written by me on behalf of Barilla. The opinions and text are all mine.
Did you guys know today is World Pasta Day?? We know there are so many of these "food days," but World Pasta Day is pretty neat because it's something that was actually developed in 1995 by 40 international pasta producers! Fun, right? Today we're celebrating with our version of Seafood Carbonara, which was the winning dish this year at the Barilla® Pasta World Championship, and also happens to be one of my favorite pasta dishes ever.
Because today is all about enjoying one's favorite pasta, we used Barilla Collezione Bucatini. I love, love bucatini pasta. It's a fun pasta to use and I really like how sauce gets "trapped" in the center of the noodles, adding even more flavor into each and every bite! We wanted to keep our version fairly traditional, so we really stuck to the basics with a classic yolk + grated cheese sauce. The key to this pasta is to make sure the pasta is hot enough to cook the eggs and that there's constant tossing happening once the pasta and egg yolks are combined, as to not scramble your eggs. If you're nervous about your eggs scrambling, you can add a little bit of cream to the yolks before tossing with the pasta to help with that issue. This might be considered a big no-no to traditionalists, but we think it's just fine!
We really encourage everyone to get out there and make (or order!) their favorite pasta dish today and celebrate one of the world's most precious foods, pasta! Enjoy!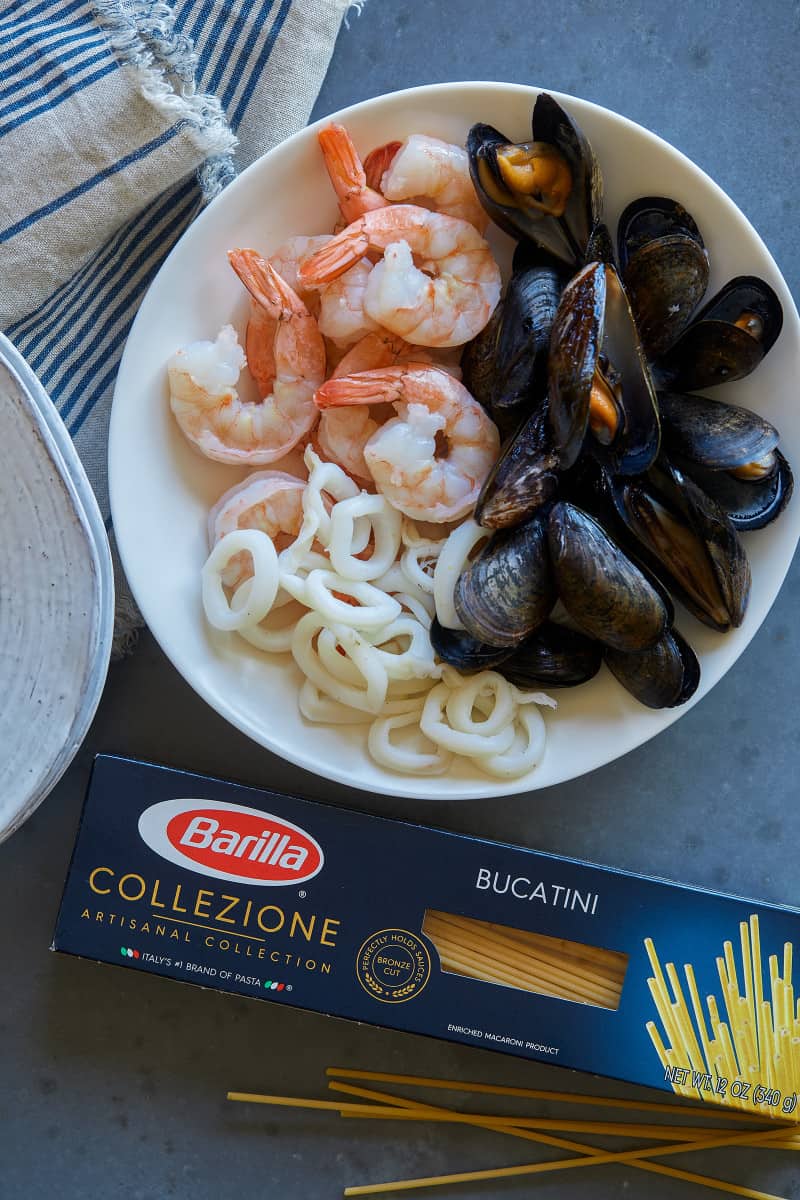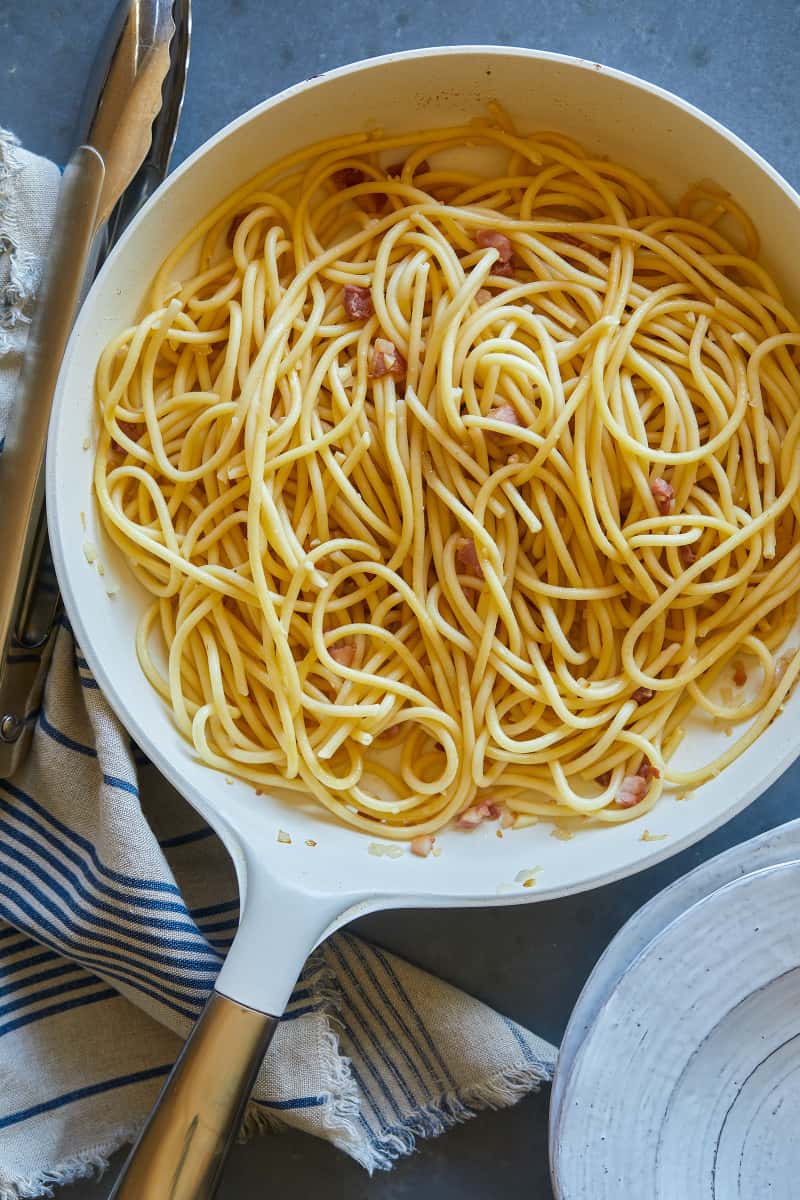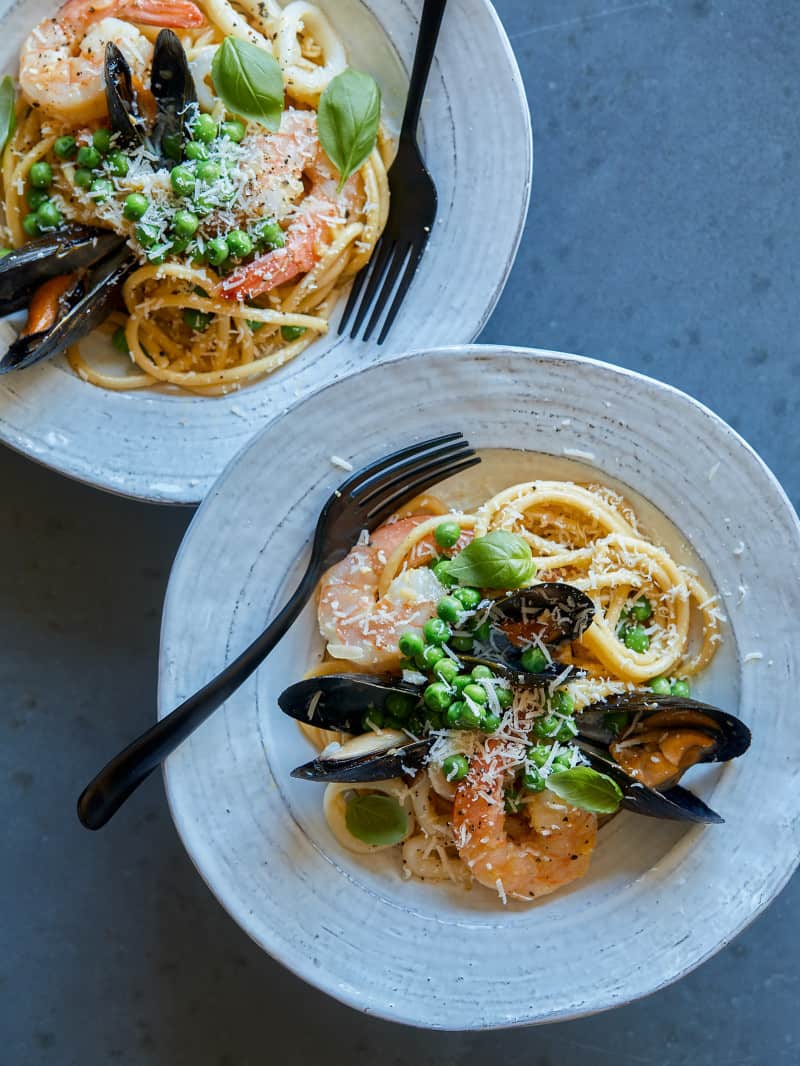 Seafood Carbonara

Serves 6

Ingredients:
1 box (1 pound) Barilla Collezione Bucatini
1 tablespoon extra-virgin olive oil
1 tablespoon unsalted butter
2 garlic cloves, thinly sliced
1/2 cup dry white wine
1/2-pound shrimp, peeled and deveined
1/2-pound mussels, beards removed
1/2-pound squid bodies, sliced into thin rings
3 ounces diced pancetta
4 large egg yolks
2/3 cup grated Parmesan cheese, plus more for garnish
2/3 cup frozen peas, thawed

fresh basil leaves
salt and pepper to taste

Directions:
1. Place a large pot over high heat and bring to a boil.
2. Add a small handful of salt, followed by the bucatini, and stir.
3. Bring water back up to a boil and cook pasta until al dente, stirring frequently, 6 to 8 minutes.
4. Drain pasta, reserving 3 cups pasta water.
5. Add 2 cups pasta water back to the pot and place over medium-high heat. Once water is boiling, add a handful of salt and the squid rings and boil for 10 to 12 minutes or until rings are soft and tender. Remove from heat, drain and set aside until ready to use.
6. Place a large skillet over medium-high heat and add oil and butter. Add garlic and sauté for 30 seconds. Add white wine to the skillet and reduce by half. Add reserved pasta water and season with salt and pepper.
7. Reduce heat to medium and simmer. Add shrimp and mussels to the skillet, cover and continue to simmer until shrimp just cooks through and mussels have opened.
8. Remove from heat, drain into a colander and set aside with the boiled squid rings.
9. Place skillet back onto the stove over medium heat and add pancetta. Cook pancetta until crisp, add pasta and toss together.
10. In a small bowl, whisk together egg yolks, cheese, salt and pepper.
11. Remove pasta from stovetop, add sauce and quickly toss together until thick and creamy.
12. Add seafood and continue to toss together until the pasta and seafood are completely coated. Add peas and lightly toss. Season with salt and pepper.
13. Finish pasta with fresh basil leaves and grated Parmesan. Serve immediately.