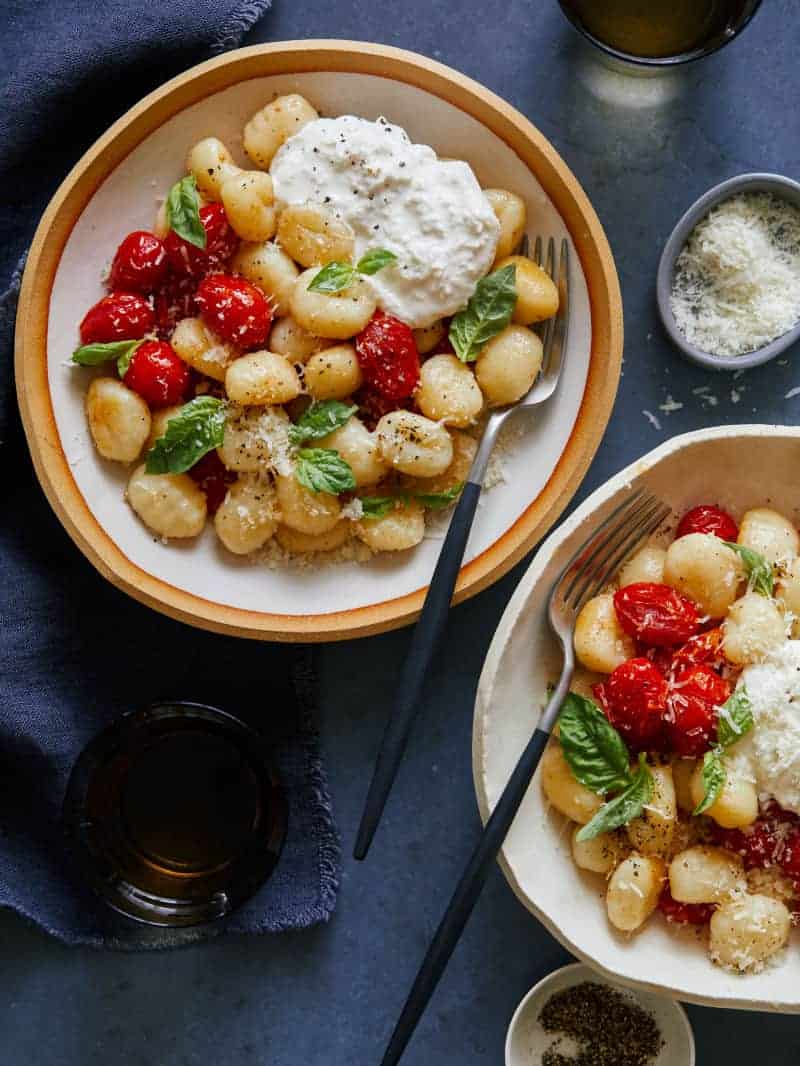 As fans of the caprese combo (see here and here) we are constantly trying to figure out other ways we can incorporate it into our diet. We decided that although we love the combo with the addition of bread, potato would be a fun exploration. So we made gnocchi and added the cheese and tomato and as expected it was good. Simple and delicious. Also not a crazy hassle if you use store bough gnocchi, but it's more fun and delicious to make your own :) . Either way, this is my new favorite way to have gnocchi. :)
♥ Teri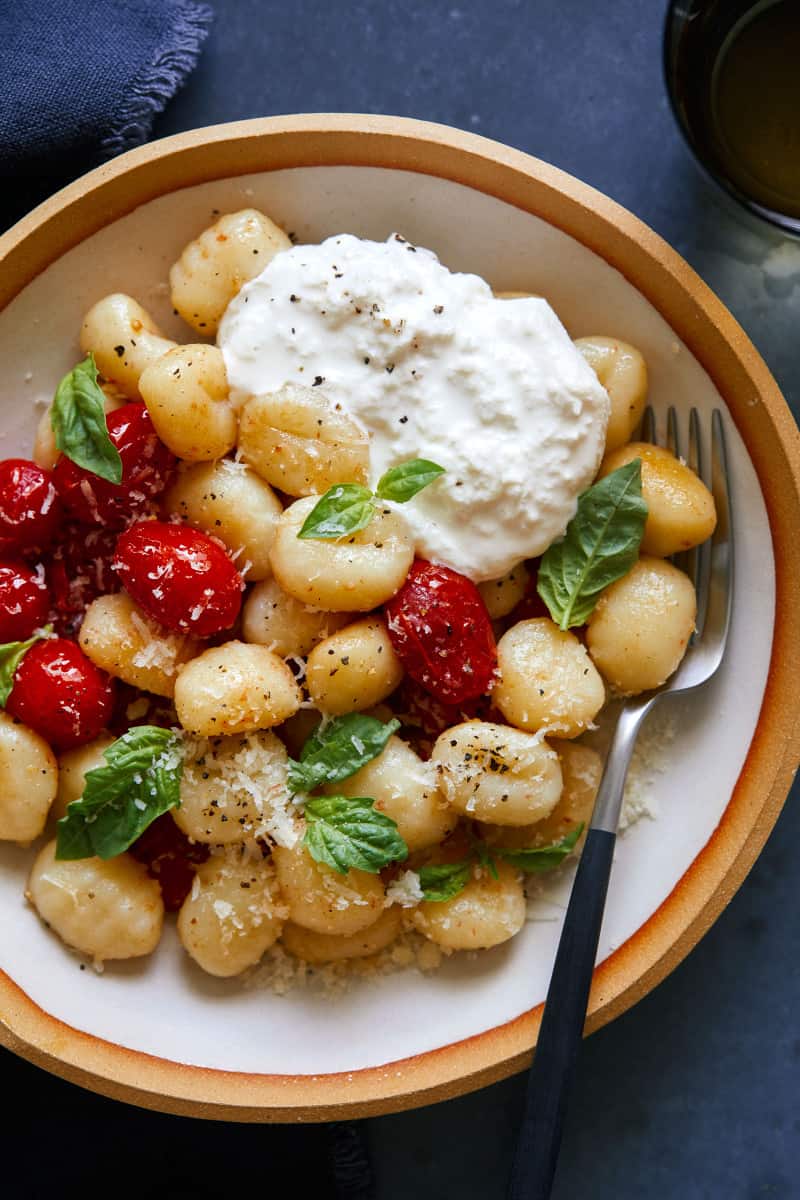 Caprese Gnocchi
Serves 3 to 4
Ingredients:
gnocchi:
1/2 pound (about 2 medium) russet potatoes scrubbed clean
2 large egg yolks
1/2 cup grated Parmesan cheese
2/3 cup all purpose flour (plus more for incorporating if needed and dusting)
1/2 teaspoon salt
1/4 teaspoon cracked black pepper
2 1/2 tablespoons unsalted grass-fed butter
16 ounces, cherry tomatoes
8 ounces burrata
grated parmesan
fresh basil leaves
Directions:
1. Preheat oven to 400˚F.
2. Using a fork, prick holes all over each potato.
3. Place the potatoes directly onto the center rack of the oven and bake for 50 minutes to an hour or until completely fork tender.
4. Allow potatoes to cool for about 30 minutes. Peel and rice (using a potato ricer) onto a clean surface. **If you don't have a ricer, gently grate potatoes on the fine setting of your box grater.
5. Create a well in the center of your potato pile and fill with egg yolks, cheese, salt, pepper, and 1/2 of the flour. Sprinkle the remaining flour over the entire pile.
6. Beat egg mixture with a fork, incorporating more and more of the potato and flour from the sides into the mixture and you mix.
7. Continue to mix together until a crumbly and uneven pile forms. Using your hands, gently begin kneading the dough together until a smooth ball forms (adding 1 teaspoon of extra flour at a time, as needed); make sure not to overwork the dough.
8. Lightly sprinkle the surface with flour and divide the ball of dough into 8 even sizes. Loosely cover all but one piece with a kitchen towel or lightly wet paper towel. Roll the reserved piece into an 18" long rope (about 1/2" thick) and cut out 20 equal pieces.
9. Roll each piece through a gnocchi paddle to create ridges or just use the back of a fork.
10. Repeat until all the dough has been used.
11. Scatter gnocchi onto two lightly flour baking sheets (make sure they're not touching), lined with parchment, cover with paper towels and refrigerate for 1 hour. **You can also freeze any excess of gnocchi you have for a later time! Freeze on the baking sheet before bagging up to ensure they don't stick and freeze together!
12. Bring a large pot of water to a boil. Season with a handful of salt.
13. Add gnocchi to the boiling water, in batches, removing them as soon as they float to the surface. Repeat until all gnocchi have been boiled.
14. Place a large skillet over medium-high heat and melt butter. Lightly season with salt and pepper.
15. Add grape tomatoes and lightly blister for about 4 minutes. Season with salt and pepper.
16. Transfer gnocchi to the skillet and toss together with the tomatoes. Season with salt and pepper.
17. Continue to sauté for 2 to 3 minutes. Lightly grate Parmesan over the mixture and toss together.
18. Transfer gnocchi to serving platter or individual plates/bowls and top with burrata, more Parmesan and fresh basil leaves. Serve.

SOURCES:
Flatware | Linen | Bowl with Edge | White Bowl | Parmesan Ramekin